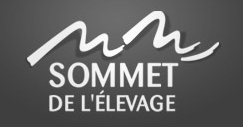 Sommet de l'Elevage
( 4 October 2022 - 7 October 2022 )
Venue:
Grande Halle d'Auvergne
Location:
France , Clermont-Ferrand
About the
event
The 2022 Edition of Sommet de l'Elevage will be hosted at the Grande Halle D'Auvergne in Paris. The hosting dates for the event are set between 4.10.2022 - 7.10.2022. The trade fair will be held as a face-to-face exhibition with strict Covid-19 prevention measures in place. The venue will feature precautions such as social distancing, the mandatory wearing of masks. As part of France's travel restrictions and the venue's 3G entry policy, attendees must present negative test results. Depending on their country of origin, the test results must be between 24 and 48 hours old.
Sommet de l'Elevage dedicates itself to bringing livestock care and breeding to the new era that's environmentally friendly, humane and also efficient. The international exhibition is held in Clermont-Ferrand, France in early autumn. Current prognosis places over 1400 exhibitors between, while attendance remains at 85,000 industry insiders. That's all the incentive you need to mark the dates in your calendar and start on your business travel plans. Travel 2 Fairs ltd assists you every step of the way with a flexible service that adapts to your every need and preference.
You have your choice of hotels for Sommet de l'Elevage in central Clermont-Ferrand as well as its outskirts at the prices you want. Our main goal is for your hotel booking online to be affordable and comfortable. Travel 2 Fairs ltd works to secure you properties that also have access to public transport! All delivered a day after your initial consultation. Sommet de l'Elevage is known for its breadth and scope. The support program is rich in farm visits, professional events, demonstrations and conferences. In addition, exhibitors are going to showcase well above 2000 animals! Establish valuable connections with ease and inform yourself on emerging trends.
Past Editions
2021
The 2021 edition of Sommet de l'Elevage took place at the Grande Halle D'Auvergne in Paris. The event was hosted between the dates 5.10.2021 - 8.10.2021 as a face-to-face exhibition. Due to the ongoing pandemic, the venue featured strict Covid-19 prevention measures. This was necessary to ensure the safety of 1512 exhibitors and 93,000 trade visitors. The edition was considered a resounding success by the participants and organisers.
Our visitors
for the event
Our
Clients