Largest trade fairs to take place in Europe in 2023
17 Nov 2022
Introduction
Creating partnerships and raising brand awareness within one or more industries is essential. It aids in maintaining the competitiveness of one's company. Additionally, it can help in learning about cross-sectorial innovations that can improve a company's development. Yet, completing such goals can be rather challenging. There are several means of reducing the complexity of such steps. Among them are attending European trade fairs of prime importance for one or more industries. Which events should each sector consider attending? Listed below are some of the largest trade fairs to take place in Europe in 2023:
The Mobile World Congress, or MWC, is a pivotal trade fair for various industries. It is an annual trade show held in Fira de Barcelona Gran Via. It features over 61,000 attendees, more than 1,500 exhibitors and over 1,000 speakers. Participants represent more than 150 countries from six continents. Attendants can explore the newest trends related to connectivity during the rendition. Furthermore, they can form valuable business connections. Additionally, the event presents the latest cross-industry connectivity, telecommunications, IT, and media insights. Influential tech/mobile providers, device manufacturers, associations, and governmental representatives display these. Additionally, the fair features a comprehensive event schedule. It includes an exhibition which presents the wares of companies such as:
Ericsson
Lockheed Martin
Telefonica
Airbus
Amazon
Cisco
Dell
Deutsche Telekom
Fujitsu
Google
Hewlett Packard
Huawei
Infineon

Kaspersky Lab
Microsoft
Samsung
Telenor
HTC
Vodafone
TP-Link
Rakuten
Nokia
Lenovo
Kyndryl
Intel
Exhibitors showcase their wares in an exhibition space of 120,000 m2. 70% of the attendees represent a foreign country. Additionally, the fair features high diversity as participants represent the IT, telecommunication, media, services, healthcare, automotive, manufacturing and many other industries.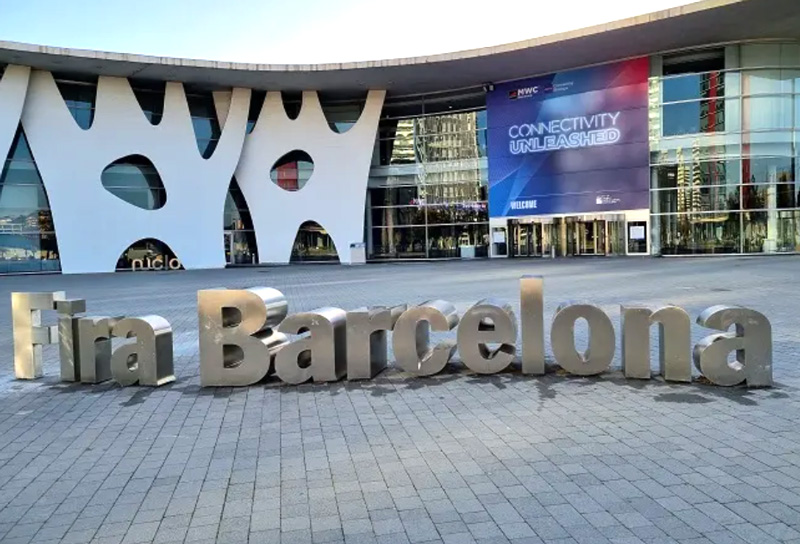 Picture: Mobile World Congress
ITB Berlin (07.03.2023 – 09.03.2023)
ITB Berlin (Internationale Tourismusborse Berlin) is a leading travel and tourism trade fair. It is also one of the most pivotal events for the hospitality industry and its related sectors. It is held annually in Messe Berlin and attracts more than 10,000 exhibitors and over 150,000 attendees. During the rendition, participants can examine over 180 travel destinations as well as a variety of hotels and other wares. This includes ones related to adventure, responsible, business, luxury, youth, medicine, and other forms of tourism. Additionally, the fair provides the latest hospitality insights. Among the leading companies to attend ITB Berlin are:
ACCOR SA
Airbnb
ANA
Astoria Hotels
Cvent
GSTC
Hyatt Hotels Corporation
JJW Hotels & Resorts
Harbour Plaza
Hilton

IHG Hotels & Resorts
JAL
JNTO
Lufthansa Group
Marriott International
Meininger Hotels
Radisson Blu
Ritz-Carlton Hotel Corporation
UNWTO

Picture: © Messe Berlin GmbH
TEFAF (11.03.2023 – 19.03.2023)
TEFAF is a leading art exhibition dedicated to presenting fine art pieces. This includes paintings, antiques, modern art, jewellery, 20th-century design items and paper works. Held since 1988 at the MECC, the fair features over 68,000 visitors and more than 270 exhibitors. This includes over 100 museums. Such participants attend to examine the latest art creations and findings. They also discuss essential topics related to the sector's current issues and developments. Such include protecting artworks, verifying their authenticity and other subjects. They additionally engage in a diverse Cultural programme. Among the leading galleries to attend are Didier Aaron, Applicat-Prazan, and Brame & Lorenceau. They additionally feature the Weiss Gallery, White Cube and Koetser Gallery. The premier jewellery company Van Cleef & Arpels also attends TEFAF.
Picture: TEFAF
Held since 1967, Cosmoprof Worldwide Bologna is a premier beauty industry event. It features leading market players, beauty media representatives and influencers. They attend to examine the latest beauty products, network and overview the industry. This includes discussing the latest insights, challenges, and solutions. Additionally, participants can earn recognition and hone their professional skills via sub-events. These range from on-site demonstrations to competitions and fashion shows. The event is held annually in the Bologna Fiera in Italy. It attracts over 2,600 exhibitors from 70 nations and more than 220,000 visitors from 144 countries. Six continents are represented – Europe, the two Americas, Asia, Africa, and Oceania. The event additionally receives over 1,200 media representatives. Esprit, Framar, Pierre Cardin Cosmetic, STR8, and La Rive are among the leading brands that attend. They also include Tom Tailor, Eveline Cosmetics, Impala, Nike Perfumes, and Victoria Beauty.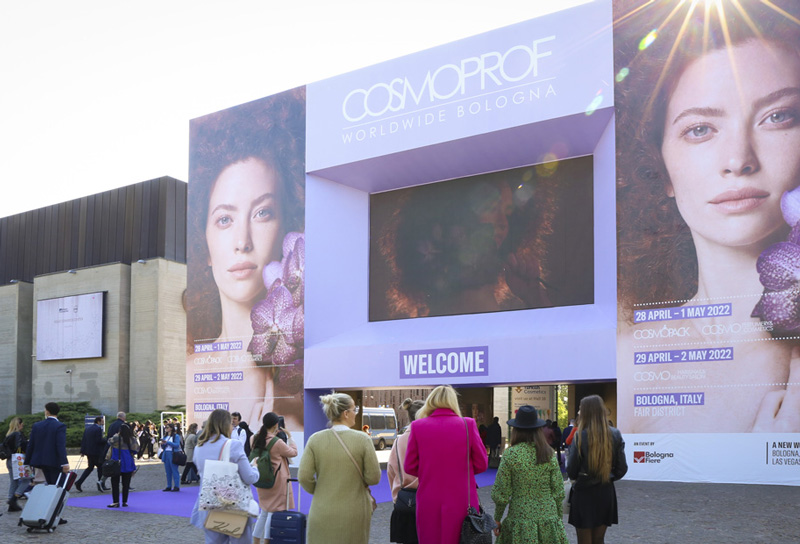 Picture: Cosmoprof Worldwide Bologna
The European Coatings Show, or ECS, is a pivotal trade fair for the paints and coating sector. It presents the latest innovations, such as novel raw material extraction technologies. Additionally, the fair showcases the latest environmental protection, work safety and service solutions. The biannual event, held in Messe Nuremberg/Messe Nurnberg, receives over 1,100 exhibitors and around 30,000 visitors. Attendants represent various industries. Among them are the automotive, aerospace, shipbuilding, construction, engineering, processing, and electrical segments. They also include the industrial machinery, furniture, printing, oil, gas and petrochemical sectors. So are the renewable energy, plastics, packaging, and chemical industries. Companies such as DuPont, Daikin, Evonik, Fujifilm, Honeywell, and Imerys represent such sectors during ECS.
One of the largest trade fairs in 2023 is Hannover Messe. It is a trade fair that is a must-attend for many industrial sectors. This includes energy, safety, security, IT, and food & beverage. They also feature automotive, construction, education, healthcare, logistics, transport, manufacturing, and mining. They likewise incorporate financial, services, retail, water & waste removal, chemical, and electronics sectors. Such industries are represented by leading brands, such as:
Audi, Toyota, Volvo
BMW, Hyundai, Continental
Kawasaki, Daimler, Kia
Ford, Liebherr, Honda
Opel, Porsche, Renault
Rolls-Royce, Seat, Skoda
Tesla, Webasto, Yamaha, Dell
Apple, Bauknecht, Beko, Bosch
Bose, Electrolux, Fujitsu

Hitachi, Huawei, LG
Miele, Nokia, Panasonic
Philips, Samsung, Sony
Toshiba, Whirlpool, Danone
Dr.Oetker, Edeka, Ferrero
Haribo, Kaufland, Kraft Foods
Nestlé, Tchibo, Unilever, Siemens

Evonik, ExxonMobil,
Henkel
Honeywell, L'Oréal,
Pfizer
Shell, Solvay, Adidas
Airbus, Boeing,
Bombardier
IKEA, LEGO, Metro
Nike, Puma, Tetra Pak
Amazon, Beckhoff,
Cisco, Dassault
Microsoft

Such participants attend to learn about and present the latest interconnecting innovations. This results in an attendance rate of over 6,000 exhibitors who display over 8,000 products, including logistics, robotics and digital systems. Over 200,000 visitors inspect the displayed wares during the exhibition. It is one of the over 1400 sub-events, which includes over 80 conferences and forums.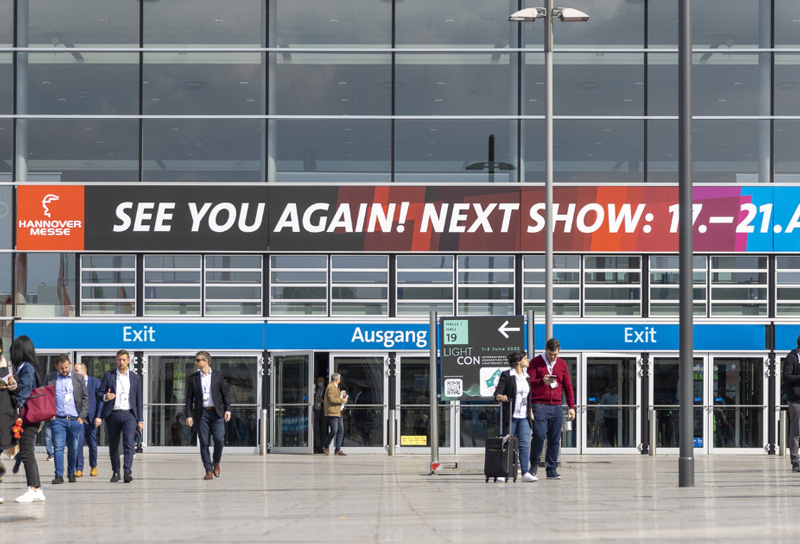 Picture: Hannover Messe
BAU (17.04.2023 – 22.04.2023)
BAU is a leading trade fair of pivotal importance to the construction industry. It is a biannual event that is held in Messe Munich and features over 2,000 exhibitors from 45 nations. It also receives around 250,000 visitors from 150 countries. Participants represent the construction, skilled trades, energy, IT, and security industries. Among the leading companies that attend the event are Adolf Würth, Armacell, Autodesk, Bosch, Evonik Industries, and Karcher.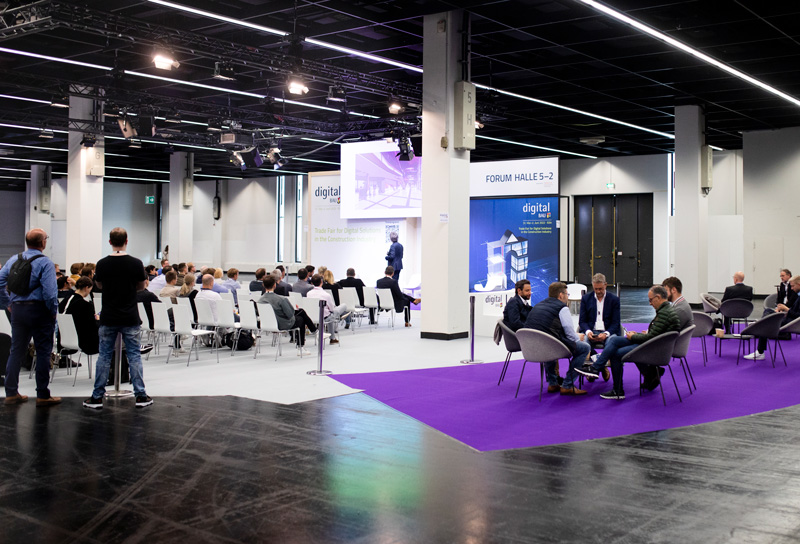 Picture: SIMON KOY
AERO (19.04.2023 – 22.04.2023)
The aviation industry has several premier events to look forward to in 2023. Among them is AERO, a leading trade fair that occurs once per year in Messe Friedrichshafen in Germany, near Lake Bodensee. It is an event that presents the latest and most pivotal innovations within sectors such as business aviation, avionics, engines, e-flight, ultralight aircraft, helicopters, drones, navigation, training and sustainable aviation. These are presented via diverse sub-events, ranging from the exhibition to Avionics Avenue. It attracts more than 30,000 visitors, over 600 exhibitors and around 600 journalists from over 30 countries. They represent diverse sectors, including engineers, airport staff such as maintenance experts, training academies, associations, pilots, airliner companies and related industries such as safety and security. Many leading manufacturers also attend to display their latest models and solutions. Examples include:
Airbus
Akzo Nobel
Boeing
Bosch General Aviation
Bose Products
Cirrus Aircraft
Concorde
Continental Aerospace
Garmin
GAMA

Honda
Hutchinson
IASA
IVAO
Magnus Aircraft
Pratt & Whitney
Canada Corp
Puma Aviation
Rolls-Royce
Textron Aviation
Blackhawk

GAEA
Honeycomb Aeronautical
Swiss Helicopter AG
Continental Motors
Bell Helicopter
Cessna
Diamond
Embraer
Pilatus
Piper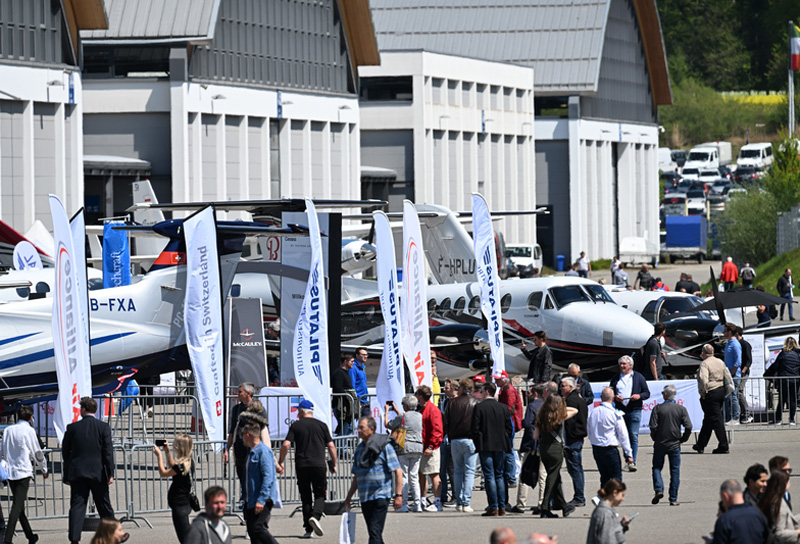 Picture: AERO
Salone Internazionale del Mobile is a must-attend event for the furnishing sector. It is hosted in Milan, Italy, at the Fiera Milano and presents the latest furniture innovations. Often the presented wares reflect the latest trends, such as sustainability. For instance, the 2022 rendition featured wares that incorporated eco-conscious concepts. Salone del Mobile frequently improves its attendance records. For example, the 2022 edition received over 2,170 exhibitors. It also featured around 3,500 journalists and over 262,000 visitors. Over 170 countries attend the event. The participants include 600 young interior designers. They additionally feature architects, government representatives, globally known brands and manufacturers. Among the latter are Aston Martin Interiors, Bentley Home, Fabbian, Koh-I-Noor, and Longhi.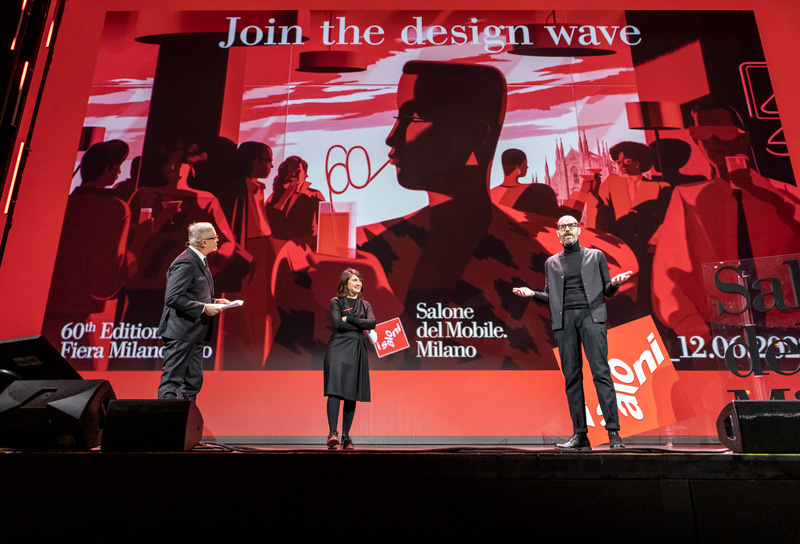 Picture: Salone Internazionale del Mobile
IFSEC (16.05.2023 – 18.05.2023)
IFSEC is one of the most pivotal events for the security and safety industry. It is held annually at the London ExCeL in the UK. It is co-located with events such as FIREX International. This enables participants to overview solutions from all sectors of the industry. These include cybersecurity, fire safety, health protection, security, and public safety. The event additionally enables extensive cross-sectorial networking by inviting representatives from related industries. Among them are construction, aviation, defence, IT, education, healthcare, hospitality, and logistics. Such participants also represent retail, real estate, engineering, transport, utility and wholesale. This results in over 43,000 generated leads. Among the participants are leading brands such as Axis, Siemens, Airbus, IBM, Amazon, and Philips. They also include Fujitsu. As a result, the event's annual editions often exceed 33,000 visitors and 600 exhibitors.
Picture: IFSEC
c is a premier woodworking and forestry event that presents the latest efficiency-improving solutions. This includes new tools, equipment, and production lines. Regularly, the exhibitors include leading companies such as Siemens, Henkel, Weber, and Hexagon. They also feature Liebherr, Beckhoff, Fraunhofer Group, and Robert Bosch. Many manufacturers are also speakers during sub-events, such as the Wood Industry Summit. It is where essential topics, such as digitalisation, are discussed. This allows participants to be well-informed about current issues, trends, and innovations. Due to such details, the event frequently receives over 1,500 exhibitors and more than 90,000 visitors.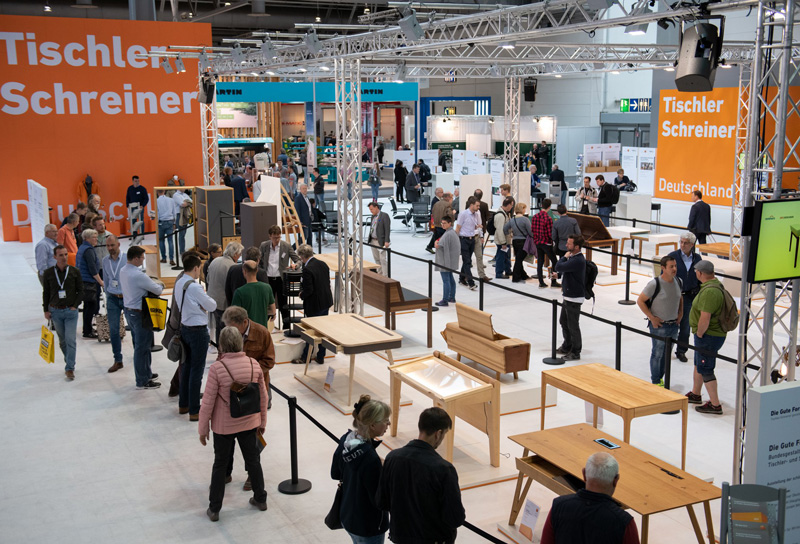 Picture: IFSEC
Gamescom (23.08.2023 – 27.08.2023)
Held annually in Messe Cologne, Gamescom is one of the gaming industry's leading trade fairs. This is due to the event setting the global standards for the video and computer game sector. It additionally serves as the largest such event in the world. This is due to the event showcasing the newest games and business solutions. This includes cross-industrial innovations related to IT, aviation, automotive, transport, media, and entertainment. Such displays are done during an intensive event schedule. It features sub-events such as the Opening Night Live. This enables representatives from the whole value chain to network. This includes developers, publishers, gamers, and cosplay artists. Frequently, the exhibitors include:
Epic Games International
Microsoft
Warner Bros
Amazon Games
Blizzard Entertainment
Capcom
Jackbox Games
Konami
SEGA
Square Enix

Ubisoft
LEGO
Google
Amazon Web Services
Crunchyroll
Global Anime
TikTok
Asus Computer
Razer
Trust Gaming
Huawei Technologies

Intel
Samsung
Siemens
Airbus
Ford Motor Company
McDonald's
Red Bull
Volkswagen
Société Générale

Gamescom often exceeds its previous attendance records. For example, the 2022 hybrid format featured 265,000 visitors from over 100 countries, 1,100 exhibitors, and 130 million viewers. This surpassed the 2021 digital format, which received 13 million viewers.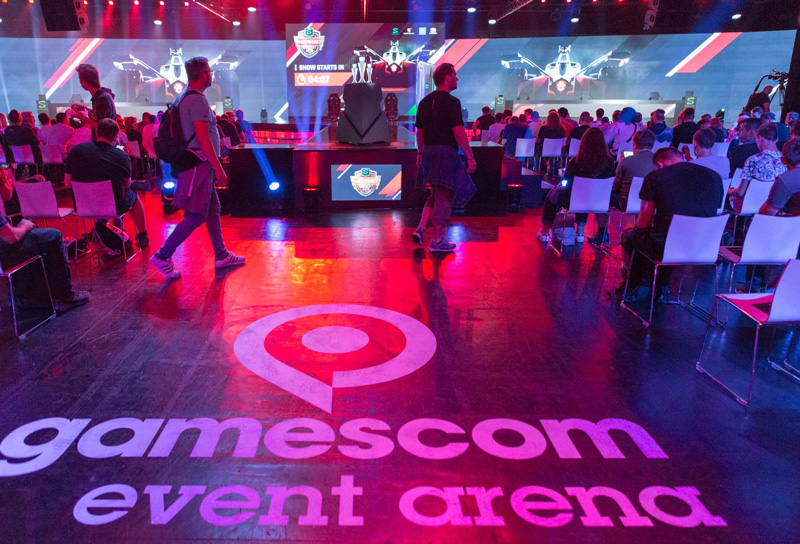 Picture: Gamescom
DMEXCO (20.09.2023 – 21.09.2023)
DMEXCO (Digital Marketing Expo & Conferences) is the leading annual trade fair for the advertising, marketing, and media production sectors. It is a pivotal trade show hosted in Messe Cologne that showcases the latest innovations, solutions, and trends related to the digital economy. This includes cybersecurity, metaverse, blockchain, e-marketing, and other essential topics. Over 550 industry leaders and speakers discuss such subjects. They represent leading companies such as:
Yahoo
Google
Shopify
Snapchat
Amazon
Deutsche Post
Huawei Technologies
Kaufland
Pinterest
Twitter
Asana
Microsoft
PayPal
PwC
Rakuten
Unilever

YouTube
Adobe
CNN
Dropbox
Facebook
IBM
Samsung
TikTok
LinkedIn
Spotify
RTL
Twitch
Porsche
Deutsche Bahn
Slack

Many of the before-mentioned companies are also members of the exhibiting group, which often exceeds 1,000 exhibitors. Their wares tend to be examined by more than 41,000 visitors.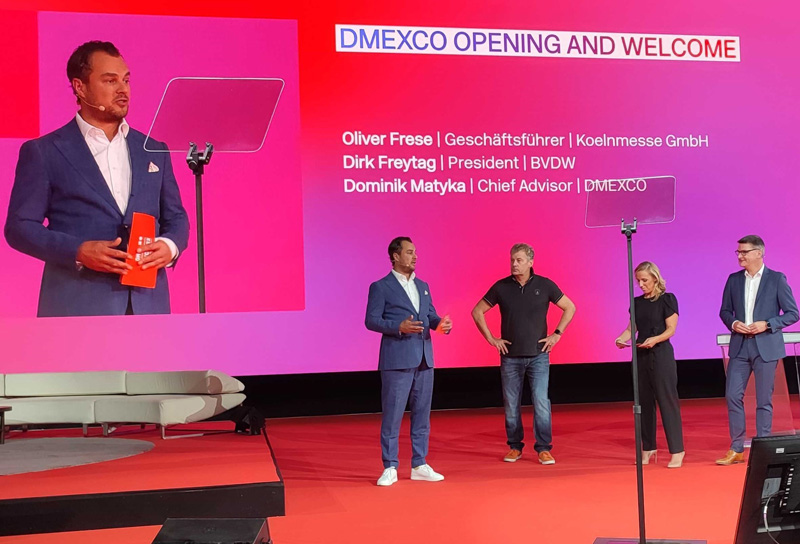 Picture: DMEXCO
EXPO REAL (04.10.2023 – 06.10.2023)
The real estate sector should not overlook attending EXPO REAL 2023. It is a must-attend event due to its comprehensive range of displayed solutions. These include real estate development, financing, investment, realisation, marketing, operation and usage solutions. This allows participants from the whole value chain to overview the latest trends and innovations. It also promotes networking with various related industries. Among them are the banking, construction, transport, hospitality, retail, and aviation sectors. This is achieved via micro-events such as the Planning & Partnership Forum. Frequently, the event receives over 40,000 visitors and 1,800 exhibitors. They include site operators, associations, financiers, investors, property developers, service providers, and architects. Participants also include representatives of leading companies, such as:
AccorHotels
Ackermann
Adolf Weber
AEW
ALDI
Allianz
Arcadis
BASF
BNP Paribas
Bosch
Deutsche Bundesbank
Credit Suisse
Deutsche Bahn
Deutsche Bank

DM Drogerie
eBay
Edeka
Flughafen Bremen
Hilton
Hyatt Hotels Corporation
IHG Hotels & Resorts
Invesco Real Estate
Kaufland
Lidl
Louvre Hotels Group
Marriott International
Deutsche Kreditbank

Picture: EXPO REAL
Anuga (07.10.2023 – 11.10.2023)
Anuga 2023 is one of the trade fairs that the F&B industry should not overlook attending. It is a biannual trade fair that is one of the sector's pivotal presentation stages. It presents the latest innovations, such as new production line solutions, F&B products and culinary concepts. This allows the industry to overview new solutions. They can also study the issues and trends they address. This is done via an intense event schedule, which includes ten distinct sub-exhibitions. These are Fine Food, Dairy, Meat, Bread & Bakery, Hot Beverages and Drinks. They also incorporate Frozen, Chilled & Fresh Food, Organic and Culinary Concepts. It additionally often includes additions that reflect the ongoing trends. This allows participants to examine the wares of retailers, manufacturers, suppliers, and importers. It also allows them to network with various industry representatives. Among them are service suppliers, wholesalers, and HoReCa specialists. This results in an attendance rate of over 4,600 exhibitors, with 92% travelling from abroad. Over 70,000 visitors examine their wares, with 76% representing a foreign country. The event receives representatives from 169 nations on 284,000 m2. Among the exhibitors are Mondial Foods, Loacker, Karlsberg, Loyd, Pfanner, Edeka and Aldi.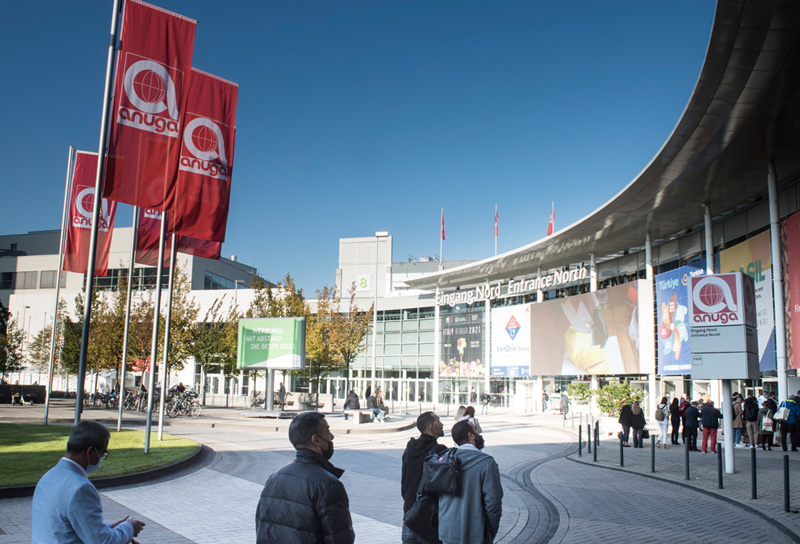 Picture: Anuga
The Geneva International Motor Show, or GIMS, is one of the automotive industry's leading trade shows. Founded in 1905, it is an event that sets the industry's standards. It also aids in presenting the latest innovations of prime importance. This is because the trade fair showcases the newest models, solutions, trends, and challenges. This results in an attendance rate of over 180 exhibitors and more than 660,000 visitors on over 106,000 m2 of exhibition area. More than 150 car premieres take place during the annual editions. They, except for one edition, take place at Palexpo in Switzerland. The premieres are over-viewed by over 10,000 journalists. Industry representatives such as suppliers, manufacturers, engineers, and retail specialists additionally examine them. The participant countries include Switzerland, Germany, Thailand, the UK, Japan, the USA, China, Monaco, Italy, and the Czech Republic. They furthermore include France, Mexico, Austria, the UAE, and South Korea. These are often represented by leading brands and companies, such as:
Toyota
Audi
Lexus
Suzuki
Dacia
Renault
Porsche
Isuzu
McLaren
Bentley
Aston Martin
Bugatti
Chevrolet
Volkswagen
Seat
Jaguar
Land Rover
Lamborghini
Citroen
Peugeot
Ford
Mercedes-Benz
AMG
Continental
Pirelli
General Motors
Skoda
Mazda
Kia
Honda
Fiat
Ferrari
Jeep
Alfa Romeo
BMW
Hyundai
Rolls-Royce
Cupra

Picture: GIMS
CPhI Worldwide is the central and flagship trade fair of the CPhI event series. Each annual edition occurs in a different leading European city, such as Barcelona. It features sub-exhibitions such as P-MEC, InnoPack, BioLIVE, ISCE, FDF, and BioProduction. As a result, the event showcases the latest insights and solutions from the entire value chain. This includes outsourcing services, packaging, machinery, finished dosage supply, and bio-processing. The event additionally enables increasing brand visibility, networking, expanding expertise, and showcasing innovations. This can be achieved via over 100 sub-events. They include conferences, Insight Briefings, roundtables, and other micro-events. The most pivotal include the Insight Briefings, the CPhI Pharma Awards, and the exhibition. High emphasis is placed on megatrends such as sustainability. They are presented via various lecturers, innovation showcases, and discussions. The event additionally studies the most critical market insights, challenges, and opportunities. CPhI Worldwide features over 2,000 exhibitors and more than 45,000 visitors. 78% of the visitors are buyers, and 47% are C-Suite executives. Over 170 countries attend the event's annual editions. Participants include suppliers, manufacturers, legislators, R&D institutes, and custom synthesis/OTC producers. This includes leading brands and enterprises such as:
ACME
Advantis
BASF
Daikin
ExxonMobil
Evonik
Fujifilm
Henkel
Honeywell
Kewpie
Kaneka

Novartis
Merck
Philips
Pfizer
Sandoz
Samsung
Saint-Gobain
BACHEM
Skyepharma
Mitsubishi

Picture: CPhI Worldwide
Among the trade fairs in 2023 that the medical community should not overlook attending are MEDICA and COMPAMED. They present the newest technological advancements via a diverse product portfolio, ranging from digital care and IT systems to innovative substances and consumables. They encompass all value chain segments, including production, manufacturing, distribution and end-usage. These are presented during the comprehensive exhibition as wares, such as laboratory technologies, medical furniture, raw materials, manufacturing components, equipment, software, services, and consumables. Complementing the expositions are various forums and conferences that discuss ongoing challenges, new market insights, trends, and crucial innovations. The event receives over 100,000 visitors and more than 3,500 exhibitors from over 150 countries. They represent sectors such as medicine, medical technology, dentistry, ophthalmic optics, healthcare, and pharmaceutical. Such industries are presented by professionals, such as hospital managers, physiotherapists., GPs, engineers, R&D experts, medical trade companies, and technical procurement specialists. Many government legislators and regulatory agencies attend as well. Over 800 market-leading companies and newcomers attend, including Bosch, ACME, Continental, Sony and DuPont. They also feature Evonik, Fujifilm, Henkel, Huawei, and Hewlett-Packard. Honeywell, Mercator, Mitsubishi, and Saint-Gobain also attend the editions held in Messe Dusseldorf.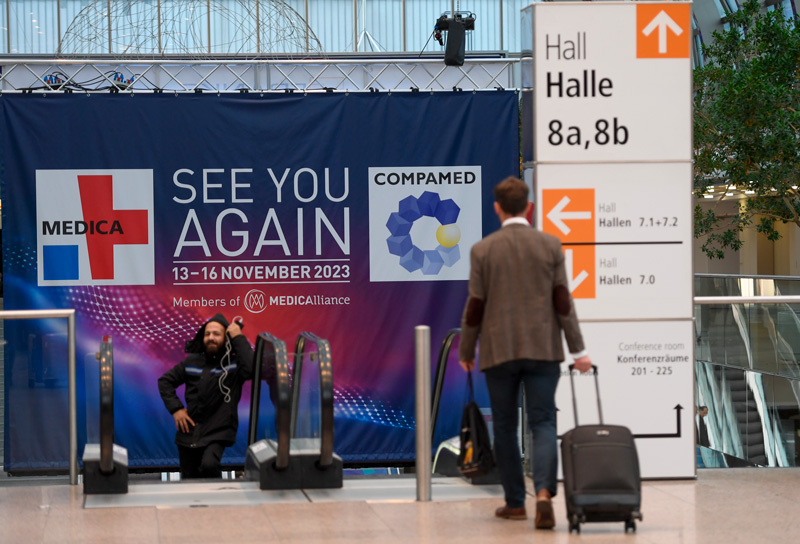 Picture: MEDICA and COMPAMED
Productronica is a leading electronics development and production trade fair. This is due to the event showcasing the latest innovations, varying from PCB to logistics. This allows industry members to overview the whole value chain and network. They can achieve such goals by participating in over 100 sub-events, such as the Fast Forward Platform. Productronica features over 1,000 exhibitors and over 40,000 visitors from over 40 countries. Participants represent the electronics, IT, retail, and manufacturing sectors. Among the exhibitors are lead companies such as Beckhoff Automation, Siemens, Baker Hughes and Panasonic. They furthermore include Nikon, Nano Dimension, Emerson, DuPont, Yamaha, Hitachi, and Fuji Europe.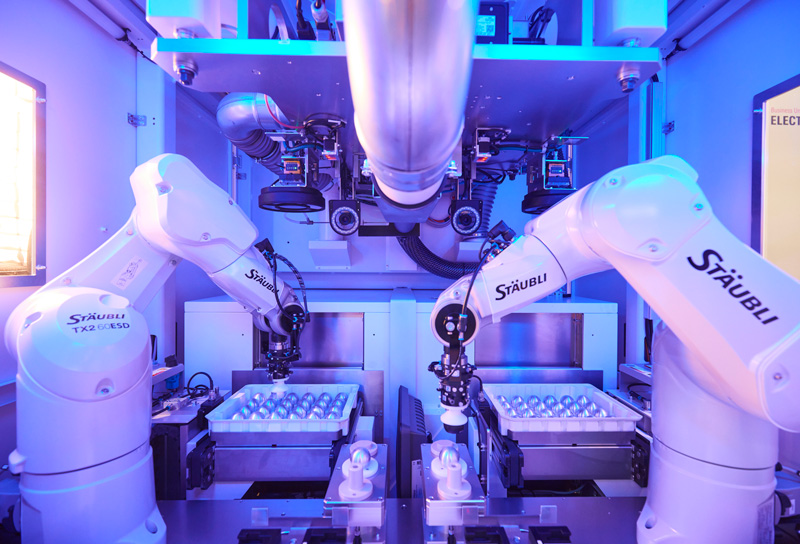 Picture: Productronica
Agritechnica (12.11.2023 – 18.11.2023)
Agritechnica is the pivotal meeting platform for the agriculture machine industry. It is a biannual trade show that takes place within Hannover Fairground. It showcases the newest technologies, products, and solutions related to plant production. These are featured within 23 halls. They span farming technologies, forestry solutions, landscaping, municipal applications, biofuels, et cetera. Complementing the extensive exhibition is a broad range of sub-events. These include more than 300 forums, special shows, and conferences. They discuss topics such as sustainability and the challenges it poses. Agritechnica receives more than 400,000 visitors and over 1,700 exhibitors. They represent over 50 exhibiting and more than 100 visiting countries. Over 1,400 journalists additionally attend the editions. Participants represent several industries. These include the IT, manufacturing, F&B, service, trade, agriculture, and education sectors. Procurement managers, engineers, researchers, OEMs, suppliers, manufacturers, developers, and association representatives present these. This includes leading exhibiting companies, such as:
Acerbis
Adler
Hexagon
BASF
Byer
Bosch
Continental
Cummins
Daimler

GMT equipment
Horton
Husqvarna
John Deere
Karcher
Liebherr
Webasto
Adolf Wurth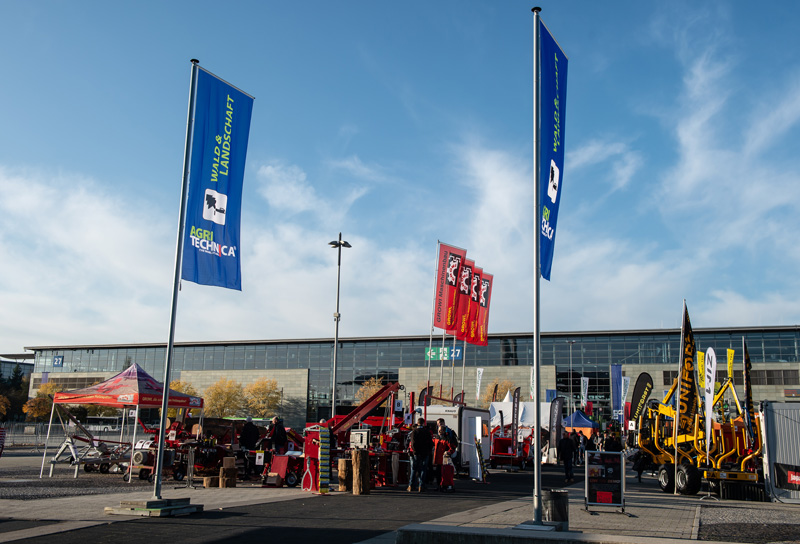 Picture: Agritechnica