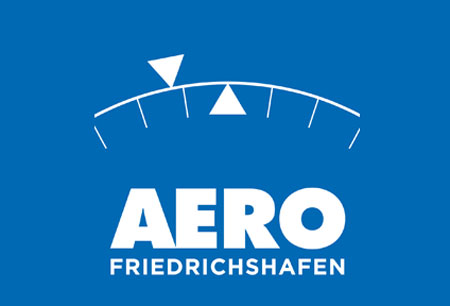 AERO 2024
(17 April 2024 - 20 April 2024 )
Organizer:
Messe Friedrichshafen
About the
event
Update
Organisers will hold AERO 2024 from the 17th to the 20th of April as a live trade exhibition. Currently, Messe Friedrichshafen does not have coronavirus safeguards. This is due to the removal of the pandemic restrictions in Germany.
Preface
AERO (AERO Friedrichshafen) is an annual trade fair of prime importance to the general aviation sector. It is among the central innovation presentation stages of the industry. It furthermore is among the primary means for gaining recognition and expanding networks. Messe Friedrichshafen GmbH organises the event at the venue of the same name. Most often, the editions take place in April for four days. Frequently, many of the participants are leading decision-makers or scientific experts. They also include leading figures, such as athletes.

AERO features high participation rates. For instance, one edition received 630 exhibitor firms, over 30 000 visitants, and 527 media representatives. Likewise, another edition attracted 757 exhibitor firms and 32 100 trade visitants. The restart rendition also received 27 700 visitants and 633 exhibitor firms. Participants represent countries such as Belgium, the US, Australia, China, and South Africa.
About AERO in Friedrichshafen
AERO features a comprehensive support schedule. This includes the exhibition, AERO Branches, Special Shows, Business Aviation Conference, and Aerokunst. The exhibition features presents a diverse range of wares. These range from engines and propulsion systems to aircraft, services, and associations. This enables participants to complete objectives such as overviewing the industry.

The AERO Branches are specialised areas with a detailed event agenda. These enable specialists to expand their knowledge by discussing critical topics. For instance, Avionics Avenue emphasises flight control, management, communications, and navigation. The Headset Test Area resembles, in some aspects, the Avionics Area. It features a display area where attendees can test noise-reduction products. The Engine Area presents the latest engines and propulsion systems. The location also features a conference area with maintenance and engine management topics. The e-flight-expo presents electric aircraft innovations, such as novel propulsion systems. The Drones for Emergency & Rescue Service Use area is a cross-deployment specialist event. It provides information about the latest UAV deployment applications. It furthermore allows for a discussion of real-time European flight scenarios.
Another AERO Branch of noticeable interest is the Ultralights location. It is the dedicated area for ultralights, ranging from gliders to gyrocopters. The Branch incorporates four sub-event areas. These are Helicopter Hangar, Powered Aircraft, Gyrocopters, and Gliding. The Helicopter Hangar presents the latest helicopter models, systems, engines, and services. It is also the location of the Heli-Forum, a conference sub-event. Among them are the specifications ultralight helicopters need to follow. Powered Aircraft presents a diverse range of powered models, including twin-engine ones. Gyrocopters are the specialised area for wares, such as novel propulsion systems. The Gliding location display wares such as gliders and retractable propulsion units.
As mentioned, AERO also features diverse Special Shows. These enable knowledge expansion and testing of various wares. For instance, Be a Pilot focuses on learning about potential pilot aptitude and training. This is done via presentations and a computer-based assessing tool. The Flight Simulation Area Show serves a similar intent. It presents the most up-to-date flight simulator products. It also features a presentation stage where lectures related to flight simulations take place. The Business Aviation Conference is among the must-attend sub-events. It comprises conference sessions which discuss business aircraft innovations, applications, and markets. The Aerokunst sub-event is also a must-attend. It is a dedicated exhibition where artists can present works of art. One artwork is raffled and gifted to a participant each day.

Among the companies and brands to attend the event are:
Airbus;
Bell Textron;
Boeing;
Bosch;
Bose Aviation;
Cessna;
Concorde;
Garmin International;
Honda Aircraft Company;

Honeywell;
Liebherr-Aerospace Lindenberg GmbH;
Pratt & Whitney;
Puma Aviation Europe;
Swiss Helicopter;
Textron;
Wright Brothers;
Shell;
Embraer.
Participants comprise a diverse group, including members from the related general branches. Among them are aerospace, airport technology, aircraft, and aviation. It also incorporates the security sector, such as fire and rescue services.
AERO Friedrichshafen Accommodation
Secure suitable accommodation for AERO with Travel 2 Fairs Ltd. All that is necessary is to inform us about the rooms you need, how much you wish to spend, and your desired location. Travel 2 Fairs Ltd manages the rest. Reserve lodgings next to Messe Friedrichshafen and gain valuable access to public transport. We can inform you of the best routes to take to the venue. Aside from affordable hotel accommodation for exhibitions, we also provide transport services. One way to travel to your hotel is to have a rent-a-car wait for you at the airport. Another is to schedule an airport transfer in both directions.
Event information might be outdated because of the coronavirus pandemic. More information is available from the organiser.
Past Iterations
AERO Friedrichshafen 2022
AERO 2022 in Friedrichshafen received 27 700 trade visitants and 633 exhibitor firms. The live restart edition occurred between the 27th and 30th of April 2022. It was held in Messe Friedrichshafen. It did not incorporate coronavirus safeguards due to Germany removing its pandemic restrictions.
AERO Friedrichshafen 2023
AERO 2023 occurred between the 19th and 22nd of April 2023 in Messe Friedrichshafen. It received 27 200 visitants and over 670 exhibiting firms from 35 nations. Similar to the 2022 restart iteration, the 2023 rendition of AERO did not incorporate coronavirus safeguards.
322
international exhibitors
100,000+
sq m of exhibition area
14,000+
international visitors
527
media representatives
Our visitors
for the event
Our
Clients