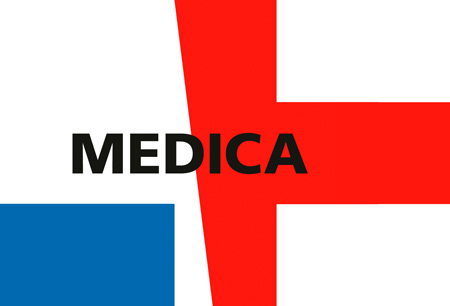 MEDICA
(13 November 2023 - 16 November 2023 )
Location:
Germany , Düsseldorf
Organizer:
Messe Dusseldorf GmbH
About the
event
Update
MEDICA 2023 will take place as a live event between 13.11.2023 and 16.11.2023. The event will coincide with COMPAMED 2023. The two trade fairs will take place at Messe Düsseldorf. The venue will not have the latest COVID-19 prevention measures in place due to Germany removing its pandemic-relayed restrictions.
Calling Card
MEDICA is one of the medical industry's leading trade fairs. It is among the central meeting locations for the sector and its related branches. Furthermore, the fair is the main procurement and learning platform for many professionals. Additionally, MEDICA is among the main presentation stages for the latest innovations. The trade show takes place every year with Messe Düsseldorf as its hosting location.
Business Profile of the Event
MEDICA attracts an impressive and diverse group of attendees. Such include GPs, laboratory managers, cost unit experts, manufacturers, OEMs, and service providers. It also includes hospital doctors, managers, nursing staff, and technical managers. Additionally, medical specialised traders, medical industry specialists, and assistants attend the fair. So do R&D specialists and legislators. Manufacturers of diagnostic testing, laboratory, physiotherapy/orthopaedic, information and communication technologies also attend. Likewise, manufacturers of disposables, commodities and consumer goods for medical practices attend. So do manufacturers of operating tables, medical support units, and medical furniture. Manufacturers of first aid/emergency devices, medical literature and specialist materials also attend. Visitors additionally include medical institutes, care centres, physiotherapist practitioners, science, and research experts. Sectors that attend include:
Medicine
Dental medicine
Medicine technology
Ophthalmic optics
Health
Pharmacy
Exhibitors include Ace Medical Devices Pvt Ltd and Beijing Aeonmed Co., Ltd. They also include Blue Ocean Robotics ApS and CLINIMED LLC. GPC Medical Ltd, Günter Bissinger Medizintechnik GmbH, HEYER Medical AG likewise attend. So do KUKA Deutschland GmbH and LightGuideOptics Germany GmbH. Medical Scientific Ltd and MediTECH Electronic GmbH also exhibit at the fair. So do Probo Medical, Rebstock Instruments GmbH and Regen Lab SA. Professionals can also examine the latest wares of Summus Medical Laser LLC.
Did You Know?
MEDICA allows professionals to complete a variety of business goals via attending. For instance, experts can expand their specialist knowledge and study the latest trends. Furthermore, professionals can gain recognition and receive feedback on their novel products. MEDICA also allows professionals to network. This includes meeting existing or potential customers and new business partners. The trade show also allows professionals to overview the different industry sectors.
MEDICA features a comprehensive support programme. This includes a detailed exhibition that features 8 product categories. The exposition allows over 5000 exhibitors to present their innovations and gain recognition. The product categories present at the exhibition include:
Electromedical Equipment/Medical technology -Imaging and diagnostics/Medical equipment & devices
Physiotherapy / Orthopaedic technology
Commodities and consumer goods
Information and communication technology
Medical services and publications
COMPAMED Product categories
The exhibition often features Joint Stands. There are around 150 international joint stands scattered in several halls. These are the showcase locations for exhibitors from the electromedical/medical technology segment. At these Joint Stands, professionals from different countries present their latest wares. This includes nations such as Germany, France, Belgium, Italy, Brazil, China, and the USA.
MEDICA also features a comprehensive range of education platforms. These include 5 forums and 3 conferences. Each sub-event features guest leading speakers such as Dr Markus Leyck Dieken. Each of the forums and conferences focuses on different medical industry topics. For instance, the MEDICA Connected Healthcare Forum is the central innovation forum. It focuses on the latest connected and mobile healthcare insights, technologies and solutions. This includes novelties created by leading companies and start-ups.
The Connected Healthcare Forum features a detailed sub-support programme. This includes the Forum which features topics such as the Internet of Medical Things. The topics also include Digital Healthcare Acts, and Medical Health and Neuromedicine. The sub-event also contains three micro-events that allow start-ups to gain recognition. These include MEDICA Disrupt, MEDICA Start-up Competition, and Healthcare Innovation World Cup. MEDICA Disrupt is a series of 100 start-up pitches. During the sessions, start-ups and scale-ups present their novel solutions to the audience. This allows aspiring companies and specialists to meet potential investors, partners, and accelerators.
The MEDICA Start-up Competition is among the leading championships in the medical industry. It is one of the main competitions which allow start-ups to gain recognition and network. The Completion lauds innovations such as health apps, diagnostic approaches and advanced robotics. It also grants recognition to new healthcare data collection tools and AI-enabled analytics. The Completion also allows winning start-ups to gain visibility by attending as speakers. Furthermore, winners gain access to free marketing packages and extensive global media coverage. Winners also receive expert advice for the go-to-market, scaling-up and other aspects. They will additionally earn a cash prize of up to 3500 Euro and potential placement in the Hall of Fame. The Competition is available for participation to companies, researchers and developers. All submissions must be in English and available at in one market until the end of 2023's second quarter. Their year of launching must not be older than 2019. Six evaluation criteria determine the winners of the championship. These are:
Innovation level
Technological feasibility
Marketing and go-to-market approach
Potential time to market
Commercial potential
Sustainability
The Innovation World Cup lauds novel IoMT devices, wearables, and smart patches/implants. It also provides recognition for healthcare AI and big data analytics innovations. Likewise, it commends digital prevention, diagnostics and health monitoring novelties. Femtech, Welltech, Braintech and hospital/care centre novel solutions can also take part. Like the Competition, the Innovation Cup allows start-ups and scale-ups to gain recognition. This includes access to the fair as a speaker and networking with key players and investors. Additionally, winners will earn various monetary prizes. Victorious start-ups will also receive free development kits from partners such as STMicroelectronics. They will also have a place of honour in the Hall of Fame. The Innovation cup features the same evaluation criteria as the Start-up Completion.
Another Forum of high interest is the MEDICA Health IT Forum. It is the central meeting location for industry pioneers and key investors. The Forum consist of expert panels, deep-dive sessions and tech talk. The Forum takes place for the duration of MEDICA with each Forum day having a special theme. For instance, the 2021 edition of the forum featured the themes:
Virtual care & digital therapeutics
Medical artificial intelligence & robotics
Fields of innovation
Societal aspects of a digitised healthcare
Each of the theme days focuses on a different set of topics related to them. For instance, Virtual Care featured topics such as mobile and web-based healthcare. Medical artificial intelligence focuses on the current state of data-driven research. Fields of innovation featured subjects such as Smart Implants and Biomedical Platforms. Social aspects focused on topics such as new work ideas. The Forum as mentioned consists of tech talks, expert panels and deep-dive sessions. It also features a sub-exhibition where universities and research institutions present their wares. Each of the talks, sessions and panels features a sub-set of formats. The Panels, for instance, can be keynotes, presentations, panel discussions or Q&As. The deep-dive sessions can take the form of scientific lectures. They can also be exemplary company presentations.
Attendees can also take part in the MEDICA LabMed Forum. This is the international meeting place of laboratory medicine experts. This includes doctors, health policymakers, patients, healthcare providers, press members and others. During the Forum, attendees can take part in presentations and panel discussions. The topics include metagenomics, metabolomics, immunity, vaccination, and laboratory medicine trends. They also include cardiac diagnostics, oncology liquid profiling and immune therapies. Likewise, professionals can learn about subjects such as integrative/AI-driven diagnostics. The MEDICA ECON Forum by Techniker Krankenkasse (TK) is also a Forum worth visiting. It is the central learning platform for politics, medicines, business, and science experts. During the sub-event, professionals can learn about current healthcare developments. This includes topics such as health policies, digitalisation, digital supply, and others. Each of the topics features a variety of sub-subjects such as hospital care of the future. During the Forum, professionals attend discussions and presentations. Each features a leading politics, medicine, business, or science expert as a speaker.
MEDICA also features the MEDICA Tech Forum as part of its support programme. The Forum is the central learning and networking platform for healthcare market experts. It is also the main location for clinical practice and medical technology professionals. During the sub-event, attendees can discuss economic, technological, scientific and political topics. Such include healthcare markets around the world. They additionally feature subjects such as legal aspects of using personal patient data.
As mentioned, MEDICA also features 3 conferences that can be of great value to attendees. During the conferences, professionals can learn about in- and outpatient care trends. The Conferences are DiMiMED, MEDICA Medicine+Sports Conference and German Hospital Day.
DiMiMED is abbreviatory for the International Conference on Disaster and Military Medicine. It is the meeting location for around 200 military medical and public health experts. It is also the meeting platform for about 30 industrial partners. Attendees represent various scientific institutes, organisations, and companies. Attendants include international military & civilian experts, medical planners, researchers, disaster and defence policymakers. During DiMiMED professionals can discuss topics such as emergency pre-hospital care and others.
The Medicine+Sports Conference attracts sports physicians, scientists, and athletes. It is additionally the networking location for physiotherapists, technology developers, and experts. It focuses on innovative approaches to sports injury prevention, regeneration, and rehabilitation. This includes the latest novelties related to performance medicine, personalisation, and others. The German Hospital Day draws leading clinics and health policy decision-makers. Attendees discuss subjects such as financing, digitalisation, personnel, and organisation management. Professionals take part in presentations and practice-oriented lectures that focus on different challenges. Such include outpatient treatment, optimal bed utilisation and others.
Professionals can also take part in special shows and sessions while attending MEDICA. The shows allow professionals to learn about the latest trends and gain recognition. The shows include:
The MEDICA Start-up Park
The Wearable Technologies Show
The Matchmaking Lounges
The MEDICA Start-Up Park is one of the central sub-events for start-ups. It is the main meeting place for digital pioneers in the medical industry. This is due to the Park allowing them to network with leading decision-makers. They can also meet and discuss business with business, research, and political experts. The location of the Park in Hall 12, Stand 12E53.
The WT or Wearable Technologies Show is one of MEDICA's main innovation show stages. It provides a central presentation stage for over 40 wearable technology innovation co-exhibitors. These present novel wares related to:
Patient care and mobile monitoring
Wearables for mobility problems and chronic diseases
Rehabilitation wearables for the prevention and treatment of injuries
WellTech — wellness, fitness and sports wearables
FemTech — New devices and apps for women, newborns, pregnancy, and family planning
Distribution, sensors, materials, and platforms related to wearables
The Matchmaking Lounges are several stands that allow networking with matchmaking partners. These are available in several halls. They allow professionals to organise and host 30-minute meetings with potential partners. Professionals can book available timeslots via a dedicated matchmaking tool and platform.
GPs, laboratory managers, cost unit experts, and manufacturers should consider attending MEDICA. So should service providers and OEMs. It can also be beneficial for hospital doctors, managers, and nursing staff. Additionally, medical industry specialists, specialised traders, and assistants should consider attending. So should legislators and R&D specialists. Manufacturers of laboratory, diagnostic testing, physiotherapy/orthopaedic, information and communication technologies should visit. Likewise, manufacturers of commodities, disposables, consumer goods for medical practices/hospitals should attend. This also applies to medical support units, operating tables and medical furniture producers. Manufacturers of medical literature and first aid/emergency devices should attend MEDICA. So should medical care centres, medical institutes, physiotherapist practitioners, research, and science experts. The fair can be beneficial for dental medicine, ophthalmic optics and pharmacy professionals.
Your Hotel Room in Düsseldorf
Invest in your business trip with hotel accommodation selected for your specific need. Travel 2 Fairs Ltd works with you to send you hotels in Düsseldorf with an ideal location and price tag. This allows you to select the hotel offers that work best for you. Such as placing you near Messe Düsseldorf for a quicker commute. We have long worked with large groups, so you can query for parties of twenty people and more. The entire registration process takes up to a day, and you leave all details to us. Also, Travel 2 Fairs ltd assists with logistics as well. You can request a rent-a-car or an airport transfer in both directions, whether it is private or shared.
Logistics
MEDICA is an annual trade fair that takes place at Messe Düsseldorf for four days. The visiting hours for the fair tend to be between 10 am and 6 pm on all four days. Messe Düsseldorf GmbH organises the fair with the aid of partners such as SPECTARIS and ZVEI.
Messe Düsseldorf is easy to access via public transport. You can arrive at the venue by taxi, metro, or train, for example. Travel times will vary depending on your mode of transportation and departure location. For example, by bus or metro, you can arrive at the venue in 18 minutes when travelling from the airport. Using the same mode of transport will allow you to reach the messe in 25 minutes from the central station. The same distances when travelling by car will take you 10 and 20 minutes. The venue is additionally close to local cities such as Cologne. For example, the A57 motorway allows you to access the messe in 60 minutes when travelling by car or bus.
Düsseldorf offers a diverse range of dining and accommodation options. Among them are restaurants, hotels, hostels, or cafés. It additionally provides alternatives such as guest houses, bars, apartments, and clubs. Such options are available due to the city's popularity as a tourist destination. Many of the city's districts provide lodging options, such as Friedrichstadt. You can additionally opt to rest or dine in local cities such as Cologne or Solingen.
Audience and Statistics
MEDICA receives an impressive number of attendees during its annual editions. For instance, its 2019 rendition featured 6398 exhibitors and 120 000 visitors. More than 60 countries attend the trade fair including:
Austria
Belarus
Belgium
Brazil
Bulgaria
Canada
China
Croatia
Czech Republic
Denmark
Egypt
Estonia
Finland
France
Germany
Greece

Hungary
India
Iran
Israel
Italy
Japan
Kazakhstan
South Korea
Lithuania
Luxembourg
Netherlands
Norway
Pakistan
Poland
Portugal
Romania

Russian Federation
Serbia
Singapore
Slovakia
Slovenia
Spain
Sweden
Switzerland
Taiwan
Thailand
Tunisia
Turkey
Ukraine
UAE
UK
USA
Attending industry sectors include:
Medicine
Dental medicine
Medicine technology
Ophthalmic optics
Health
Pharmacy
Past Editions
The 2020 edition of MEDICA took place between 16.11.2020 and 19.11.2020 in digital format. The rendition featured 1500 exhibitors and 45 000 visitors. The exhibitors presented a total of 18300 products during the event. One hundred and sixty-nine nations attended the rendition. Among them were China, the USA, Germany, and other nations.
2021 Edition
COMPAMED 2021 and MEDICA 2021 were held as hybrid events between November 15, 2021, and November 18, 2021. The fairs were held at Messe Düsseldorf as live exhibitions as well as on special-purpose digital platforms. The venue implemented the most up-to-date and stringent Covid-19 prevention measures to ensure the safety of attendees. Participants had to present valid 3G documents, such as proof of recovery or negative test results, before being admitted. The concurrent editions attracted over 46,000 visitors from 150 countries. Furthermore, the 2021 editions attracted over 3,500 exhibitors from 70 countries. Both editions had an impressive number of speakers: 610. A total of 787 presentations were made during the editions. On the digital platforms that hosted the online aspects of the fairs, 77,300 unique users were registered. This included a demonstration of a new robotic device and process for mass-producing cultivated stem cells.
113,000
sq. metres exhibition space
Our visitors
for the event
Our
Clients