The most prominent trade fairs in February 2023
30 Jan 2023
The most prominent trade events in February 2023
Preparing your business for the upcoming months of 2023 is essential. It aids in ensuring that your enterprise will remain lucrative and competitive, especially in the present. Yet, it can be challenging for the members of the various industries to prepare and continue to be up-to-date with vital information, as well as maintain strong business networks. This especially applies when considering which intersectoral opportunities can provide the maximum chance of success. There are several means of handling such tasks. Among them is attending a premier trade fair of importance to one or more industries. Which are the trade exhibitions that will be available in February 2023? Listed below are the most prominent trade events that will be held during the upcoming month:
Integrated Systems Europe is the continent's premium AV integration trade fair and is hosted in Fira Barcelona. It presents innovative solutions for diverse sectors, including audiovisual, content design, digital signage, education, intelligent buildings, and communications. Various exhibitors spanning the whole value chain of the related industries present them. Among them are AV end-users, creative agencies, manufacturers, artists, event planners, integrators, installers, distributors, retailers, consultants, live events producers, software designers, coders, creation firms and UC/UX developers. This results in over 850 exhibitors and more than 90 000 visitors attending. Over 150 countries visit the iterations, which take place on 53 000 m2 of event space spanning five to six exhibition halls. Visitors include senior management, who comprise 55% of the group and leading decision-makers, who comprise 39% of the group. Such participants attend to complete business goals, such as networking, placing orders, and expanding their specialist knowledge. This is accomplished by visiting the exhibition with its diverse product range and the event schedule, which features a variety of conferences posted by AVIXA and CEDIA. The programme also includes keynote sessions hosted by leading experts, such as BK Johannessen, Steven Rissi, Maud Pols, and Shannon MacKay. Such specialists represent leaving exhibitors, such as:
Canon Europe;
Epsom Europe;
Google;
Lenovo;
LG Electronics;
Microsoft;
Ricoh;
Samsung Electronics;
Schneider Electric;
Sony;
Teledyne;

TP-Link;
Yamaha;
Bosch Security Systems;
Cisco;
Bose Corporation;
Beckhoff Automation;
Lux Machina;
CEBIA;
IABM;
Epic Games;
Intel Corporation.

Image: Integrated Systems Europe
The Nuremberg Toy Fair, or Spielwarenmesse, is a leading hobby, toy, children's clothing and gaming trade fair. It presents 1 000 000 products during its annual iterations, which are held in Messe Nuremberg. This often includes around 150 000 innovative or novel product premieres. These are presented by over 2 700 exhibitors firms and overviewed by over 62 000 trade visitants. The participants represent 70 exhibiting and 136 visitor countries, with 66% of the visitors representing a foreign country. Attendees include shops, stores, retailers, wholesalers, importers, exporters, markets, distributors, florists, garden centres, shopping channels, self-service chains, mail-order companies, and self-service chains. They also include schools, nursery schools, day nurseries, therapeutic practitioners, workshops for the disabled, agencies, designers, leisure parks, licensees, licensors, associations, manufacturers, service providers, show people, and sales agents. Such attendants can also learn about the latest innovations and challenges in the toy sector. This is achieved via a detailed event schedule, which includes a forum and a convention. Often, such sub-events feature speakers from leading exhibitor firms, such as:
ACME;
Australian Toy Association;
Crayola;
Eurographics;
Game Factory;
Hasbro;
JackInTheBox Toys;

Kaufland Global Marketplace;
Mitsubishi HiTec Paper;
Penguin Random House;
Solido;
The LEGO Group;
The Pokémon Company International.

Image: Spielwarenmesse
Ambiente is a premier annual trade fair of great importance to the consumer goods industry. It is held in Messe Frankfurt alongside Creativeworld and Christmasworld. The three trade fairs attract over 5 900 exhibitors and over 153 700 visitors who overview wares and complete business goals on over 335 000 m2 of event space. Such wares include one related to hobbies, leisure, gifts, watches, clocks, jewellery, household goods, glassware, ceramics, toys, and children's clothing. The trade fairs feature diverse sub-events as part of their schedules. Ambiente, for instance, features two academies, a plagiarism award contest, and specialised presentations. This allows participants to learn about the newest trends. It should be noted that over 80% of the exhibitors and around 50% of the visitors represent a foreign country. The trade shows additionally receive as exhibitors leading companies, such as:
ACME United Corporation;
Areon;
Carl Dietrich;
Pantone;
eBay;
Innova Groups;
Kai Corporation;
Kaufland E-commerce GmbH;
NAHE;
M/S Pakistan Souvenirs;

Carl Schmidt Sohn GmbH;
Schneider GmbH;
Tescoma;
Tupperware;
Waldmann AG;
Graziani;
Yellow Stone SAS;
S.I. Zwartz.
National Handicraft Exports;

Image: Messefrankfurt
MIDO is a must-attend for medicine, medicine technology, ophthalmic optics, pharmacy, and health specialists. It presents the newest novelties related to eyewear and ophthalmic optics at the Fiera Milano Rho. This includes new eyewear lenses, frames, design solutions, fashion trends, technologies, and others. Over 1 300 exhibitors who have their wares examined by over 50 000 visitants present these. Such include distributors, agents, retailers, and manufacturers. Such attendants also visit MIDO to expand their professional networks and learn the latest information of prime importance. This is done through sub-events such as the Fashion District, Design Lad, Lab Academy and others. Among the leading companies and brands to attend are:
Hugo Boss;
Pierre Cardin;
Polaroid;
Jimmy Choo;
Safilo SPA;
Zeiss;
Lee Cooper;
Swiss Eyewear Group;
Polar Vision;
Nikon;
Soho;

E-Spirit;
Nina Ricki;
Saint-Gobain;
Victor Hugo;
Evonik;
Jaguar;
Oculus;
Pulsar;
Dunlop;
Oxford;

Hilton;
Cosmopolitan;
KNCO;
Visage;
Calvin Klein;
Adidas;
Harley-Davidson;
Impala;
Timberland;
Tom Ford;

Guess;
Longines;
BMW;
Opal Demetz;
Mango;
Kodak;
Playmobil;
Porsche Design Eyewear;
Levi's;
Polaroid.

Image: Mido
BIOFACH and VIVANESS (14.02.2023 – 17.02.2023)
BIOFACH and VIVANESS are pivotal F&B and natural cosmetics trade fairs and attract over 54 700 participants. This includes over 50 000 visitants, over 1 000 media specialists and more than 3 700 exhibitor firms. Among the exhibiting firms of BIOFACH and VIVANESS are leading companies such as Himalayan Commodities, Organic Japan Tea, Jean Niel, Heimatmühle, Masterpack Group, Rewe, Worlee, Brevia Corporation, Jimmy Boyd, Primavera, and Amerifoods. The trade exhibitions occur each year in Messe Nurnberg.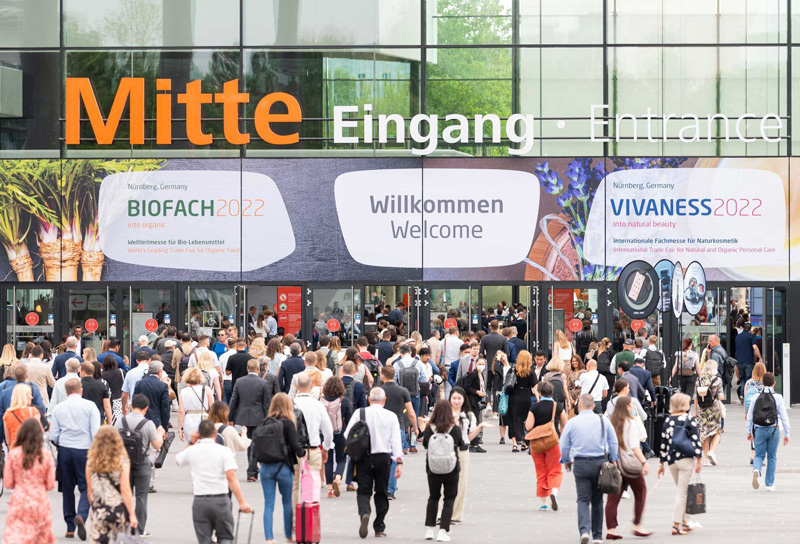 Image: NürnbergMesse
Gulfood Exhibition (Gulfood) is a premier trade show of great importance to the F&B industry. It attracts over 5 000 exhibiting firms, more than 200 lecturers, and over 90 000 visitants to Dubai World Trade Centre. They can examine or present wares within 120 country pavilions and on 120 000 m2 of event space. The product groups include beverages, health, meats, dairy, oils, and similar. Gulfood features the participation of specialists such as F&B manufacturers, nutritionists, HoReCa experts, food procurers, chefs, and media professionals. They include leading companies/brands, such as:
Mars Wrigley;
Doritos;
Mondelez;
Twix;
Ferrero;
President;
RiceUP!;
Kinder;
Unilever;
Snickers;
Coca-Cola;

Danone;
Bounty;
Starbucks;
Rafaello;
Hochland Deutschland;
Lindt;
Red Bull;
Cadbury;
Nestle;
Caffe Excelsior;
Kellogg's;

Oreo;
DEL MONTE®;
Milka;
Mokate;
Loyd;
Mondial Foods;
Cote d'Or;
Kewpie Corporation;
Nescafe;
Davidoff;
Granini;

Jacobs;
Lavazza;
Orbit;
Lipton;
Twinnings;
Senator;
3 Horses;
PepsiCo;
Meggle;
Casa Milo.

Image: Gulfood Exhibition
Euroshop or EuroShop/EuroShop Dusseldorf is the most prominent trade exhibition for industries related to physical stores. These include F&B, retail, wholesale, interior design, marketing, merchandising, shopfitting, consumer goods, architecture, advertising, skilled trade, fashion, HoReCa, IT, security, healthcare, financial, entertainment, and travel. These are presented by designers, retailers, traders, architects, marketers, merchandisers, shopfitters, restaurateurs, caterers, shopping centre operators, bank specialists, and spa centres. This results in around 2 300 exhibitors and approximately 94 000 visitors from over 140 countries attending the triennial editions in Messe Dusseldorf. Over 70% of the attendees represent a foreign country, including from the European, American, Asian, African, and Oceania continents. More than 80% of EuroShop's participants have decision-making roles. This includes representatives of leading companies, such as:
Hyundai;
Liebherr;
Fujitsu;
Deutsche Telekom AG;
Alfred Kärcher;
Toshiba;
Tchibo Coffee Service;
Hikvision;
Honeywell;

Verifone;
DuPont;
EVO Payments International;
Hitachi;
Huawei;
Ishida;
Lenovo;
LG Electronics;

Microsoft;
Panasonic;
RTC;
Saint-Gobain;
Samsung;
Schneider Electric;
Schotti;
3A Composites.

Image: Euroshop
Featuring 120 000 m2 of event space, the annual Mobile World Congress (MWC) is an essential trade fair for the sectors related to cross-industry connectivity. This includes aviation, automotive, telecommunications, media, retailing, manufacturing Information Technology, and health care. Such sectors are presented within Fira de Barcelona Gran Via by over 1 500 exhibitor firms, more than 61 000 visitors, and over 1 000 lecturers. They represent over 150 nations from six continents, with 70% of the visitors, in particular, travelling from abroad. Technology providers, device manufacturers, and associations represent these. Such attendants attend MWC to gain up-to-date information on new challenges/trends and to present or overview new solutions. Many leading enterprises display such wares, including:
Ericsson;
Orange;
Lockheed Martin;
Accenture;
Telefonica;
AMD;
Airbus;
Advantest;
Amazon;
BlackBerry;
Cisco;

Bluetooth;
Dell;
Dassault;
Deutsche Telekom;
Decathlon;
Fujitsu;
Qualcomm Technologies;
Gigabyte Technologies;
Google;
GMS;

Hewlett Packard;
GSMA;
Huawei;
Hexagon;
Infineon;
ZTE;
Kaspersky Lab;
IBM;
Microsoft;
PwC;

Samsung;
Telenor;
Siemens;
TP-Link;
Teledyne;
HTC;
Sony;
Vodafone;
Synopsys;
Rakuten;

Telesoft;
Nokia;
TikTok;
Lenovo;
United Nations ITC;
Kyndryl;
Verizon;
Intel;
VMware;
Xiaomi.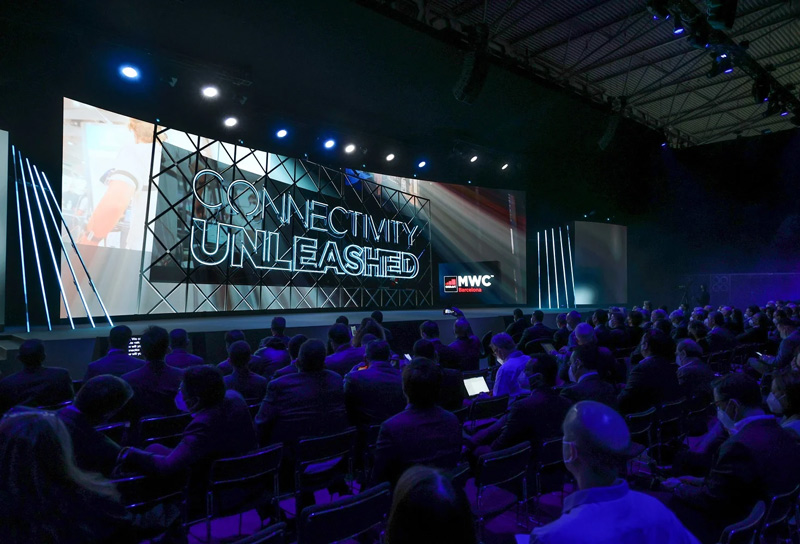 Image: Fiercewireless