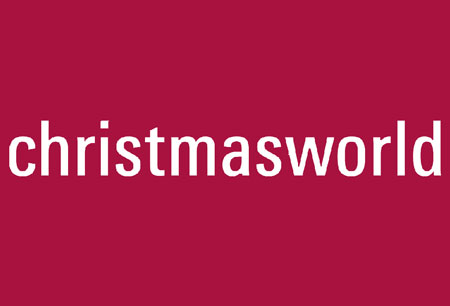 Christmasworld Frankfurt
( 3 February 2023 - 7 February 2023 )
Location:
Germany , Frankfurt am Main
Organizer:
Messe Frankfurt
About the
event
Update
Organisers are organising the 2023 edition of Christmasworld. The hosting dates for the live trade fair are 03.02.2023 - 07.02.2023, and it will coincide with two other events. The other trade fairs will be Ambiente and Creativeworld. Christmasworld 2023 will not have a stringent COVID-19 safety plan in place due to the removal of the country's pandemic-related restrictions.

Calling Card
Founded in 1996, Christmasworld is the main fair for festive and seasonal decorations. It is also the location for the festive decoration sector to learn about the latest trends. This allows professionals to prepare for the upcoming year. The fair takes place every year in Messe Frankfurt, Frankfurt's main venue.
Business profile of the event
Christmasworld is a leading fair for the wholesale, import and retail trade sector. It is also the meeting location for festive and seasonal decoration industry professionals. At the fair, attendees can meet with specialists and companies such as:
Supermarket chains and discounters
Florist shops and floristry wholesalers
Shopping centres and city marketing locations
Gift boutiques, glass, porcelain, and ceramics shops
Furniture and furnishings stores
DIY stores
Decoration companies and visual merchandisers
Drugstores
Restaurant, hotel, and catering traders
Garden centres
Event agencies
Among the companies that visit the fair are Advantech Handicrafts.
Did You Know?
Christmasworld can help the gift and souvenirs sector achieve several objectives. One of them is networking with industry experts and potential customers. The fair additionally can aid in learning about new trends and innovations. Furthermore, Christmasworld allows attendees to expand their specialist knowledge and exchange experience. Attendees can also examine products before making purchasing decisions.
One of Christmasworld's main sub-events is the comprehensive exhibition. It is the location for gaining a detailed overview of the upcoming trends. It is also the event that showcases the latest seasonal decorations. The exhibition has a product portfolio that encompasses every need. It is the main location that gathers in one location wholesalers and retail traders. Such professionals gather to examine the latest wares and place their orders. The exhibition includes several sectors to make finding a certain product easier. The categories include:
Visual Merchandising & Light

Florists' Requisites & Garden Decorations

Candles & Fragrances

Ribbons & Wrapping

Christmas Delights

Floradecora

Christmasworld Volume & Sourcing.
Visual Merchandising focuses on showcasing energy-saving and ultra-modern LED technology. It also shows multi-faceted decorative home/garden lighting. The sector also contains shop-window and in-shop decorations such as in/outdoor lighting. The Florists' requisites contain creative materials and ideas for artificial plant arrangements. This includes artificial flowers, plants, trees, wreaths, sprays, and holloware. It is also the location for finding garden decorations for shops, homes, and hotels.
The Candles & Fragrances contain exquisite candles, candlesticks, candleholders, and candle accessories. The zone also contains a diverse range of room fragrances and soaps. Ribbons & Wrapping is the location for individual wrapping materials. This includes new motifs, materials, printing options and colours. This allows attendees to personalise bows, ribbons, and gifts.
The Christmas Delights is where attendees can sample seasonal delicacies and beverages. Such include Christmas confectionaries such as mulled wine, chocolate, tea, and Christmas cakes. The Floradecora is the location for buying fresh plants. Such include flowers such as roses, lilies, tulips, chrysanthemums, lisianthus, orchids and poinsettia. The zone also contains a range of bamboos, Christmas trees, succulents, and cacti. The Christmasworld Volume & Sourcing is for placing large volume orders to Asian exhibitors.
The exhibition often includes special-interest items. These are products selected among the ones provided by suppliers at the fair. The products reflect the current edition's particular themes. This allows the showcased suppliers to receive recognition and generate new leads. There are 3 Special Interest categories. There are German Christmas Crafts, Concept Decorations, and Asia Select. Concept Decorations focuses on showing innovative solutions for the decoration of public spaces. This includes novel products or decorative concepts for shopping centres, malls and retailers. The zone also allows station, airport, and hotel managers to find innovative solutions. Town and city representatives can also find suitable products in the zone.
The German Christmas Crafts showcases the finest handmade Christmas German items. Such include creations made from porcelain, glass, and wood. The Asia Select showcases products from selected individual Asian exhibitors.
Besides the exhibition, Christmasworld includes various zones and showcase sub-events. These sub-events allow attendees to learn about special-interest items and inspirations. Among the leading ones is the Retail BLVD. It showcases ways to create shop effects that are both impressive and sales-promoting. The BLVD achieves such a goal by providing guided tours of retail concepts. During the tours, specialist buyers receive advice on implementing the concepts. Each edition of the BLVD has the concepts created via extensive research.
Another sub-event of interest is the Christmasworld Trends zone. It is the location for showcasing new themes and designers. This allows start-ups and leading companies to gain recognition. Christmasworld is a must-attend for gifts and glassware professionals. The watches/clocks, toys, decoration, and florist sectors should also consider attending.
Your Hotel Room in Frankfurt am Main
Invest in your business trip with hotel accommodation selected for your specific need. Travel 2 Fairs Ltd works with you to send you hotels in Frankfurt with an ideal location and price tag. This allows you to select the hotel offers that work best for you. Such as placing you near Messe Frankfurt for a quicker commute. We have long worked with large groups, so you can query for parties of twenty people and more. The entire registration process takes up to a day and you leave all details to us. Also, Travel 2 Fairs ltd assists with logistics as well. You can request a rent-a-car or an airport transfer in both directions, whether it is private or shared.
Logistics
Christmasworld is an annual event that takes place for 5 days at Messe Frankfurt. Messe Frankfurt GmbH organises the event with visiting hours varying. Attendants can visit for the first 4 days between 9 am and 6 pm. For the fifth and final day, the visiting hours are between 9 am and 5 pm. Exhibitors can enter at 8 am on all 5 days.
Messe Frankfurt is an exhibition centre linked by various public transport connections. This allows reaching the exhibition centre from different main transport hubs. For example, you can reach Messe Frankfurt from the central station by opting for a taxi or taking the train. By taxi, you will access the venue in 10 minutes. Via train, you will travel the same distance in 17 minutes. As an alternative, you can walk from the central station and reach Messe Frankfurt in 35 minutes. When travelling to the venue from Frankfurt Airport, you can opt to order a taxi or use public transport. By taxi, you will access the exhibition centre in 20 minutes. Via public transport, you will travel the same distance in 50 minutes.
Frankfurt is among Germany's leading tourist and metropolis cities. It has extensive railway and road connections that connect it to the rest of Germany and Europe. This allows you to reach Messe Frankfurt from neighbouring locations with ease. For instance, there is a railway connection between Offenburg and Frankfurt. Such a route permits reaching the metropolis and the messe in 2 hours. Because of its popularity, Frankfurt has ample accommodation and dining options. These include guest houses, hotels, hostels, and apartments. Dining alternatives include restaurants, clubs, bars, pubs as well as other eateries. When considering areas to stay in, opt for districts such as the Altstadt or Old City.
Audience and Statistics
Christmasworld is a high-profile event that receives over 41 000 visitors. For instance, its 2020 edition included 42,834 visitors and 1063 exhibitors. Around 130 countries visited the edition. This includes nations such as:
France

Vietnam

Japan

Sri Lanka

Lithuania

Myanmar

Taiwan

Netherlands

Thailand

Philippines

Nepal

Sweden

Italy

Belgium

Switzerland

Czech Republic

USA

Slovakia

Moldova

Colombia

Romania

Russia

Hungary

Indonesia

Greece

Palestine

Poland

Germany

Estonia

Egypt

Finland

South Korea

Ukraine

Brazil

Austria

Croatia

Slovenia

Canada

Bulgaria

Israel

China

Latvia

Spain

The UK

Portugal

Turkey

Denmark

India
Attendees are professionals from the wholesale, import, and retail trade sectors. Specialists working in the gifts, glassware, ceramics, and toy industries also visit. So do children's clothing and watches/clocks professionals. Hotel, shop, and public space managers also attend the fair.
Past Editions
Christmasworld is an event whose editions are always interesting and diverse. For instance, its 2019 edition featured a new hall structure. Its 2021 edition took place as a digital event known as the Consumer Goods Digital Day. The edition featured 3658 attendees from 93 countries. It also included a detailed conference programme and intense networking opportunities. The 2020 edition was also interesting. One of its event zones, the Decoration Unlimited showcased a curious shop-window theme. This was the Dark Ocean theme. It featured stormy seascapes set against a warm beach-club atmosphere. This helped to create a combination of rugged elements and cosy decorations. The colour palette consisted of dark blues, natural greys, browns, and copper accents.
813
international exhibitors
27,340
international visitor
Our visitors
for the event
Our
Clients