Upcoming 2023 Automotive Trade Shows
1 Dec 2022
It can be challenging to remain competitive within the automotive industry, especially as a startup. This is due to the various tasks and goals that need to be completed, such as networking, learning about critical topics, presenting innovations, or earning recognition. Yet, there are means of reducing such challenges while ensuring the best results. Among them are attending various automotive trade fairs of pivotal importance. Which events should professionals, especially startups, consider attending in 2023? Here are the upcoming automotive trade shows that will take place in 2023:
Tire Technology Expo is one of the pivotal trade fairs for the automotive industry. It presents the latest innovations, improvements, challenges, trends, and regulatory changes related to the tire manufacturing process. This includes specialised equipment, raw materials, manufacturing tools, production technologies and end-product solutions. The expo comprises a comprehensive exhibition complemented by a conference examining the latest issues and various product pavilions, workshops and live demonstrations. Tire Technology Expo takes place annually in Deutsche Messe/Hannover Fairground. It receives over 300 exhibitors, around 5,600 industry experts, over 100 speakers and approximately 550 conference attendees. This includes CEOs, R&D specialists, government representatives, as well as leading manufacturers, such as:
Beckhoff Automation
Bosch Rexroth
Cabot Corporation
Continental
Evonik Industries
LANXESS
Siemens AG
Solvay
Weber
Zeppelin
Jaguar Land Rover
Goodyear
Michelin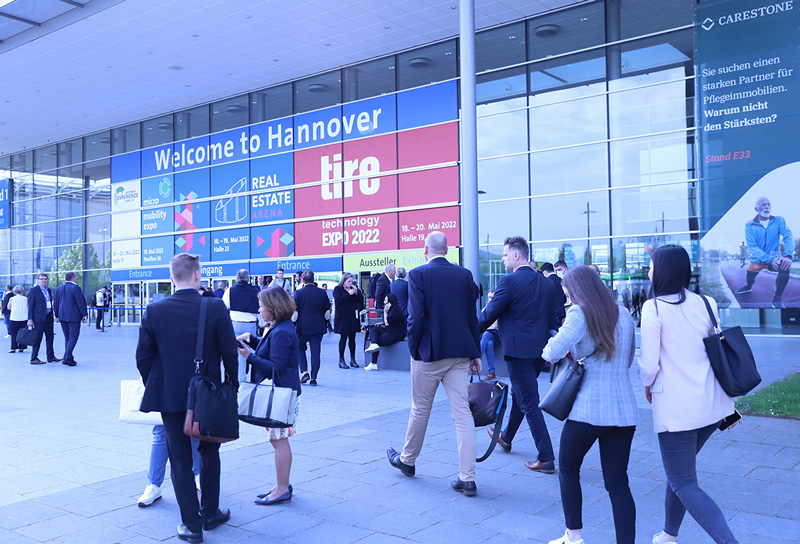 Picture: Tire Technology Expo
Automechanika Istanbul, held annually at the Tüyap Fair Convention and Congress Center, is one of the events comprising the Automechanika series. It is an international trade fair that introduces supply to demand within the automotive aftermarket sector of the Turkish market and the surrounding region. This allows participants to examine the latest innovations and products, especially while awaiting the flagship Automechanika Frankfurt. The event features a comprehensive portfolio and event schedule. This includes showcasing novel wares, ranging from new accessories and lacquers to maintenance processes, workshop equipment and automotive parts. This results in the participation of more than 48,000 visitors and over 800 exhibitors from over 25 exhibiting and over 140 visiting nations. Among the leading companies to attend are:
Gates
Ford Tractor
Hansa Parts
Haldex
HEMA
Interpart Otomotiv
ACMA

Alp Auto Spare Parts
ATP Diesel
FLP
Bachmann
Kappa Oil
Mercedes-Benz
Samsung

Picture: Automechanika Istanbul
IAA Mobility (05.09.2023 – 10.09.2023)
IAA Mobility, formerly the IAA, is one of the must-attend events for the automotive industry's sectors. It receives over 560,000 visitors and more than 1,000 exhibitors from more than 90 countries. This is due to the event presenting the latest visionary concepts, alternative drives, intelligent cities, electromobility and innovative vehicles. These are showcased, discussed, examined, and lauded via a comprehensive event schedule which includes specialised events such as Blue Lane, a city-centre-wide test track. Complementing such sub-events are diverse workshops, live demonstrations, informative sessions hosted by over 900 speakers, and competitions. These include a B2BB Summit hosted in Messe Munich and a B2C open space hosted within the city's downtown section. Among the exhibitors and partner companies are leading manufacturers, hi-tech companies, mobility service providers, startups, media agencies, and suppliers. This includes notable brands and enterprises, such as:
Audi
BMW
Mercedes-Benz
Renault
Porsche
Volkswagen
Bosch
Continental
Qualcomm
Hyundai
Ford
LEGO
Red Bull

MINI
Cupra
Huawei
Microsoft
IBM
Michelin
PwC
Google
Facebook
Team Viewer
Siemens
RTL
Seat

Dolby
Accenture
TikTok
YouTube
Motorsport Network
Bloomberg
Amazon Web Services
Dassault Systems
Dacia
Uber
Webasto

Picture: IAA Mobility
Busworld Europe is one of the pivotal trade fairs for the bus and coach sector of the automotive industry. It is a biannual trade show held at Brussels Expo. It presents the latest vehicle, body, interior, components, electronics, IT systems, maintenance tools and services related to the sector. Over 500 exhibitors, including manufacturers, suppliers, and service providers, present these. Around 40,000 visitors from over 140 countries examine their wares. They include bus/coach operators, public transport companies, large-scale purchasers, airports, and schools. Engineers, automotive federation representatives, R&D staff, education institutions and government authorities also attend the event. So do members of leading companies, such as:
ABB
Azimut Electronics
Bosch
Continental
Cummins
DAF
Daimler
Mercedes-Benz
IVECO

Omnibus
Polaris
Scania
Skoda
Van Hool
Ventura Systems
Volvo
Webasto
Man Truck & Bus

Picture: Busworld Europe
The Geneva International Motor Show (GIMS) is one of the most important trade fairs in the automotive industry. It is an event that has established the industry's standards since its inception in 1905. It also showcases pivotal advancements within the related sectors. This is due to the trade exhibition displaying the most recent models, solutions, trends, and complications. This results in over 1,800 exhibitors and over 660,000 visitors on more than 106,000 m2 of show space. During the annual editions, more than 150 automotive debuts take place. Except for one edition, they are held at Palexpo in Switzerland. More than 10,000 journalists observe the premieres. Likewise, they are examined by industry representatives, such as suppliers, manufacturers, engineers, and retail professionals. Among the over 100 countries that take part are nations such as Switzerland, Germany, the United Kingdom, Japan, the United States, China, Monaco, Italy, and the Czech Republic. Well-known brands and corporations frequently represent these, including:
McLaren
Isuzu
Audi
Renault
Porsche
Dacia
Toyota
Suzuki
Lexus
Bentley
Bugatti
Aston Martin
Chevrolet

Pirelli
Continental
Volkswagen
Jaguar
Peugeot
General Motors
Mercedes-Benz
Land Rover
Seat
Citroen
Lamborghini
Ford
AMG

Hyundai
Fiat
Mazda
Skoda
Kia
Jeep
BMW
Rolls-Royce
Honda
Ferrari
Cupra
Alfa Romeo

Picture: Geneva International Motor Show
AAPEX (Automotive Aftermarket Products Expo) is one of the premier automotive industry exhibitions held in the USA. It is one of the pivotal trade fairs hosted in the country and features the wares of leading automotive manufacturers and marketers. AAPEX takes place annually at the Venetian Expo in Las Vegas. It attracts professionals such as automotive service providers, repair experts, warehouse distributors, service chain representatives, automotive dealers, engine builders, and fleet buyers. Complementing the exhibition where such professionals examine or show wares are diverse sub-events such as training sessions, demonstrations, and discussions. This results in attendance rates of over 2,500 exhibitors and more than 70,000 visitors, including leading companies such as:
Hitachi
Mercedes-Benz
ROWE
ADS
Hyundai
Toyota
Mazda
Chevron Lubricants
Continental
MAHLE
Goodyear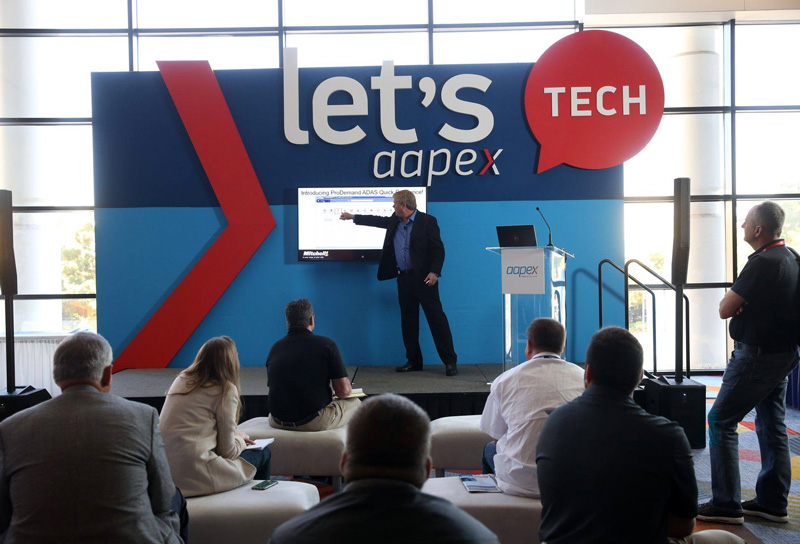 Picture: AAPEX
EICMA Auto (07.11.2023 – 12.11.2023)
Over 700,000 visitors, more than 4,000 media representatives and over 1,880 exhibitors attend the annual editions of EICMA Auto. This is due to the annual trade fair held in Fiera Milano Rho presenting the newest mobility solutions, automotive industry trends and automotive hobby suggestions. This is done via a comprehensive event schedule which includes numerous product innovation demonstrations, press conferences, technical workshops, and networking sub-events. Examples include the Freestyle Motorcross demonstration, the Acrobatic trial, and the Temporary Biker Shop. Among the notable details of the event's participating group is that 64% of the exhibitors represent a foreign country. Additionally, the exhibiting companies, event partners and visitors include leading brands, companies, and professionals such as:
Ducati
Honda
Yamaha
Kawasaki
Suzuki
Triumph
Acerbis
Daman Motors
Peugeot
eBay
Brembo

Husqvarna
Harley-Davidson
Pirelli
Metzeler
Michelin
Continental
Moto Guzzi
Piaggio
Aprilias
Royal Enfield
Magnetti Marelli

Benelli
Hells Angels MC Italy
Motorclub SS 33 Sempione
Cisco Design
Captain Blaster
Dox Design
Ricky
Fantic
Bosch

Picture: EICMA
Automechanika Dubai is one of the trade fairs that comprise the Automechanika event series. It is held annually in the Dubai World Trade Centre. The event presents the latest within product segments such as accessories, components, parts, electronics, tires, maintenance services, care, car wash, and reconditioning. This enables participants to examine, present or discuss potential market trends or challenges while expanding their networks. This is done via sub-events such as the exhibition, Innovation Zone, Awards for Excellence and the Automechanika Academy. As a result, Automechanika Dubai features attendance rates of around 21,000 visitors and approximately 2,000 exhibitors from over 40 nations. This includes leading companies such as ACME, Continental, eBay, Lucas Oil, Magnetti Marelli, ROWE and Samsung.