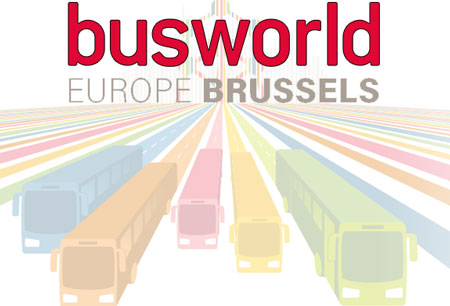 Busworld Europe
( 7 October 2023 - 12 October 2023 )
Location:
Belgium , Brussels
About the
event
Update for the Event
Busworld Europe 2023 will be held between 07.10.2023 and 12.10.2023. Fiera Milano will not feature Covid-19 safety measures. Italy does not have travel restrictions.
Introduction
Busworld Europe is a trade show of great importance to the bus and coach sector. It is a trade fair that is part of the Busworld series and features fairs in the USA, Brazil, India, and the Middle East. Founded in 1971, it is a biannual trade show held at the Brussels Expo, most often in October, for six days. It presents the latest models, drivetrains, designs, electronics, IT systems and electrical components. Additionally, maintenance, hardware, consumables, engine components and chassis are presented. So are fire suppression systems. Busworld Europe serves as the industry's prime procurement and product launch platform. Due to this, it receives participants from the public and the industry. Such include established buyers and engineers. R&D staff, researchers, automotive & operator federations, and educational institutions. They also include manufacturers, suppliers, and service/maintenance providers. Bus & coach operators, as well as public transport companies, attend the fair. So do airports, large-scale purchasers and schools. Over 500 exhibitors and 40,000 visitors from over 130 countries attend the fair. Additionally, the trade show receives more than 300 media representatives.
About Busworld Europe
Busworld Europe receives participants from the IT, public services, and safety industries. The airport, transport, automotive, and education sectors also attend.
The event features showstoppers such as the Internation Bus Conference. Another notable sub-event is the Busworld Awards. It features six categories. These are Grand Award, Ecology label, Safety Label, Comfort Label, Innovation Label and Design Label. The diverse Webinars are also worth attending.
Lead exhibitors that attend the fair include Van Hool, VDL, Scania, and Irixar. They also feature Iveco, Solaris Bus & Coach, Anadolu Isuzu, BYD, and Karsan. Ebusco, Yutong, Caetanobus (with Toyota), and Marcopolo are similarly exhibitors. So are Daimler, Volvo, Siemens, and DAF.
Busworld Europe Accommodation
Seek hotels for Busworld Europe before all the good deals are taken and land your dream price with Travel 2 Fairs Ltd. Tell us how many rooms you need, how much you are willing to spend, and where you want to be located. Travel 2 Fairs Ltd manages the rest. Book hotels close to Brussels Expo and gain valuable access to public transport. We advise you on the best routes to take to the venue. Asides from affordable hotel accommodation for exhibitions, we also provide transport services. One way to travel to your hotel is to have a rent-a-car wait for you at the airport. Another is to schedule an airport transfer in both directions.
Due to the corona pandemic (COVID-19), trade fair and event information may be obsolete. You can get more information from the organiser.
300+
media representatives
Our visitors
for the event
Our
Clients