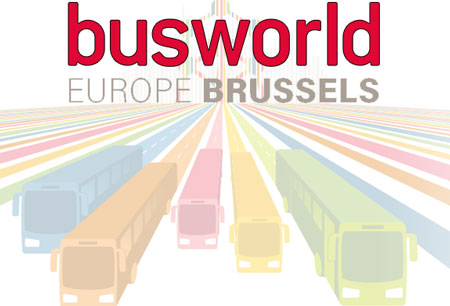 Busworld Europe
( 7 October 2023 - 12 October 2023 )
About the
event
COVID Update
Busworld International CVBA Kasteel van Rumbeke has revealed that plans for Busworld Europe 2021 have been scrapped. The reason is simple – organisers can't promise that enough visitors will attend a potential live show in the same numbers to make economic sense for exhibitors. COVID-19 has made it hard to organise live trade shows, which is why the next physical edition will be held in the next available time slot. Busworld Europe 2023 will run between October 7th – October 12th at Brussels Expo in Brussels, Belgium. The exhibition grounds will follow the latest health and sanitation protocols. In the meantime, organisers are planning for smaller alternative events to take place in October 2021.
Calling Card
Busworld Europe is the source of market trends in the bus and coach industry in Europe. It's part of the greater Busworld portfolio of events. There are international trade shows being held in the USA, Brazil, Jakarta, Russia, Turkey, the Middle East and India. Busworld Europe has been on a steady growth trajectory for years, which is why this annual trade show has found a new home in Europe. In 2019, Busworld Europe relocated to Brussels, Belgium, where editions will be held at Brussels Expo. The event is organized every two years in October. If you're an exhibitor looking to make their mark internationally, this is where you need to be. Busworld Europe is recognized as the biggest Bus and Coach only exhibition in the world.
Business Potential
Ventura Systems CV, Niemla – Transportation Decor, Serem Otomotiv, Busprestige, MERCUS, KIEL and ICON.LU are some of the exhibitors, which frequent Busworld Europe. You have top brands all showcasing their very best and latest. The product portfolio is one of the richest in the industry. Exhibitors discover coaches, buses, interior, body, drivetrains, electronics, IT systems, electrical components, maintenance, hardware, consumables, engine components, chassis and fire suppression. Busworld Europe is a very successful procurement platform and product launches are very popular during the event. Exhibitors have a chance to boost early sales numbers and enjoy better brand recognition. The audience is mainly from European countries. There's trade visitors and the general public. Alongside established buyers, exhibitors also interact with engineers, R&D staff, researchers, operator federations, automotive federations, educational institutions and more.
Did You Know?
Another reason why Busworld Europe is highly anticipated is its awards. BUSWORLD AWARDS offer manufacturers opportunities to win big in a variety of categories – Grand Award Bus and Coach, Ecology Label, Safety Label, Design Label, Comfort Label, Innovation Label. New forms of mobility and sustainability in the transportation sector are key topics that the trade fair explores in great depth. Lowering carbon emissions has been a goal at Busworld Europe for years. Each new edition has also a series of webinars hosted by top speakers from all over the region. They're a powerful informative tool on the latest trends and market challenges. Because of this, you're able to keep your fingers on the pulse of what's happening in the sector.
Your Hotel Room in Brussels
Use flexible hotel services for Busworld Europe for any budget and group size with Travel 2 Fairs ltd. Over the years we've developed a sizeable network of hotels in Brussels varying in prices from budget accommodation to luxury hotel suites. Whatever you need, we deliver. Whether you're in a small group or number twenty. In addition, we know our way around Brussels and provide our clients with hotels close to Brussels Expo, which are serviced by public transportation. Have your hotel reservation done within a day of your consultation. Not only that, but we're here for you the moment you land. Travel 2 Fairs ltd arranges airport transfers upon your arrival and departure and provides affordable rent-a-car options!
300+
media representatives
Our visitors
for the event
Our
Clients