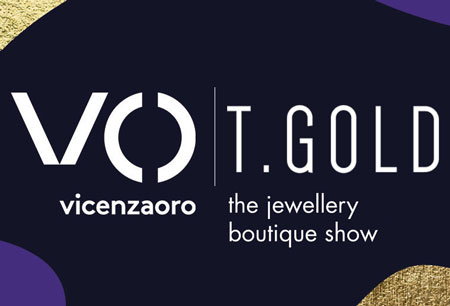 VICENZAORO + T-GOLD 2024
(19 January 2024 - 23 January 2024 )
Organizer:
Fiera di Vicenza
About the
event
Covid-19 Update
VICENZAORO + T-GOLD 2024 will take place between the 19th and 23rd of January 2024 as a live trade fair. The hosting location for the event remains Fiera di Vicenza. The venue will not feature strict Covid-19 prevention measures. This is due to the country removing its domestic restrictions. Travellers arriving from China should note that due to the instated travel limitations, they will have to present a negative test result no older than 48 hours upon arrival in the country.
Introduction
Good taste never goes out of style, especially when it comes to the finer things in life, which is why VICENZAORO + T-GOLD has grown in popularity and importance over the years for the jewellery business. Respected designers and trendsetting brands display their most luxurious jewellery lines, gold, silverware, gemstones and watches to a bespelled audience. The international trade fair occurs in Vicenza, Italy and will gather thousands. Secure yourself hotel accommodation for trade fairs that doesn't cost you a small fortune and turn to Travel 2 Fairs ltd for irresistible business travel deals.
Hotels for VICENZAORO + T-GOLD are numerous, but it takes time and effort to figure out the best prices and most optimal location, especially if you're not familiar with Vicenza. Our teams at Travel 2 Fairs ltd take one day to research offers and send you the best discounts. You're saving on accommodation expenses, are located near the event and have access to public transport. It's the best strategic move for VICENZAORO + T-GOLD, where you court wealthy buyers for your products and designs. At the same time, there's a lively support program, including awards and creative spaces.
Past Editions
VICENZAORO + T-GOLD 2022
VICENZAORO + T-GOLD 2022 took place as a live trade fair between 17.03.2022 and 21.03.2022. The event was held at the Fiera di Vicenza and received over 1,000 exhibitors and 300 hosted buyers. Due to the Covid-19 pandemic, the venue featured safety precautions such as attendees needing to show before entry 3G admittance documents.
VICENZAORO + T-GOLD 2023
The 2023 iteration marked an 11.5% increase compared to the 2020/2021 format regarding attendance rates. This resulted in a new participation record for VICENZAORO + T-GOLD. The event featured among its participants over 1 300 exhibitor brands and 400 hosted buyers from 136 nations. 60% of the participants represented a foreign country. The venue did not feature coronavirus safeguards because of the removal of the country's pandemic-related restrictions.
Our visitors
for the event
Our
Clients