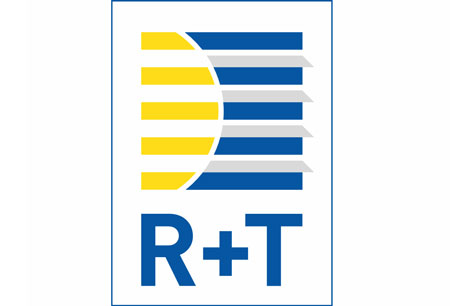 R + T 2024
(19 February 2024 - 23 February 2024 )
Organizer:
LandesMesse Stuttgart GmbH
About the
event
Update
R+T 2024 will take place between the 19th and 23rd of February, 2024. Messe Stuttgart will not feature coronavirus safeguards because of the removal of the country's restrictions, related to the pandemic. At present, Germany does not have travel limitations in place.
Preface
R + T is a specialised meeting platform, trend barometer, and innovation stage dedicated to doors, gates, shutters, and sun protective cover systems. It occurs in Stuttgart, Germany. It attracts suppliers, manufacturers, and construction professionals. Similarly, it is attended by consultants, auditors, notaries, retailers, dealerships, store owners, sales representatives, and general contractors. HoReCa specialists, property developers, stakeholders, master builders, engineers, interior designers, facility management, and insurance brokers likewise attend. Companies represent a diverse range of nations, such as China and the USA.

R+T is a high-attendance trade fair that often receives more than 65 000 attendants. One rendition, for instance, included 251 German and over 773 international exhibitors. Further, the edition featured over 38 000 foreign and more than 26 000 German visitors. The fair's triennial renditions receive a total of 140 countries. Among the attending are nations such as Kuwait, New Zealand, Spain, Canada, and Brazil. Many statistics show the importance of the event. For instance, 75% of the exhibitor firms and 59% of visitants represented a foreign country. 90% of participants would recommend R+T. Visitors that have a positive influence on procurement decisions comprised 87%.
About R+ T Stuttgart
Each edition of R + T features a diverse range of showstoppers. These include the exhibition comprising various exposition halls, each presenting one or more product groups such as window screens, shutters, and porticoes. They also feature doors, sunshades, electrical security devices, textile construction, drives, controls, bars, fences, EDP, operating equipment, R&D, specialist literature, and services. The showstoppers likewise include the ES-SO seminar, the ARCHIKON, the Doors/Gates Forum, and the R+T Innovation Award. Participants can additionally look forward to one or more coinciding events of relevance, such as INTERGASTRA, and their interlinked showstoppers, such as the OUTDOOR.AMBIENCE.LIVING special show.
The leading German and foreign exhibitors of R+T feature:
ACMI;
Activa Awning Inc.;
ift Rosenheim;
Avanti;
Saint-Gobain ADFORS;
IDECO Industrial;
Achilles Corporation;
Aeronaut Automation;
HP Deutschland.
R+T is essential for industries such as HoReCa, building, and retail. It also has high value for the trade, merchandising, educational, media, and services sectors. Further, R+T is a leading trade fair for the manufacturing, realty, and engineering industries. The insurance, interior design, and distribution sectors likewise visit the event.
R&T Stuttgart Accommodation
Procure suitable accommodation for R + T Stuttgart before all the good deals are taken with Travel 2 Fairs Ltd. All that is necessary is to inform us about the rooms you need, how much you wish to spend, and your desired location. Travel 2 Fairs Ltd manages the rest. Reserve lodgings adjacent to Messe Stuttgart and gain valuable access to public transport. We can advise you on the best routes to take to the venue. Aside from affordable hotel accommodation for exhibitions, we also provide transport services. One way to travel to your hotel is to have a rent-a-car wait for you at the airport. Another is to schedule an airport transfer in both directions.
Event information may need to be updated because of the coronavirus pandemic. More information is available from the organiser.
Past Iterations
R + T 2021
The 2021 edition of R + T took place in digital format between the 22nd and 25th of February 2021. The edition received 22 000 visitants from 121 countries and 299 exhibitors. 65% of the exhibitors were from foreign countries such as Poland and Italy.
R + T 2018
R+T 2018 transpired between the 27th of February 2018 and the 3rd of March 2018 in Messe Stuttgart. The event featured 1 027 exhibitor firms and over 65 000 trade visitants, marking a new achievement for the trade show. This is due to the numbers exceeding the total number of participants in the 2015 rendition. In addition, the 2018 edition also featured an expanded exhibition space. R+T 2018 occupied ten exhibition halls.
773
international exhibitors
124,000
sq m of exhibition area
38,000+
international visitors
Our visitors
for the event
Our
Clients