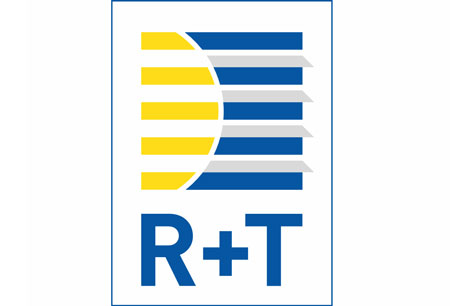 R + T
(21 February 2022 - 25 February 2022 )
Location:
Germany , Stuttgart
About the
event
With R + T 2021 held as a successful digital event, Landesmesse Stuttgart GmbH is already hard at work to plan the upcoming 2022 edition. Organisers have announced that they're going back to in-person event with R + T 2022 serving as a powerful restart for the industry and source of trends. The coronavirus pandemic has disrupted the events industry, but in the end nothing can stop live trade shows. Not even COVID-19. New dates have already been announced: February 21st – February 25th, 2022. Messe Stuttgart is going to follow every single government regulation in order to create a safe, productive environment, where visitors can close deals and remain safe during their trip.
Calling Card
R + T has proven itself essential for the building and remodeling industry as a highly specialized platform dedicated to doors, gates, roller shutters and sun protection systems. Its tight profile is a major draw for exhibitors, who want to meet with relevant potential buyers and partners as well as gain deeper insight in the industry in large. This international trade fair operates out of Stuttgart, Germany and each edition brings in new life to the industry, because R + T is organised only once every three years. Messe Stuttgart welcomes trade visitors in February over the course of five days. R + T naturally establishes itself as a central meeting point on the territory of Europe and the main gateway to international markets.
Business Potential
Each edition of R + T exposes buyers to innovative designs and concepts across the value chain. The exhibition halls are home to every major product group of relevance. We're talking roller blinds, coated textiles, burglary alarm installation, blinds, doors, control systems, security systems, engines and building parts, awnings plant equipment, electrical safety devices, external venetian blinds and window shutters. Pacific Heritage Home Fashion, Elitex (Dezhou) Co. Ltd., PALMIYE Global A.S., Phifer Incorporated and ELCIA are some of the brands that exhibit at R + T. There are brands from as far away as China and the USA. You have an excellent chance to break into the biggest European markets from Italy and France to Switzerland and the Netherlands. Most trade visitors are also in a position of power. You'll talk to independent contractors, managing directors and members of the board.
Did You Know?
Business is business, but innovations paves the road to the future. R + T stimulates companies to improve and innovate through the incentive of the R + T Innovation Awards. There 14 categories you can compete in judged by a star-studded jury. Winning an award gives your products a special edge when it comes to selling. Another major addition to the trade show is ARCHIKON, which is the Regional Congress for Architecture and Urban Development. The focus falls more on how to revitalize and reconceptualize the region of Baden-Württemberg.
Your Hotel Room in Stuttgart
Enjoy the most affordable hotel prices for R + T and make your hotel reservation in record time using the hotel services of Travel 2 Fairs ltd. We make it possible to book hotels close to Messe Stuttgart and keep to your initial budget. From luxury suites to budget hotels, there's always a deal at every price point. We've been doing this for a long time and know how to accommodate large groups. In addition to accommodation for exhibitions, Travel 2 Fairs ltd offers services to do with your logistics. If you know Stuttgart already or want independence from public transport, come to us to rent a car. Another service on offer is the airport transfer, which can be private or shared.
773
international exhibitors
124,000
sq m of exhibition area
38,000+
international visitors
Our visitors
for the event
Our
Clients