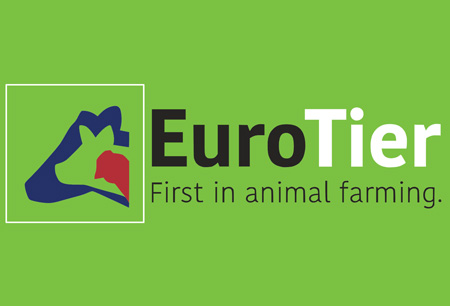 EuroTier
(12 November 2024 - 15 November 2024 )
Location:
Germany , Hannover
Organizer:
DLG (Deutsche Landwirtschafts-Gesellschaft e.V.)
About the
event
Report for EuroTier 2024
EuroTier 2024 will take place as a live event at Messe Hannover. The official dates have been set for 12.11.2024 and 15.11.2024. At present, the Covid-19 regulations and restrictions have been lifted throughout Germany. Due to this, the coronavirus safety measures at Hannover Fairground have been removed. Attendants should additionally note that the travel restrictions have also been removed. Organisers recognise the importance of hosting live trade fairs to stimulate business. They also will think about optimal ways to achieve the best possible results.
Introduction to EuroTier
EuroTier is a leading animal production and husbandry trade fair founded in 1975. It is the presentation stage for the industry's latest innovations, research, and developments. Additionally, it is the primary location for maintaining business networks, including creating new leads. The event occurs once every two years at the Hannover Fairground. The schedule features four event days, with the visiting hours being from 9 am to 6 pm. Over 150,000 participants from six continents attend the trade fair. It takes place alongside EnergyDecentral.
Business Profile of EuroTier
EuroTier is a trade fair that receives participants from various economic sectors. This includes agriculture, forestry, aquaculture, and pharmaceuticals. It also incorporates the animal breeding, feeding, animal product processing, and contracting sectors. Furthermore, the event receives representatives from the educational, veterinary and public sectors. EuroTier also features members of the consulting and media industries.
Among the notable companies to attend the fair are:
Adepta
Quidee
ZOREL Makine Imalati Otomasyon
NEOGEN
Neue Landbuch Gesellschaft
JOURDAIN SAS
ADLER Arbeitsmaschinen GmbH & Co. KG
Additionally, the trade fair features partners such as:
bpt
BRS (Federal Cattle and Pig Association - Bundesverband Rind und Schwein e.V)
EUROPEAN PIG PRODUCERS (EPP) E.V.
EUROPEAN POULTRY CLUB (EPC)
Deutscher Verband Tiernahrung e. V. (DVT)
GERMAN BIOGAS ASSOCIATION
ISN – Interessengemeinschaft der Schweinehalter Deutschlands e.V.
VDMA POWER SYSTEMS
ZENTRALVERBAND DER DEUTSCHEN GEFLÜGELWIRTSCHAFT E. V.
Event Schedule Details
EuroTier enables the completion of several essential business goals. Among them are networking, expanding one's specialist knowledge, and conducting on-site business. They can also gain recognition and an overview of the participating industries.
EuroTier aids in the completion of such aims through its detailed technical programme. This includes various sub-events, each with specific goals. This includes conferences, contests, an exhibition, and a start-up programme. The technical programme often includes Focus Topics and one central theme. These influence the topics of the sub-events. They frequently focus on the latest megatrends and industry challenges. For example, one edition featured "Transforming Livestock" as a central theme. It furthermore incorporated ten Focus Topics. The Focus Topics were:
Alternative protein sources/insects
Direct marketing
Cattle and dairy production
Pigs
Poultry
Aquaculture
Sheep and goats
Horses
Feeding
Digitalisation
Each Focus Topic features a range of topics that are discussed as part of the sub-events. For example, "Alternative Proteins" include potential opportunities. "Direct marketing" likewise incorporates technical solutions and current marketing strategies. "Cattle and dairy" comprises the subjects of process optimisation via digitalisation and automation. It also discusses the challenges of meeting climate protection and animal welfare goals.
The Topic "Pigs" focuses on effective production processes, biosafety, and animal health concerns. It also features the latest sustainability, emission reduction and animal welfare challenges. The newest breeding, feeding, keeping and transport developments are also included. Topics for "Poultry" encompass biosecurity, sustainable production, and animal health. It furthermore features animal welfare issues. It additionally details the latest breeding, feeding, marketing trends and innovations. Likewise, "Aquaculture" includes farming, feeding, and aeration technology novelties.
"Sheep and goats" focus on the current breeding, keeping and feeding developments. "Horses" emphasises questions like needs-based feeding, species-appropriate keeping, equine transport, exercise and health. "Feeding" features topics such as recipes, processes and innovative feeding alternatives. "Digitisation" presents topics such as the latest innovations in optimisation.
The exhibition is one of the essential sub-events of the trade fair. It allows attendees to examine innovations, gain recognition, network and conduct business. Furthermore, participants can study the latest trends, such as digitalisation. The exhibition areas include the following:
Training/further education, media, associations
Breeding programmes, reproduction technology, trade
Farm and feed inputs
Feedstuff production, feed storage
Shed and animal housing construction
Feeding and husbandry techniques
Technologies for a controlled environment
Technologies for cooling and milking
Solid manure, slurry, and dung technology
Transport services and vehicles
Marketing and processing
Accessories and equipment
Consulting and management services
Among EuroTier's most sought-after sub-events are the congress format ones. This is due to such micro-events allowing participants to expand their specialist knowledge. EuroTier includes many such formats, with the notable ones being:
Bpt Professional Congress
International Poultry Conference
International Cattle & Pig Event
Animal Health Event
TopTierTreff
BIOGAS Convention
The Bpt Professional Congress serves as the networking sub-event for the veterinary industry. This includes attendees such as:
Veterinarians
Veterinary surgeons
Veterinary nurses
Veterinary assistants
It is also a prominent sub-event that provides extensive specialist information. This includes detailed training related to small animal, equine and farm animal practices. Similarly, it incorporates seminars linked to practice management and food safety. Attendees can also learn about the latest policies. Attendees should note that the language used at the Congress is German.
The International Poultry Conference serves as the networking sub-event for the poultry industry. This is due to the micro-event allowing participants to learn about essential subjects. The topics include the latest market developments and scientific research. The International Cattle & Pig Event is similar to the previous sub-event. It is a forum that attracts cattle/pig producers, consultants, scientists, and companies. The conference discusses the latest social and political challenges related to animal production. This includes meeting sustainability goals and other such issues. The TopTierTreff is an international animal genetics forum. It serves as the meeting location for experts from breeding organisations/companies. It allows them to present their finest specimens and discuss various topics. Such include the latest industry demands, animal diseases, practices and scientific research.
One of the must-attend sub-events for start-ups is the Dlg-Agrifuturelab. It is a micro-event that serves as a professional stage for such companies. This includes such participants being able to present their novel ideas. Furthermore, the Agrifuturelad allows start-ups to network with leading partners. This includes showcasing their innovative products. This includes ones related to:
carbon-smart animal husbandry
sustainability
food quality
animal welfare
food safety
precision livestock management
nutrition management
robotic sensors
disease detection

proteins
neural networks
energy production
storage
carbon emission reduction
AI
blockchain technology
VR
The sub-event furthermore incorporates a series of micro-events. One of them is the Campus & Career. This is a forum that attracts industry representatives, colleges, and universities. It includes a schedule comprising various events, including the Young Farmers Day. These take place within the Junge DLG Lounge. The micro-events occur during the first three event days between 4 pm and 6 pm and on the final day between 12 am and 2 pm.
EuroTier additionally features sub-events that can grant recognition to participants via contests. Such include:
The EuroTier Innovation Award
The Animal Welfare Award
The Dlg Agrifuture Concept Winner
The EuroTier Innovation Award lauds animal farming innovations of several types. These include wares that have a significantly altered function. It also incorporates ones that enable new processes or modify existing ones. It is available to all exhibitors of the trade fair and is presented in gold or silver. Participants should note that the nominations need to be in the following subject areas:
Farm/agricultural inputs and related technology
Forage/fodder production and storage technology
Replacement parts, accessories, and implements
Feeding and husbandry technology for beef, pork, poultry, and other species
Technologies for climate and environmental control
Quality assurance/smart farming and herd management digital solutions
Cooling and milking technology
Hall and barn construction
Poultry excrement, solid and liquid manure technology
Grazing, farm and transport technology
Marketing and processing
The prizes comprise gold and silver medals accompanied by a certificate. The gold medals can be awarded to nominations that have changed a known function or created a new method. They can also be granted to products that have considerably improved known methods. The criteria of evaluation include:
Practice efficiency
Effects on animal welfare
Operating effects
Work management effects
Environmental impact
Energy efficiency
Simplifying work effects
Work safety
The silver medal guidelines include the ware developing a known function or method. The evaluation criteria include:
Economic practice importance
Performance level
Work quality
Operating safety
Effects on animal welfare
Environmental impact and energy consumption
The Animal Welfare Award has been a central contest sub-event since 2018. It is a competition held in cooperation with bpt and as part of the Animal Health Event. Participants who have earned a gold or silver EuroTier Innovation Award can participate. It lauds products that achieve high animal welfare standards. Such include promoting animal health or welfare. This incorporates ones that encourage species-typical behaviour practices or support animal health. All nominations must be fully operational at the time of participation. They must also be available in the market by the next EuroTier edition. Participants must disclose the potential market availability when participating in the contest. They can proceed with the step by providing information one year after receiving the award. They can alternatively disclose the report several months before the next EuroTier. A diploma and a medal are included in the award package.
A recent contest addition is the Dlg Agrifuture Concept Winner. It lauds animal husbandry concepts that are at present in the development phase. It focuses on the technical possibilities of each conception, like its implementation chances, within 5 to 10 years. An expert judging panel conducts the assessment, with the sub-event being available for all exhibitors. The nomination must be an agricultural livestock farming concept/technology. As a result, services, farm inputs, animal breeds or soon-to-be-implemented concepts cannot participate. This also applies to technologies that have already been awarded a prize. Winners will receive a prize trophy and certificate during a dedicated ceremony. The awarded nominations will be displayed with product information and images.
EuroTier is a trade fair that aid a diverse range of participants. This includes professional farmers, traders, consultants and planners. It can also help veterinarians and machinery ring specialists. Contractors, animal product processors and food industry experts should consider attending. Furthermore, the event can be of aid to pharmaceutical specialists and forestry experts. Feed industry experts should also consider attending. A notable detail is that many higher education institutions and associations participate. So do public authority figures.
Stats Regarding the Event
EuroTier is an event that tends to receive over 155,000 participants. For instance, the 2018 edition of the trade fair featured 2,586 exhibitors and 160,000 visitors. A notable detail is that 60% of the exhibiting and over 35% of the visiting represent foreign countries. A total of 63 countries from six continents attend the biannual trade fair, including nations like:
Finland
Algeria
Italy
India
USA
Egypt
Paraguay
France
Germany
Norway

Australia
Brazil
Malaysia
Uruguay
China
Argentina
Russia
Canada
Japan
Portugal

South Korea
New Zealand
Lebanon
Kazakhstan
Indonesia
South Africa
Mexico
Morocco
Bulgaria
Iran
Apart from the high international participation numbers, the event features two notable statistics. This includes that 89% of exhibitors rate the trade fair as beneficial. Additionally, 86% of them rate the technical qualification of the visitors as highly satisfactory.
Hannover and Travel 2 Fairs Ltd
Investing in suitable hotel accommodation for your business trip is vital. It can influence the result of your business trip to EuroTier. Yet, finding proper lodging can be rather time-consuming and stressful. It applies the most when you have other tasks to perform. Travel 2 Fairs Ltd can aid in making the process easier and allowing you to focus on alternative planning details. Such includes finding suitable business partners. Travel 2 Fairs Ltd will work with you during the consultation and send you hotels that suit your specific needs. Such comprises ones with a suitable location and are within your price range. Examples of such hotels are ones close to Hannover Fairground. Such accommodation options are ideal as they allow you to reduce commuting time. Travel 2 Fairs Ltd also has experience with working groups of twenty or more people, so do not hesitate to query for such parties. Our registration process will not take longer than a day, and we will take care of the details. We can additionally aid with logistic details such as airport transfer or rent-a-car.
Logistic Details for Hannover Fairground and EuroTier
EuroTier is a biannual trade show held for four days and is organised by DLG Service GmbH. The DLG or Deutsche Landwirtschafts-Gesellschaft e.V. hosts the event at Hannover Fairground. The opening hours for the trade fair for all four days and participant groups are 9 am to 6 pm.
The Hannover Fairground is a venue with a prime location. This is because of the fairground's proximity to the airport and the central railway station. Taking public transportation to the exhibition centre often saves time. For instance, visitors can take public transport from Hannover Airport to the venue. This will allow them to reach the site in an hour. For the task, visitors can commute via the metro 8 or train S5. By taxi or rent-a-car, they can travel the same distance in 30 minutes. This is also applicable when scheduling a taxi commute from the central railway station to the convention centre. Visitors can use the B6 motorway to complete the task. They can also commute the same distance by opting for the U-Bahn line 8. In this case, the commute time will be 40 minutes. The Hannover Fairground is also close to neighbouring cities. For instance, visitors can travel by train from Hildesheim to the location in 30 minutes. Hannover is Lower Saxony's largest city and one of the region's prime tourist destinations. Because of its popularity, Hannover has a variety of accommodation and food service options. Visitors can consider more than 600 apartments, guest houses, hostels, and hotels. Similarly, the city has over 100 restaurants, cafés, brasseries, clubs, bars, and beer gardens. Among the highly recommended districts to consider when opting for accommodation are the city centre and the central train station.
Past Edition Reports
2022
EuroTier 2022 and its coinciding event, EnergyDecentral 2022, took place as a hybrid event between 15.11.2022 and 18.11.2022. It consisted of a live trade fair without Covid-19 safety measures and a complementary digital platform. The live aspect took place at Hannover Fairground and did not include coronavirus preventative steps due to the removal of the country's pandemic-related restrictions. EuroTier 2022 was attended by over1,800 exhibitors from 57 nations and by 106,000 visitors from 141 countries.
2021
EuroTier 2021 and EnergyDecentral 2021 took place between 09.02.2021 and 12.02.2021. The format of the events was digital due to the Covid-19 pandemic. The events received 1,200 exhibitors and 41,000 visitors.
2018
EuroTier 2018 and EnergyDecentral 2018 occurred between 13.11.2018 and 16.11.2018 at the Hannover Fairground. A total of 2,574 exhibitors and 154,948 visitors from 60 countries. The primary feature of the edition was Digital Animal Farming. The leading countries included Germany, the Netherlands, France, Italy, Spain, Denmark, the UK, Belgium, Austria, Turkey, Poland, China, Canada, the USA, India, Pakistan and Korea.
46,500
international visitors
Our visitors
for the event
Our
Clients