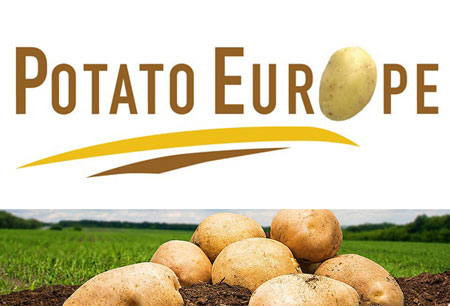 Potato Europe 2024
(11 September 2024 - 12 September 2024 )
Organizer:
DLG (Deutsche Landwirtschafts-Gesellschaft e.V.)
About the
event
Update
Potato Europe 2024 will occur in the Villers Saint-Christophe in France as a live trade event between the 11th and 12th of September 2024. The venue will not have strict coronavirus safeguards due to the country removing its pandemic constraints.
Preface
Potato Europe is an international trade fair dedicated to the potato production chain. The event occurs annually in one of the four partner countries. The partner countries are France, Belgium, Germany, and the Netherlands. A different city hosts each of the editions. Among the cities where the fair has taken place include Lelystad and Hannover. Also, the fair is hosted at diverse venues, such as Wageningen Plant Research. The event sites and countries are selected based on a rotation principle.

According to Potato Europe statistics, a large and diverse group of attendees attends. For instance, one of its editions received over 250 exhibitors and more than 16,000 visitors. Attendees travel from many countries. Among the ones with the highest attendance are Belgium, France, and Germany. Others which tend to send many delegates are China, the USA, the Netherlands, and Canada. Many of the attendees are leading figures or high-ranking executives. Such include company CEOs, specialists from universities and others.
About Potato Europe
Potato Europe is an international trade fair which intends to expand specialist knowledge. It also aims to promote networking and sales in the industry. The fair additionally helps companies gain recognition and encourage innovation.

To achieve its goals, Potato Europe Messe features an extensive event programme. The schedule includes many 60-minute conferences and presentations. During these lectures, attendees can learn about new technologies or trends. These conferences and discussions feature leading figures or specialists from universities as speakers. The fair's program additionally includes events that encourage networking between attendees. Among them are pre-planned one-to-one on-site meetings between company representatives. Potato Europe's schedule also features live demonstrations of machines and field trials. This allows visitors to examine a new product or plant species before buying it.

Potato Europe Messe also includes the Innovation Award Ceremony. During the Ceremony, nominated innovations can receive a prize for their contribution. There is also Talent Scouting. This is a specialised platform for introducing students to the business world. Such introductions are done via the student receiving an internship or job position. The Innovation Awards and Talent Scouting can help start-ups in gaining recognition. For example, the platform can help them procure new employees or contractors.

Potato Europe's aussteller (exhibitors) include notable companies such as:
Amynova Polymers;
Alchem Group;
Bijilsma Hercules;
Haith;
Hersch Machinen;
Intercede;
John Deere;
Lemken.
Exhibitors and visitors represent industries such as production agriculture, agricultural processing, products, distribution, agricultural mechanics/technology, retail, logistics, and the import and export sector.
Potato Europe Accommodation
Procure suitable accommodation for Potato Europe before all the good deals are taken with Travel 2 Fairs Ltd. All that is necessary is to inform us about the rooms you need, how much you wish to spend, and your desired location. Travel 2 Fairs Ltd manages the rest. Reserve lodgings adjacent to the venue and gain valuable access to public transport. We can advise you on the best routes to the event site. Aside from affordable hotel accommodation for exhibitions, we also provide transport services. One way to travel to your hotel is to have a rent-a-car wait for you at the airport. Another is to schedule an airport transfer in both directions.

Event information might be outdated because of the coronavirus pandemic. More information is available from the organiser.
Past Iterations
Potato Europe 2022
Potato Europe 2022 occurred as a live trade exhibition between the 7th and 8th of September 2022 in the Rittergut Bockerode because the country removed its pandemic restrictions. Potato Europe Germany 2022 received 8 000 visitants from 65 nations.
Potato Europe 2023
Potato Europe Belgium 2023 occurred as a live trade exposition between the 6th and 7th of September in Tournai (Kain). It did not feature coronavirus precautions due to the repealing of the country's pandemic restrictions. The iteration featured over 200 exhibiting firms.
Our visitors
for the event
Our
Clients