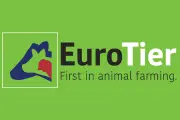 Location:
Messegelände, 30521 Hannover, Germany
EuroTier
You have the opportunity to do business at one of the biggest platforms dedicated to animal farming and animal production at EuroTier. The international trade fair impresses with its scope and scale every time it takes the stage Hannover, Germany every two years. Introduce yourself to the current innovations in care for animals, machinery and feeds. EuroTier gives opportunities to businesses to establish their presence on the global market, launch products to great success and grow their professional network. Do you need more convincing to join the event as an exhibitor?
EuroTier presents a comprehensive product portfolio – feed, controlled environment technology, milking and cooling technology, animal housing, breeding programmes and husbandry among many others;
EnergyDecentral is one of the rising stars of the program as it focuses on bioenergy and decentralized energy concept;
The trade fair is co-staged with AGRITECHNIKA;
This has resulted in record-breaking attendance numbers. The last edition managed to attract 155,000 trade visitors from around the world.
These numbers should convince you to reserve a space on the show floor at Messe Hannover and think about where you're going to stay. Discover hotel accommodation for trade fairs tailored for you with Travel 2 Fairs ltd. Take full advantage of the proceedings by leaving your business travel arrangements to us. Our database boasts hostels, apartments and hotels in Hannover going from economy options to high-end hotel chains. You set the price bracket and we provide the most value for your money. Always our goal is to book hotels close to Messe Hannover and we also give out up-to-date public transport routes to take for a short commute. Another service we provide is the airport transfer. We're used to working with large groups as well as small ones and transfers can be either shared or completely private. It all takes a day to arrange and you make superb savings.
Hotel Offers For
EuroTier 2020
Hotel Am Burgmannshof
4 * * * *
Wunstorf , Germany
16 Nov 2020 - 20 Nov 2020
Ambiente Langenhagen Hannover by Tulip Inn
3 * * *
Hannover , Germany
16 Nov 2020 - 20 Nov 2020
GHOTEL hotel & living Hannover
3 * * *
Hannover , Germany
16 Nov 2020 - 20 Nov 2020
Maritim Airport Hotel Hannover
4 * * * *
Langenhagen , Germany
16 Nov 2020 - 20 Nov 2020
Hotel Brunnenhof International
3 * * *
Wedemark , Germany
16 Nov 2020 - 20 Nov 2020
Best Western Hotel Hannover City
3 * * *
Hannover , Germany
16 Nov 2020 - 20 Nov 2020