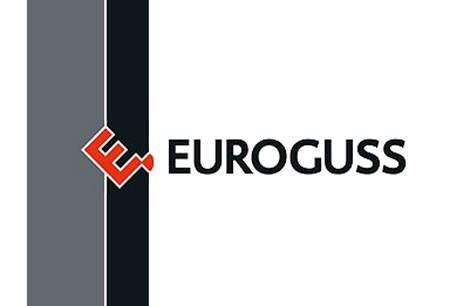 EUROGUSS
(16 January 2024 - 18 January 2024 )
Location:
Germany , Nurnberg
Organizer:
Nurnberg Messe GmbH
About the
event
Update
Euroguss 2024 will take place between the 16th and 18th of January 2024. The event will take as an in-person exhibition in Nuremberg, Germany. Messe Nuremberg will not feature a strict Covid-19 safety plan due to the removal of the related domestic restrictions in April 2022. Organisers will advise participants to follow some voluntary COVID-19 prevention steps. The advisable safety recommendations include:
Attendees should uphold a safe distance of 1.5 meters between one another when possible.

When possible, visitors should wear masks in indoor areas. FFP2 variants are preferable.
Attendees should note that they will not be required to show 3G entry documents upon arrival in Germany.

Calling Card
Euroguss is the premier trade show for the die casting industry and its related sectors. It is the main meeting location for professionals seeking innovations. This includes aluminium, zinc, and magnesium die casting novelties. The fair additionally showcases rapid prototyping, new machinery and material testing. Founded in 1996, Euroguss takes place every 2 years in Messe Nuremberg.
Business Profile of the Event
Euroguss is an international trade show attended by a diverse group of attendees. These include die-casting supply chain members such as suppliers and production specialists. It also includes machinery and plant producers, developers, buyers, manufacturers, including automotive ones. Many IT specialists working in the die casting industry also attend the fair. Among the companies that attend the fair are BvL Oberflächentechnik GmbH and C.M.O. S.r.l.
Did You Know?
Euroguss can help professionals in completing several goals. Such include learning about new trends, and innovations. Additionally, attendees can exchange information and network with leading decision-makers, suppliers, and buyers. Also, the fair allows visitors to conduct business on-site and to gain recognition.
One of the leading trade show's events is the exhibition. It is where over 750 exhibitors showcase their latest products and services. Exhibited products include die-casting processes. Exhibited products also include die-casting machinery, rapid prototyping, and CNC machines. They furthermore feature metal alloys, die-casting moulds, and peripheral devices. Process optimisation and 3D printing methods are among the exhibited products as well.
Euroguss also features a comprehensive support programme, consisting of congress and conference events. One of the main sub-events is the Die Casting Conference. It is where attendees can exchange and learn information about important topics. The Conference consists of leading experts hosting lectures on various subjects. Such include the challenges suppliers of structural castings encounter in globalized markets.
Another event of interest in the support programme is the Speaker's Corner. It is where professionals can learn solutions about the more acute industry topics. Such include for instance the effects the pandemic has had upon the industry.
Additionally, Euroguss features the Exhibitor Forum. This is a premier meeting hub for companies exhibiting at the fair. The Forum provides an opportunity to network with other exhibitors and experts. Furthermore, they can expand their specialist knowledge on several topics and industry aspects. Such include additive manufacturing, surface technology and Industry 4.0. For the task, they can attend one or more of the presentations at the Forum. Each presentation features a leading industry expert discussing innovations or challenges.
Among the events of interest for start-ups is the Talent Awards. The Awards laud the innovations of start-ups and recent university graduates. Such include the creating of new equipment, new alloys, and others. Winners of the Talent Awards receive recognition and materials prizes. The recognition takes the form of receiving the right to lecture at the Speakers' Corner. Winners will also have a professional article about them published on SPOTLIGHTMETAL. The material prize includes technical gifts like a data pad. Attendees can also gain recognition via the Metal Casting Competitions. These feature challenges related to aluminium, zinc, and magnesium casting.
Euroguss is a must-attend event for professionals in the die casting industry. Such include die-casting foundries, component, and equipment suppliers. Additionally, service providers, production specialists, machinery, and plant producers should consider attending. As should developers, buyers, automotive manufacturers and die casting software IT specialists.
Your Hotel Room in Nuremberg
Invest in your business trip with hotel accommodation selected for your specific need. Travel 2 Fairs Ltd works with you to send you hotels in Nuremberg with an ideal location and price tag. This allows you to select the hotel offers that work best for you. Such as placing you near Messe Nuremberg for a quicker commute. We have long worked with large groups, so you can query for parties of twenty people and more. The entire registration process takes up to a day, and you leave all details to us. Also, Travel 2 Fairs ltd assists with logistics as well. You can request a rent-a-car or an airport transfer in both directions, whether it is private or shared.
Logistics
Euroguss is a biannual trade show that takes place for 3 days at Messe Nuremberg. NuernbergMesse GmbH organises the fair with aid of several partners. Visiting hours for the event often tend to be between 9 am and 5 pm.
Messe Nuremberg is among the city of Nuremberg's main event venues. It is an exhibition centre that is accessible from different districts. This is because of the various public transport routes that connect the venue. Such include train, tram, metro, and taxi connections. Such links allow you to save time when travelling to and from the site. For example, Messe Nuremberg is an 8-minute commute from the central railway station. Likewise, it is a 20-minute journey from the airport.
The city of Nuremberg is one of Germany's popular tourist destinations. It is a metropolis that is easy to access from other cities. This is due to the extensive railway and motorway links that connect the city to the rest of Germany. For example, the distance between Berlin and Nuremberg is 3 hours and 10 minutes by bus.
Nuremberg is a popular tourist city with plentiful accommodation and dining options. For instance, you can choose to stay at a hotel, hostel, apartment, or guest house. The city's dining alternatives include bistros, restaurants, diners, bars, and clubs. There are several neighbourhoods where you should opt to stay or dine in. Among them is the Altstadt or Old City. Another recommended area is the Hauptmarkt.
Audience and Statistics
Euroguss is an event attended by the die casting, foundry, metallurgy, and metalworking sectors. Its 2018 edition received over 600 exhibitors and over 15,000 visitors. Attendees of the fair come from countries such as Italy, Turkey, and Spain. Austria, Poland, and Germany are also among the countries that send trade delegates.
Past Editions
2022
EUROGUSS 2022 marked the successful restart of the leading trade fair after a Covid-19-induced hiatus. The edition took place as a live event in Messe Nuremberg, between 08.06.2022 and 10.06.2022. The edition received 10,707 trade visitors from 61 counties and 641 exhibitors from 36 countries.
344
international exhibitors
33,000+
sq m of exhibition area
6722
international visitors
Our visitors
for the event
Our
Clients