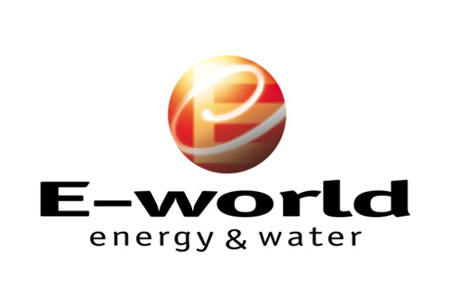 E-World Energy & Water
(23 May 2023 - 25 May 2023 )
Location:
Germany , Essen
Organizer:
Messe Essen GmbH
About the
event
E-World Energy & Water Update
E-World Energy & Water 2023 will take place as a live event between May 23rd – May 25th at Messe Essen. The venue will not feature strict Covid-19 safety protocols due to the removal of Germany's domestic restrictions. Participants will be advised to follow recommendations such as upholding a 1,5-metre social distance. Attendees do not need to present 3G entry documents due to Germany removing its travel bans.
General Information About E-World Energy & Water
E-World Energy & Water is the leading trade fair for the energy sector in Europe. The international and annual event has been hosted for three days since 2001 at Messe Essen. Most editions occur in February. It often featured over 20,000 visitors and over 500 exhibitors from more than 60 countries. It includes participants such as public employees, CEOs, students and service providers.
Business Profile of E-World Energy & Water
E-World Energy & Water is a leading trade fair for various industries. These include:
energy
construction
real estate
services
utility
environmental protection

mobility
consulting
IT
financial
manufacturing
educational

media
communication
engineering
trade
skilled trades
The event receives over 20,000 visitors and more than 500 exhibitors from more than 60 countries. It includes participants such as:
civil servants
managers
researchers
press representatives
CEOs

business owners
scientific professionals
technicians
engineers
students

IT specialists
communication experts
utility companies
consultants
service providers
Participant entities include DIGITAL renewables, Fukushima Prefectural Government, and FutureCamp Climate.
Support Programme of Visiting E-World Energy & Water
E-World Energy & Water enables participants to complete several significant business aims. Such includes expanding and maintaining business networks by establishing and maintaining connections. Additionally, participants can broaden their specialist knowledge by learning about various topics. Overviewing the attending industries is also an achievable goal by comparing competitors. Conducting business on-site is furthermore among the completable aims. It includes preparing for purchases or completing business deals. Earning recognition is also among the achievable goals, including representing brands and innovations.

The event achieves such goals via its support programme. Among the leading sub-events in the schedule is the exhibition. It presents the latest innovations for attending industries. The exhibition features over 500 exhibitors distributed in categories such as:
consulting & finance
real estate & construction
energy
resources & environment
communication & information technology

smart city
telecom
production
mobility
smart living & home
The exhibition permits learning about the latest innovations, trends and challenges. They can also network and conduct business and earn recognition.

The support programme also includes sub-events that enable expanding specialist knowledge and networking. These include the Congress, the four Forums, and the Day of Consulates. Each focuses on a specific set of topics and targets different participant groups.

For instance, the Congress focuses on political, business and science participants. Such include municipality representatives, regional administrations, economic development agencies, and leading researchers. Such attendees gather to discuss topics, such as energy transition challenges. They debate the subjects via various sub-Forums, conferences, seminars and workshops. Example sessions featured in the programme include:
The Energy Leadership Meeting or Führungstreffen Energie
Climate neutrality and the utilities and grid operators
The Fibre Optic Forum
The Hydrogen Forum 2022
North Rhine-Westphalia and Energy 4.0
The Forums discuss the latest challenges, concepts, and current trends. They comprise four sub-events:
Infrastructure
Customer Solutions
Trading
Career
Each Forum focuses on a specific set of topics and target groups.

For instance, the Infrastructure Forum emphasises energy industry-related infrastructure subjects. Such include the current and future requirements for grids, smart cities and e-mobility. The Forum features participants such as IT specialists and city planning experts. They also feature construction specialists, utility companies, and industry associations. They, furthermore, include engineers, architects, technicians, operators, dispatchers, and distributors. Example topics featured in the Infrastructure Forum programme are:
Novel smart energy grid approaches
Global energy transition trends
Green hydrogen
Digital infrastructures and novel business models
Intelligent city applications and basics
The converging mobility and energy sectors
The Customer Solutions Forum emphasises energy-related services and products for end customers. It also incorporates B2B2C business areas such as digitalisation and renewable micro-power plants. Expert speakers such as chief advisors, co-founders, and CEOs present these. They discuss topics such as:
AI, digital platforms, and data exchange
Concentrating solar thermal energy as a source of green heat
Municipal utilities of the future - novel business areas, digitalisation and innovations
The Customer Solutions Forum also incorporates the VDE Rhein-Ruhr Graduate Award. It lauds electrical engineering, electronics, IT and medical technology innovations created by students.

The Trading Forum emphasises stock markets, energy procurement, marketing strategies, and emissions trading. It is valuable for participants, such as energy industry specialists and marketing specialists. Example topics discussed during the Forum include:
Individualising energy transition via the peer2peer trading system
Procurement and trading strategies for hydrogen
The Career Forum is the networking sub-event for students, graduates, and companies. It enables them to expand their networks and gain insights. A comprehensive conference programme that discusses topics such as updating resumes achieves this.

The Day of Consulates is a vital sub-event for international political representatives, such as ambassadors. It allows them to learn about various topics and network with others. Example topics include current market developments and the latest opportunities for individual countries.

Startup & Science Speed Dating is among the central sub-events in the support programme. It comprises discussion rounds lasting 8 minutes. During the sessions, startups, researchers, investors, thought leaders, and stakeholders can network. It promotes cooperation by inspiring new concepts, innovative projects, and solutions. Startup & Science Speed Dating often features over 1,000 sessions. One such example was the 2020 edition, which incorporated 1,400 discussion rounds.

E-World Energy & Water often incorporates novel additions to its support programme. For instance, the 2022 rendition presented the Future Congress. It allows attendees to learn about hastening energy transition and climate protection. A series of expert and impulse presentations debate the topics.

E-World Energy & Water can be invaluable for participants, such as operators and CEOs. Startups, in particular, can look forward to the exhibition and the Career Forums.
How can Travel 2 Fairs Ltd help you with Essen Accommodation?
Invest in your business trip by booking hotel accommodations tailored to your requirements. Travel 2 Fairs Ltd can aid you in finding convenient and affordable hotels in Essen. It allows you to choose the hotel deals that best suit your needs. For example, you can opt to be near Messe Essen for a faster commute. We have experience in working with large groups. Thus, you can search for parties of twenty or more people. The entire registration process can take up to a day, and you can rest assured that we will handle the details. Travel 2 Fairs ltd can also help with logistics. For instance, you can request a rent-a-car or an airport transfer, whether private or shared.
What Should You Note When Planning Your Stay In Essen?
E-World Energy & Water is an annual trade fair held for three days at Messe Essen. E-world energy & water GmbH organises it. The visiting hours for the first two days are between 9 am-6 pm and between 9 am-5 pm for the last. Messe Essen is a site that is easily accessible by public transportation. For example, a bus commute from the airport to the venue will require 40 minutes. Similarly, the convention centre is 6 minutes by metro from the central train station.

Essen has an extensive public transportation infrastructure comprising metro, railway, and bus lines. The public transport system connects the city to other cities throughout the country. Munich, Berlin, and Cologne are among the German metropolises accessible from Essen. Travelling within the city via public transportation also saves time. For example, a bus commute from the airport to Ruttenscheid requires 45 minutes. Travelling from adjacent cities is likewise very convenient. For example, the bus journey between Düsseldorf and Essen requires 30 minutes.

Essen offers a diverse range of dining and lodging alternatives. For example, the city features an extensive range of hostels, hotels, and apartments. Visitors can also select from various restaurants, brasseries, bars, and nightclubs. Kettwiger Strasse, Ruttenscheid, and Bredeney are popular accommodation and dining locations.
Target Audiences And Facts
E-World Energy & Water features over 500 exhibitors and over 20,000 visitors. For instance, the 2020 edition featured 800 exhibitors and more than 25,000 visitors. They networked and examined wares on over 53,000 m2 of event space. They represented over 67 countries, such as:
Germany
Hungary
France
Austria
Great Britain
Switzerland
Norway
the Netherlands

Denmark
Canada
India
USA
Finland
Poland
Sweden
Iceland

Luxembourg
Belgium
Slovenia
Romania
Italy
the Czech Republic
Australia
Spain
The statistics are notable in several aspects. For instance, 66,5% of the visitors can influence purchasing decisions. 80% of them perceive the event as a crucial meeting platform. 82,2% of the attendees report their visit to E-World as very important compared to similar events. Approximately 70% of the visitors would recommend the event, and 91,3% will attend the next edition. 50,9% of the exhibiting companies presented new products during the 2020 edition. 95,4% of the exhibitors could reach their most essential target groups.
What Happened In Previous Editions?
2022
Between 21.06.2022 and 23.06.2022, E-World Energy & Water 2022 took place. It was a hybrid event comprising a face-to-face trade fair and a digital platform. Around 15,000 visitors and 736 exhibitors from 27 nations attended the event. 94% of the visitors lauded the high market leader presence, and one in four represented a foreign country. 96% of the visitor group expressed high satisfaction with their participation. 95% of the exhibitors and 93% of the visitors confirmed their attendance for the next rendition.
25,000
international visitors
53,000+
sq m of exhibition area
813
international exhibitors
Our visitors
for the event
Our
Clients