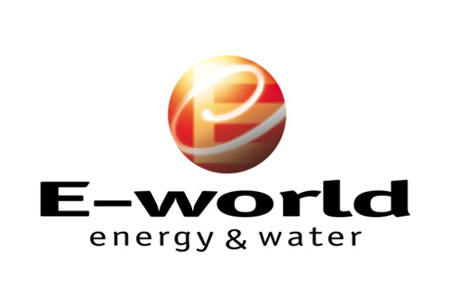 E-World Energy & Water 2024
(20 February 2024 - 22 February 2024 )
Organizer:
Messe Essen GmbH
About the
event
Update
E-World Energy & Water 2024 will occur as a live trade exhibition between the 20th and 22nd of February in Messe Essen. The locale will not include coronavirus safeguards due to the removal of Germany's restrictions related to the pandemic.
Preface
E-World Energy & Water (E-World Energy & Water Germany) is the energy sector's pre-eminent European trade exhibition. The international and annual event is hosted in Messe Essen. Most editions occur in February. It attracts civil servants, managers, researchers, CEOs, scientific professionals, technicians, engineers, students, IT specialists, communication experts, utility companies, consultants and service providers.

The event often receives over 20 500 participants. For instance, one iteration included over 800 exhibitor firms and 25 000 visitants. They networked on an event space of over 53,000 m2. They represented over 67 countries, including Germany, the People's Republic of Canada, India, and the Commonwealth of Australia. The statistics are notable in several aspects. For instance, 66.5% of visitors affect acquisition decisions. 80% of them perceive the event as a crucial meeting platform. 82.2% of the attendees report their visit to E-World Energy und Water as very important compared to similar events. Approximately 70% of the visitors would recommend the event, and 91.3% will attend the next edition. 50.9% of the exhibiting companies presented new wares. 95.4% of the exhibitors could reach their most essential target participants.
About E-World Energy and Water
The E-World Energy & Water messe enables participants to complete diverse business aims. Such includes expanding and maintaining business networks. The event achieves such goals via its event agenda. One of the central sub-events is the exhibition. It presents the latest innovations for attending industries. The event schedule likewise features various networking sub-events. These include the Congress, the Infrastructure Forum, Customer Solutions Forums, the Trading Forum, the Career Forum, and the Day of Consulates. Each focuses on a specific set of topics and targets different participant groups. For instance, the Infrastructure Forum emphasises energy industry-related infrastructure subjects. Startup & Science Speed Dating is also one of the prominent sub-events. It comprises discussion rounds lasting 8 minutes that allow startups, researchers, investors, thought leaders, and stakeholders to network. E-World Energy & Water often incorporates novel additions, such as the Future Congress.

Participant companies include Bloomberg LP, Rolls-Royce Solutions, Robert Bosch, Accenture, Schneider Electric, Deutsche Kreditbank, Unicredit, Huawei, E.ON, DB Energie, Hitachi, BNP Paribas, Mitsubishi, and Raiffeisen Bank.

E-World Energy & Water is the most pivotal trade exhibition for various industries. These include:
energy;
construction;
real estate;
services;
utility;
oil and gas
environmental protection;
mobility;
consulting;

IT;
financial;
manufacturing;
educational;
media;
communication;
energy production
energy efficiency
engineering;
skilled trades.
E-World Energy & Water in Essen Accommodation
Procure suitable accommodation for E-World Energy & Water before all the good deals are taken with Travel 2 Fairs Ltd. All that is necessary is to inform us about the rooms you need, how much you wish to spend, and your desired location. Travel 2 Fairs Ltd manages the rest. Reserve lodgings adjacent to Messe Essen and gain valuable access to public transport. We can advise you on the best routes to take to the venue. Aside from affordable hotel accommodation for exhibitions, we also provide transport services. One way to travel to your hotel is to have a rent-a-car wait for you at the airport. Another is to schedule an airport transfer in both directions.

Event information might be outdated because of the coronavirus pandemic. More information is available from the organiser.
Past Iterations
E-World Energy & Water 2022
E-World Energy & Water 2022 occurred as a hybrid trade exhibition between the 21st and 23rd of June 2022. Around 15 000 visitants and 736 exhibitor firms from 27 nations attended the event. 94% of the visitants praised the intense market leader presence, and one in four represented a foreign country. 96% of the visitor group communicated high satisfaction from their involvement. 95% of the exhibitor firms and 93% of the visitors stated they intended to attend the next iteration.
E-World Energy & Water 2020
The E-World Energy & Water exhibition of 2020 featured 25 000 visitants from 25 nations (one in five travelled from abroad) and 813 exhibitor firms from 25 countries. The iteration incurred high acclaim from participants. For instance, 94% of the visitants praised the high concentration of market leaders. 96% of the exhibiting firms and 92% of the visitants intended to attend the next iteration.
25,000
international visitors
53,000+
sq m of exhibition area
813
international exhibitors
Our visitors
for the event
Our
Clients