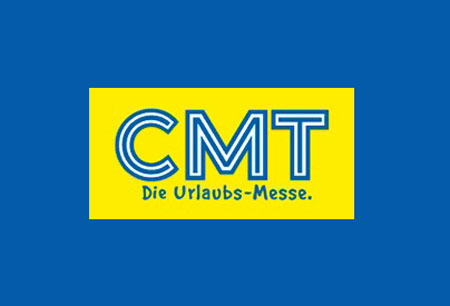 CMT 2024
(13 January 2024 - 21 January 2024 )
Organizer:
Messe Stuttgart
About the
event
Update
Landesmesse Stuttgart GmbH has confirmed CMT Stuttgart 2024 as a face-to-face iteration. The trade fair will occur between the 13th and 21st of January in Messe Stuttgart. Because of the removal of the country's domestic restrictions related to the pandemic, the venue will not feature coronavirus safeguards. Travellers from China should note that due to the travel limitations, they will have to present negative test results no older than 48 hours.
Preface
CMT - Die Urlaubsmesse (CMT - The Holiday Exhibition or CMT) is a leading international tourism, travelling, and leisure trade exhibition. It attracts around 2 100 exhibitor firms and more than 241 000 trade visitants. Such participants define the whole value chain. This includes tourist organisations, hotel/spa resorts, associations, motor vehicle manufacturers, retailers, travel offices, buyers, travel agents, and the public. Such participants attend to examine the latest travel destinations, motor vehicles/homes, cruise ship offers, and culture-enriching experiences. CMT has been occurring since 1968 on an annual basis in Messe Stuttgart on more than 124 000 m2.
About CMT Stuttgart
CMT features various showstoppers that participants should opt to attend. These include the comprehensive trade exposition with its specialised zones and product groups. Such include cycling or adventure holiday destinations, cruise, ship, and camping destinations. Participants should not overlook the RadRunde, Travel medicine day, Tourism Day and Travel Market sub-events as well.
The trade exhibition receives leading companies, such as:
Caravan Trading Europe BV;
Air Seychelles;
Concorde Reisemobile;
Alpin Consult;
AIDA Cruises;
Air Canada;
Audi;
Canon;
Condor;
Nikon;
Nissan Center;
Panasonic Deutschland;
Sony Europe BV.
Among the industries that attend the trade fair are the hobby, tourism, travelling, leisure, HoReCa, automotive, sports, and wellness sectors.
CMT in Stuttgart Accommodation
Procure suitable accommodation for CMT Stuttgart before all the good deals are taken with Travel 2 Fairs Ltd. All that is necessary is to inform us about how many rooms you need, how much you wish to spend, and your desired location. Travel 2 Fairs Ltd manages the rest. Book hotels close to Messe Stuttgart and gain valuable access to public transport. We can advise you on the best routes to take to the venue. Aside from affordable hotel accommodation for exhibitions, we also provide transport services. One way to travel to your hotel is to have a rent-a-car wait for you at the airport. Another is to schedule an airport transfer in both directions.
Event information might be outdated because of the coronavirus pandemic. More information is available from the organiser.
Past Iterations
CMT Stuttgart 2023
The 2023 iteration of the event occurred as a live trade exhibition between the 14th and 22nd of January, 2023. It was held in Messe Stuttgart and did not feature coronavirus safeguards. This was because of the removal of the country's domestic restrictions related to the pandemic. The iteration featured 265 000 visitants and over 1 500 media representatives.
Our visitors
for the event
Our
Clients