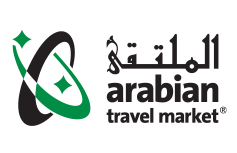 ARABIAN TRAVEL MARKET
( 8 May 2022 - 11 May 2022 )
Venue:
Dubai World Trade Centre
About the
event
COVID Update
Arabian Travel Market 2021 closed in May and proved to be a resounding success. The hybrid edition showed that the events industry is ready to restart and do so safely during the coronavirus pandemic. Reed Exhibitions Ltd. UK is looking to repeat this success with Arabian Travel Market 2022, which has already been scheduled for May, 2022. The official dates have been announced for the period May 8th – May 11th and you can expect robust, state-of-the-art COVID-19 health and safety measures at Dubai World Trade Centre in Dubai, UAE. It's expected the 2022 edition will also rely on digital offers to support the in-person portion of the international trade fair.
Calling Card
The Middle East has long since mastered the tourism and travel industry to its advantage. When you add that it also sits between East and West, you have the perfect conditions for an influential travel trade fair. That's where Arabian Travel Market comes in. As much as it's a local trade fair focused on the Middle Eastern market, it's also a valuable connection for travel destinations and markets in Europe, Asia, the Americas and Africa? The Arabian Travel Market is held every year towards May at the Dubai World Trade Centre in Dubai, UAE. As an exhibitor, you have much to win in terms of new connections, new business and better visibility.
Business Potential
So what's there to explore and experience? The Arabian Travel Market is all about showing global trends as in what are the travel destinations gaining interest from travelers or what airline routes are picking up momentum. Most of all, it's a place to see the entire travel industry – airlines, travel technology, cruises, hospitality, car rental, hotels and entertainment. Central Hotels, VisitFlorida, In Time Travels, Sabre Hospitality Solutions, Zeeyarah, TripCreator and Bluebird Auto Rental Systems are some of the companies you'll see at Arabian Travel Market. This means you're in good company and can expect to meet with high-profile trade visitors with interest in buying. The trade show attracts the IT sector, private gaming reserves, professional conference organisers, golf resorts, outbound and inbound tour operators, airlines, spas and theme parks.
Did You Know?
Arabian Travel Market is highly important for Dubai and the UAE, so it receives backing from the Department of Tourism and Commerce Marketing. The trade fair is not just about generating big sales numbers and networking. There's also a superb support program. Take for example the Travel Forward Conference. Attendees can learn market conditions here and now with a lot of practical information through panel sessions, interviews and direct presentations. Arabian Travel Market is also a champion of responsible tourism. You learn about sustainable practices to grow and nurture tourism without harming the environment. In addition to informational content, there are also the World Responsible Tourism Awards, which further stimulate participation.
Your Hotel Room in Dubai
Once you decide to exhibit at Arabian Travel Market, it's time to book hotel accommodation in Dubai and Travel 2 Fairs ltd can help you with that. We're experienced in the business travel sector and know our way around Dubai. Tell us a price and how many people are travelling with you, we handle the rest and point you to the top hotel rates near Dubai World Trade Centre. Larger groups of over twenty people are also welcome as our hotel service is flexible. Clients come to us when they need help with mobility. Travel 2 Fairs ltd is an official rent-a-car vendor and has good cars at various price points. In addition, we can organize an airport transfer upon your arrival to take you to your hotel.
$2.5 billion
of travel industry deals
2700+
exhibitors in total
23,000+
visitors in total
Our visitors
for the event
Our
Clients