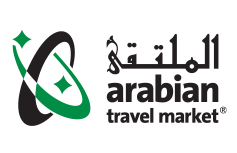 ARABIAN TRAVEL MARKET 2024
( 6 May 2024 - 9 May 2024 )
Organizer:
Reed Exhibitions Ltd.
About the
event
Update
Arabian Travel Market 2024 will occur as a live trade exhibition between the 6th and 9th of May in the Dubai World Trade Centre (DWTC). The locale will incorporate coronavirus safeguards. They will include digital pre-registration, social distancing, mandatory face masks and frequent disinfection. Participants should note that they will not be required to show 3G documents upon arrival due to Dubai lifting its travel restrictions.
Preface
Arabian Travel Market (ATM/Arabian Travel Market Dubai) is among the leading platforms for the tourism and travel industries. It allows professionals to showcase their brands and learn about new market opportunities. ATM is a trade fair that occurs annually in the DWTC. Arabian Travel Market Dubai is a trade fair that receives more than 20 000 attendants from the travel and tourism industry. For instance, one edition featured over 21 600 attendees. Another iteration likewise received around 40 000 attendants from 150 nations. This included Lebanon, Spain, the United States, the Republic of India, and the Federative Republic of Brazil.
About Arabian Travel Market
ATM allows professionals to complete several vital goals. Among them is networking with leading executives. Arabian Travel Market helps to achieve such goals via its diverse support programme. Among the main events on the agenda is the exhibition, which presents over 3 000 products. Such include innovative travel technologies, tourist destinations and attractions, airline routes, and accommodation.
ATM also features a diverse range of conferences and summits. One such sub-event is Travel Forward. It is the location where professionals can meet novel technology and solution providers. The Travel Forward consists of three sub-areas. These include an exhibition, the Start-up Showcase, and the Travel Forward Theatre. The exhibition displays the latest travel technologies. The Start-up Showcase is a forum that allows start-ups to present their novelties before a panel of judges. The jury then selects three companies to showcase before the whole audience. The audience chooses the winner. The Travel Forward Theatre is the location for presenting valuable insights through diverse lectures.
Another conference event is the ARIVAL Dubai@ATM. It allows attendees to learn about the latest ways to create in-destination experiences. It consists of webinars focused on current and future tours/attraction trends. Similar in intent is the ATM Buyers' Club. It is a forum for senior industry members with a direct purchasing responsibility.
Arabian Travel Market's exhibitor list features many leading companies and brands, such as:
Abu Dhabi Airports;
Accor;
Agoda;
Air Arabia;
Marriott International;
City Sightseeing Ltd;
InterContinental Hotels Group;
Qatar Airways Group;
Sheraton Hotels;
Swissotel Hotels & Resorts;

Dorsett Hospitality International;
Düsseldorf Airport;
Emirates;
Expedia Group;
Grand Hyatt;
Guinness World Records;
Hilton;
Radisson Hotel Group;
Wyndham Hotels & Resorts;

Huawei;
Hyatt Hotels & Resorts;
IHG Hotels & Resorts;
Kempinski Hotels;
Minor Hotel Group Limited;
Munich Airport;
Orient Express;
Raffles;
Rida International Travel & Tourism.
ATM is among the meeting hubs for the tourism, HoReCa, incentive travel, transport, cultural, MICA, retail, and media economic sectors.
Arabian Travel Market Accommodation
Procure suitable accommodation for Arabian Travel Market with Travel 2 Fairs Ltd. All that is necessary is to inform us about the rooms you need, how much you wish to spend, and your desired location. Travel 2 Fairs Ltd manages the rest. Reserve lodgings adjacent to DWTC. This will improve your commuting time by gaining invaluable public transport access. We can inform you of the top-quality routes to take to the locale. Apart from reasonable lodging accommodation for expositions, we likewise provide transport services. One travel method to your hotel is to have a rentable car expecting you at the airport. Another is to schedule an airport transfer in both directions.
Event information might be outdated because of the coronavirus pandemic. More information is available from the organiser.
Past Iterations
Arabian Travel Market 2021
Arabian Travel Market Dubai 2021 was the event's first hybrid iteration. This occurred as a result of the coronavirus pandemic. The event took place between the 16th and 19th of May 2021. The live aspect of the fair had strict health protocols in place. Over 21 600 attendants from 110 countries visited the iteration.
Arabian Travel Market 2022
The 2022 edition of ATM was the second edition to occur as a hybrid event. Like the 2021 edition, the live section featured strict coronavirus safeguards. Over 30 000 attendants participated in ATM 2022, including over 23 000 visitants and 1 500 exhibiting firms from 150 countries.
Arabian Travel Market 2023
Arabian Travel Market 2023 signified a new participation record for the event. It was held as a hybrid trade exhibition between the 1st and 4th of May 2023 in the DWTC with implemented coronavirus safeguards. The iteration received over 40 000 attendants, thus signifying a 5% increase compared to the record 2019. The attending group included over 2 100 exhibiting companies and 30 000 visitants, with over 150 countries taking part in the event.
$2.5 billion
of travel industry deals
2700+
exhibitors in total
23,000+
visitors in total
Our visitors
for the event
Our
Clients