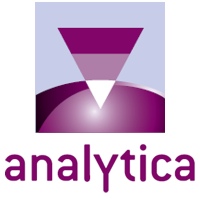 Analytica 2024
( 9 April 2024 - 12 April 2024 )
About the
event
Update
Analytica 2024 will be hosted as a "face-to-face" event in Messe Munich. From the 9th of April 2024 to the 12th of April 2024, the venue will be open to trade visitors. The live edition will continue the process initiated by the successful 2022 restart. Germany does not have travel or national Covid-19 restrictions in place at present.
Preface
Analytica is a leading research laboratory, molecular biology, and chemistry trade exhibition. It showcases the latest laboratory products and system solutions. The event takes place on around 55,000 m2 of trade fair space and receives over 38 000 attendants from more than 100 countries. This includes nations ranging from Austria through the USA to Japan. The event has been held every two years at Messe Munich since 1968. Analytica Munich attracts a variety of participating specialists. Such include end-users, manufacturing businesses, providers, consultants, and public institutions. It should be noted that leading decision-makers constitute 87% of the trade attendee group.
About Analytica Munich
The event schedule comprises a diverse and extensive range of sub-events. Among the distinguished showstoppers is the Analytica Conference. It features experts from leading institutes, universities, enterprises, and organisations as speakers. During the conference, the latest topics of interest are discussed. Examples include biochemistry, analysis, genetic engineering, quality assurance, and digitalisation. Often, the event features novel additions. Examples include specialised shows, live demonstrations, and forums. They enable learning about new challenges.

Analytica features among its exhibitors Hamamatsu, Hitachi, Liebherr, Emerson, Fraunhofer Institute, FUJIFILM, Merck, and Miele. They represent various industries. Examples include the medicine, pharmaceutical, veterinary medicine, health, biotechnological and chemical segments. The aerospace, construction, F&B, metalworking, automotive, electronics, cosmetics, agriculture, and ceramics sectors likewise attend.
Analytica Munich Accommodation
Procure suitable accommodation for Analytica before all the good deals are taken with Travel 2 Fairs Ltd. All that is necessary is to inform us about how many rooms you need, how much you wish to spend, and your desired location. Travel 2 Fairs Ltd manages the rest. Secure lodging close to Messe Munich and gain valuable access to public transport. We advise you on the best routes to take to the venue. Asides from affordable hotel accommodation for exhibitions, we also provide transport services. One way to travel to your hotel is to have a rent-a-car wait for you at the airport. Another is to schedule an airport transfer in both directions.

Event information might be outdated because of the coronavirus pandemic. More additional information is available from the organiser.
Past Iterations
Analytica Munich 2022
Analytica 2022 was a two-phase hybrid iteration that was alongside the live editions of Ceramitec and Automatica. The three trade exhibitions were hosted between June 21st and June 24th, 2022. The digital aspect of the event was available until July 8th, 2022. Analytica 2022 received 891 exhibiting companies from 39 countries. 45% of them represented a foreign nation. Approximately 26 000 trade attendees who had travelled from 114 sovereign states attended the fair. The countries with the highest visitor numbers were:
Austria
Switzerland
Italy
the UK
Poland
Spain
Slovenia
the USA
France
the Netherlands
560
international exhibitors
55,000
sq m of exhibition area
13,000+
international visitors
Our visitors
for the event
Our
Clients