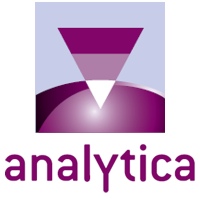 Analytica
(23 April 2024 - 26 April 2024 )
Location:
Germany , Munich
About the
event
COVID-19 Update
Analytica 2024 will be hosted as a physical event at Messe München GmbH or Messe Munich. The event will coincide with Ceramitec 2024. From April 23rd to April 26th, the venue will be open to trade visitors. The live edition will be set up as the continuation of the successful 2022 restart. At present, Germany does not have travel or national Covid-19 restrictions in place because of the improved epidemiological situation. As a result, attendees will not be required to adhere to strict safety protocols such as presenting 3G entry documents upon arrival in the country or before entering the venue.
Calling Card
At its core, Analytica is the meeting ground for market leaders in the world of lab tech, science, and research. The international trade fair considers itself the premier platform for the latest in laboratory technology, biotechnology, and analysis. Whatever new breakthrough has been made, you will hear about it in Analytica. Editions are held at a frequency of two years in Munich, Germany, and the product spectrum is certainly impressive. Messe Munich welcomes trade visitors over four days in June. The concentration of experts, scientists, and institutions has made Analytica a gold standard for the industry. It's why it has managed to produce successful spinoff events in China, India, and Vietnam.
Business Potential
Analytica is home to innovations and discoveries in laboratory technology, analysis, test and measurement equipment, lab safety, reagents and chemicals, biotechnology, medicine and public health, and digitalization. There's quite a lot to be experienced at the trade fair. One of the biggest attractions is the Start-up Forum, where companies can meet with professionals in the fields of innovation consulting, technology transfer and joint ventures. In previous years, trade visitors have seen booths belonging to Atlas Biotechnologie, Azure Biosystems, Labotech GmbH, Labplas Inc. and STRATEC Consumables GmbH. What's so impressive about Analytica is that it's one of the most trusted platforms to source products, technologies and solutions. Visitors from the research and scientific sectors come with the explicit purpose of purchasing. For 57% of all visitors, this is the one marketplace that matters.
Did You Know?
It's not just static displays and stylish booths at Analytica. The event places value on a more hands-on approach to pitching products, and this is where Live Labs come into play. These are accurate to real-life laboratories, where exhibitors can showcase their equipment under real circumstances. Live performance and demonstration are an essential part of the proceedings. Another highlighted portion of the trade fair is the Analytica conference. The biggest names in your area of research will be present to discuss, share their experience and outline strategies for the future. Another fact worth mentioning is the opportunities to find new talent. Job Days present newcomers to the industry with an opportunity to learn about all the players and excel in their careers.
Your Hotel Room in Munich
Be the first to land hotels close to Messe Munich, thanks to Travel 2 Fairs ltd. We have years of experience and have grown our network of hotels to a considerable size. Make hotel reservations for Analytica across every price point. Whether you seek a lavish suite or budget rooms, we have the right match every time. You make great savings and enjoy a shorter commute! You can count on our team to inform you of the quickest public transport route, if not locate you within walking distance from the event. There's also the matter of support services – guests can have an airport transfer service or rent a car. No matter how many people are within your party, we'll be able to tailor the right work trip experience.
Past Editions
2022
Analytica 2022 took place as a two-stage hybrid event alongside the live editions of Ceramitec and Automatica. The three fairs were held between 21.06.2022 and 24.06.2022 in Messe Munich. The digital aspect of the event was available until 08.07.2022. Analytica 2022 received 891 exhibitors from 39 countries, with 45% of them representing a foreign nation. Around 26,000 trade visitors from 114 sovereign states attended the fair. The countries with the highest visitor numbers were:
Austria
Switzerland
Italy
the UK
Poland
Spain
Slovenia
the USA
France
the Netherlands
560
international exhibitors
55,000
sq m of exhibition area
13,000+
international visitors
Our visitors
for the event
Our
Clients