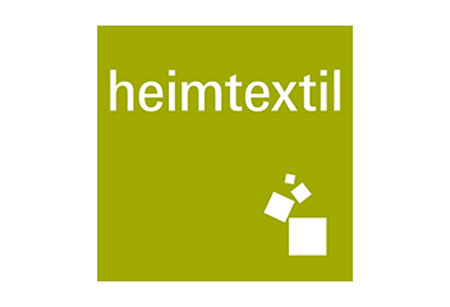 Heimtextil 2024
( 9 January 2024 - 12 January 2024 )
Organizer:
Messe Frankfurt GmbH
About the
event
Update
Heimtextil 2024 will occur between the 9th and 12th of January 2024 in Frankfurt am Main. The event will be a live trade exhibition in Messe Frankfurt. At present, Germany does not have travel or national Covid-19-related restrictions.
Preface
Heimtextil is Germany's premier contract and home textile show. It is the meeting location for leading players in the market. The fair helps set the sector standards due to its annual occurrence in Messe Frankfurt. The event is furthermore the location for learning about new interior textile trends.

Heimtextil features high participation and satisfaction rates. For example, 3,025 exhibitors and 67,500 visitors attended one edition. 75% of the visitors travel from abroad and represent 65 nations. Among them are China, Italy, the USA, and the Netherlands. The edition had a 94% satisfaction rating.
About Heimtextil
Heimtextil can be beneficial in completing various business goals. For instance, it can provide opportunities to find new products. The event, furthermore, enables networking. The trade show additionally allows professionals to expand their specialist knowledge. They will also be able to gain recognition.

Heimtextil has an extensive support programme that helps in completing such business goals. Among the main sub-events is the Heimtextil Future Materials Library. It is a dedicated zone for new interior application trend-setting materials. The trends shown in the area often reflect the current changes in the industry. For example, one edition focused on repurposing, rewilding, and reviving. Another event of interest is the Exhibition, including its Smart Bedding sector. It is an exhibition zone focused on intelligent bedding innovations. Other exhibition sectors include Textile Design, Furniture Fabrics, and Textile Technology.

Also, Heimtextil hosts specialist theme areas. Among them are the Interior, Sustainability, and Small-scale retail supply. The Interior is the specialist area for viewing operational fabric selections. The Sustainability area is where attendees can examine textiles produced through sustainable methods. The section includes a dedicated zone known as the Green Village. It is an area where attendees can ask organisations and certification bodies questions. The Sustainability theme zone furthermore contains the Speakers' Corner. This is the area where international experts discuss resource conservation and production conditions.

Sectors that attend Heimtextil include interior design, textile, and textile machinery. They also feature skilled trades, retail trade, services, wholesale, and foreign trade industries. They are represented by leading companies such as:
ACL Impex;
AVL;
AdaWall Wallcoverings;
ADVANSA;
AGAOGLUAlbani Group;
Arshad Group;
Atenzza Group;
Atlanta Export Enterprises;
Beirholms Vaeverier;
Canon Europa;
Manifattura Corti.
Heimtextil Accommodation
Procure suitable accommodation for Heimtextil before all the good deals are taken with Travel 2 Fairs Ltd. All that is necessary is to inform us about the rooms you need, how much you wish to spend, and your desired location. Travel 2 Fairs Ltd manages the rest. Reserve lodgings adjacent to Messe Frankfurt and gain valuable access to public transport. We can advise you on the best routes to take to the venue. Aside from affordable hotel accommodation for exhibitions, we also provide transport services. One way to travel to your hotel is to have a rent-a-car wait for you at the airport. Another is to schedule an airport transfer in both directions.
Event information might be outdated because of the coronavirus pandemic. More information is available from the organiser.
Past Iterations
Heimtextil 2020
Heimtextil's 2020 edition featured 63,000 visitors and 2,952 exhibitors. The event format was face-to-face, with the hosting location being Messe Frankfurt. The rendition featured the latest coronavirus safeguards, such as social distancing.
Heimtextil 2022
Heimtextil's once-only Summer Special coincided with the 2022 iterations of Techtextil Frankfurt and Texprocess. They signified the triumphant restart of the international textile sector. 91% of the visitors were pleased with the hybrid events that occurred in Messe Frankfurt. They were held between the 21st and 24th of June, 2022. They attracted approximately 63 000 visitants and 2 300 exhibiting companies from 117 nations.
Heimtextil 2023
It featured 44 000 visitants and 2 400 exhibiting companies from 129 participant countries. The event was hosted in Messe Frankfurt between the 10th and 13th of January, 2023. Due to Germany lifting its pandemic restrictions, the venue did not feature coronavirus safeguards.
Our visitors
for the event
Our
Clients