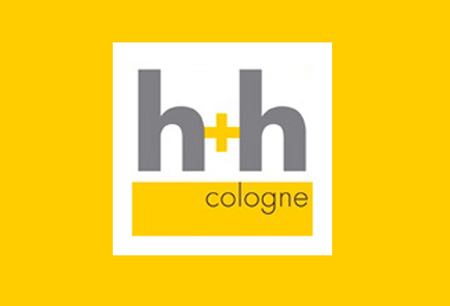 h + h cologne 2024
(22 March 2024 - 24 March 2024 )
Organizer:
Koelnmesse GmbH
About the
event
Update
H+h Cologne 2024 will occur as a face-to-face event in Messe Cologne between the 22nd and 24th of March 2024. The trade fair will not have coronavirus safeguards. This is due to the country lifting its pandemic constraints.
Preface
Founded in 1979, the h+h Cologne is a premiere trade exhibition for hobby supplies and creative handicrafts. It is where the handicraft sector gathers to show its creativity. This includes showcasing new handcrafting methods, the latest trends, and others. The event takes place annually in Messe Cologne and is among Cologne's leading events.

H & h Cologne is an international fair that receives over 12,000 attendees. For example, one iteration featured over 400 exhibiting firms and around 16,000 visitors. Over 75 countries attend the fair, including Italy, India, Peru, South Africa, the USA, and Australia. Attendees represent numerous industries at the fair. Among them are textiles, fabrics, and textile/clothing machinery.
About H + H Cologne
H+h Cologne can help handicraft professionals network. Furthermore, they can learn about the latest trends and developments in the sector. Additionally, the fair provides ample opportunities for generating valuable leads and gaining recognition.
H h Cologne has an extensive event programme that can help attendees achieve such goals. Among them is the comprehensive exhibition where exhibitors showcase their products. This includes home textiles, yarns, and tapestry. It additionally features sewing, knitting, crocheting tools, haberdashery and other products. The exhibition features four theme worlds. These are Go Global, Go Business, Go Green and Go Trendy.
Go Trendy is the location for finding the latest DIY and sewing trends. It is also where professionals can order products from the exhibiting manufacturers. The zone showcases textile design innovations, new materials, needlework techniques, and fashion trends. The showcased trends and products include blazers, dresses, bags, and other textile articles. Fashion trends that receive mention include trending cuts, colours, and fabrics.
Go Business is another theme world that forms the core of the exhibition. It is the location where attendants can expand their specialist knowledge. The theme world features both a detailed sub-exhibition and a sub-event agenda. This includes courses, talks, and networking sessions. The workshop courses provide valuable information on various topics, such as social media marketing. This allows attendees to learn new techniques. The coachings and panel discussions within Go Business frequently include leading industry experts as hosts.
The Go Global Zone showcases sustainable products made by international manufacturers. This includes organic products, natural textiles, recycled yarns, and GOTS-certified wool. It is also where such professionals discuss topics such as ecological production. The event allows such professionals to expand towards new markets. The zone also includes an upcycling area where attendants can learn valuable ideas.
H&h Cologne also includes sub-events such as "My lovely living room." This is an event where leading experts discuss business strategies. The support program also includes many catwalk shows and specialised displays.

Attendants of H and h Cologne can meet notable companies and brands, such as:
Amann Handel;
FIL KATIA;
KBEBAND SL;
Lankova Oy;
Notie SRO;
NEKO;
Nippon Chuko;
Pascuali GmbH;
Prym Consumer Europe;
Stoffabrics;
Walt Disney;
Lion Brand Yarn Company.
H+h Cologne is an international fair that is a must-attend for professionals in industries such as home textiles, handicrafts, tapestry, sewing, retail, wholesale, mail order, and education.
H +h Cologne Accommodation
Procure suitable accommodation for h + h Cologne before all the good deals are taken with Travel 2 Fairs Ltd. All that is necessary is to inform us about the rooms you need, how much you wish to spend, and your desired location. Travel 2 Fairs Ltd handles the rest. Secure accommodations next to Messe Cologne and obtain invaluable access to public transportation. We can inform you of the top-quality paths to the venue. Besides affordable accommodation for exhibitions, we also provide transport services. One way to travel to your hotel is to have a rent-a-car wait for you at the airport. Another is to schedule an airport transfer in both directions.
Event information might be outdated because of the coronavirus pandemic. More information is available from the organiser.
Past Iterations
h + h Cologne 2022
The 2022 edition of the event was in a hybrid format. The in-person aspect of the event was available alongside the digital h+h cologne@home. The programme for h+h cologne@home featured panel discussions and workshops. The platform also featured information-exchanging chats and Q&As. The in-person aspect of the event was available between the 18th and 20th of March 2022 in Messe Cologne. The digital medium that accompanied the live trade fair was initiated between these dates and remained until 30.06.2022. During this time, the 150 exhibiting firms from 30 nations that attended the event could continue presenting their latest wares. The edition furthermore received 4,500 visitors from 49 countries.
h + h Cologne 2023
The 2023 iteration event was held between the 31st of March and the 2nd of April 2023 in Messe Cologne. The iteration presented the wares of 280 exhibiting firms from 41 nations. It received over 12 000 visitants.
429
Exhibiting companies from 43 countries
15,384
sq m of exhibition area
16.500
Visitors from 80 countries
Our visitors
for the event
Our
Clients