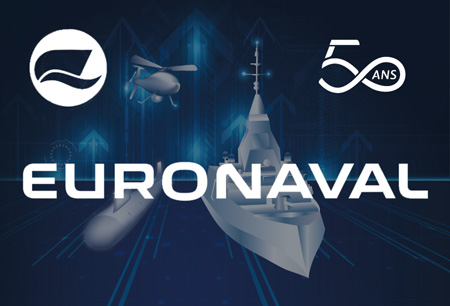 Euronaval 2024
( 4 November 2024 - 7 November 2024 )
About the
event
Update
Euronaval 2024 will be hosted as a live event between the 4th and 7th of November 2024 in Paris Nord Villepinte. The venue will not incorporate coronavirus safeguards. This is due to the lifting of France's pandemic restrictions.
Preface
Euronaval is one of the leading trade exhibitions for the military-naval sector. It is a biannual trade show that attracts representatives of the industry and its related sectors from five continents. This often results in an attendance rate of over 25 900 attendants. This includes around 480 exhibitor firms (60% from abroad) and approximately 25 000 visitors. Attendants also incorporate over 140 official delegations and 350 media representatives. Such participants represent over 30 nations. Such include New Zealand, Norway, the United States, the Federative Republic of Brazil and India. Among the participants are contractors and leading decision-makers. Similarly, they include coast-guarding, cybersecurity, warfare, underwater systems, shipyard, and naval trade experts. Such attendants take part in the trade exhibition to study or present innovations, network and secure business deals.
About Salon Euronaval
Euronaval is a trade exhibition with diverse sub-events, each of which can help in completing one or more business goals. For example, the comprehensive trade exposition can aid in achieving five objectives. These are raising brand awareness, studying/presenting novel solutions, and studying new trends. It also aids in conducting on-site business and expanding business networks. This is due to the exposition's diverse product groups. Participants should also attend the Euronaval Business Meeting, SEAnnovation Area and the Cyber Naval Hub.
Many leading companies attend the trade fair as exhibitors, visitors, or speakers. Such include:
Schneider Electric;
Dassault;
Scania;
Kongsberg;
Hutchinson;
MAN;
Lockheed Martin;
Avon Communications;
Hyundai;
ThyssenKrupp;
ABB;
Airbus;
Alcatel-Lucent;
Rolls-Royce;
Siemens.
Such enterprises represent sectors such as security, safety, defence, shipping, engineering, logistics, IT, and maritime transport.
Euronaval Paris Accommodation
Procure suitable accommodation for Euronaval before all the good deals are taken with Travel 2 Fairs Ltd. All that is necessary is to inform us about how many rooms you need, how much you wish to spend, and your desired location. Travel 2 Fairs Ltd manages the rest. Book hotels close to Paris Nord Villepinte and gain valuable access to public transport. We can advise you on the best routes to take to the venue. Asides from affordable hotel accommodation for exhibitions, we also provide transport services. One way to travel to your hotel is to have a rent-a-car wait for you at the airport. Another is to schedule an airport transfer in both directions.
Event information might be outdated because of the coronavirus pandemic. More information is available from the organiser.
Past Iterations
Euronaval 2022
Euronaval 2022 took place as a live trade exhibition between 18.10.2022 and 21.10.2022. The venue did not feature coronavirus safeguards due to the removal of the country's pandemic-related restrictions. It was attended by 450 exhibitors from 30 nations (55% were from abroad), 15 delegations, 39 navy chiefs, 350 accredited journalists, and 22,000 visitors. A total of 1,400 B2B meetings were held during the iteration, which featured 12 national pavilions.
Our visitors
for the event
Our
Clients