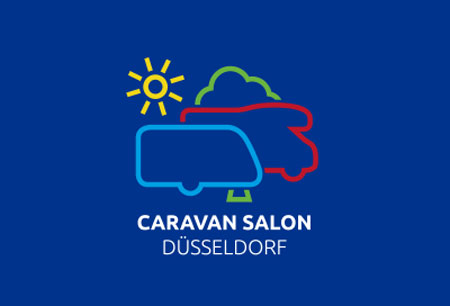 Caravan salon Dusseldorf 2024
(31 August 2024 - 8 September 2024 )
Organizer:
Messe Dusseldorf GmbH
About the
event
Update
Caravan salon Dusseldorf 2024 will be hosted as a face-to-face trade fair between 31.08.2024 and 08.09.2024. Due to the removal of the domestic restrictions, the venue, Messe Dusseldorf, will not include Covid-19 safety measures. Likewise, because of the lifting of the travel limitations, attendants will not be required to show upon arrival in the country 3G entry documents.
Presentation of the Event
All things caravanning and mobile holiday-making can be discovered at the Caravan salon Dusseldorf, which welcomes members of the industry as well as caravanning enthusiast groups that can park on site in their own mobile home and network. The international trade fair is a mainstay for Germany and returns at the end of summer with close to 2,000 exhibitors. Over the course of a single edition, it's expected for more than 160,000 visitors to check out the products and programming. Capitalize on this opportunity with hotels close to the Messe Düsseldorf and to help you get the best deal is Travel 2 Fairs Ltd.
Caravan salon Dusseldorf brings you the full line-up of vehicles, accessories, and tools. Display categories include but are not limited to tents, trailer hitches, trailers, vehicle parts, campers, camping equipment, camping products, caravans, landing gear, mobile homes, outdoor products, navigation systems, and power supply. Invest fully in your business travel outing with a strategic online hotel reservation for trade fairs. Travel 2 Fairs Ltd. works with you to land the price that's lightest on your budget! We also look to place you close to the exhibition venue and connect you to public transport for a swift commute.
Past Iterations
Caravan Salon Düsseldorf 2021
The 60th edition of Caravan Salon Düsseldorf was the second edition of the event, which took place under special auspices due to the COVID-19 pandemic. The event took place as a face-to-face exhibition between 27.08.2021 and 5.09.2021. It included strict COVID-19 prevention measures as part of the format's concept, with high discipline and compliance being one of the highlights of the rendition. High satisfaction, attendance numbers, top-quality deals and outstanding contacts were the other hallmarks of the 60th edition. A total of 185,000 trade visitors attended in person to examine the wares of 653 exhibitors. Thirty-one countries were represented at the fair, with 41% of visitors being first-time attendees. Thirteen exhibition halls and 1 outdoor space accommodated the exhibition, including 2 new zones. Such high numbers showed the importance of face-to-face interactions for the sector.
Caravan Salon Düsseldorf 2022
The 61st edition of Caravan Salon Dusseldorf was held between 26.08.2022 and 04.09.2022 in Messe Düsseldorf. The event did not feature Covid-19 safety measures due to the improved pandemic situation. It featured 235,000 visitors from 72 countries and 736 exhibitors from 34 nations.
Caravan Salon Düsseldorf 2023
The 62nd iteration of Caravan Salon Düsseldorf occurred as a live trade exposition between 25.08-03.09.2023 in Messe Düsseldorf. It attracted 254 000 visitants from 65 nations on more than 250 000 m2 of event space. They examined the wares of over 750 exhibiting firms from 37 countries.
Our visitors
for the event
Our
Clients