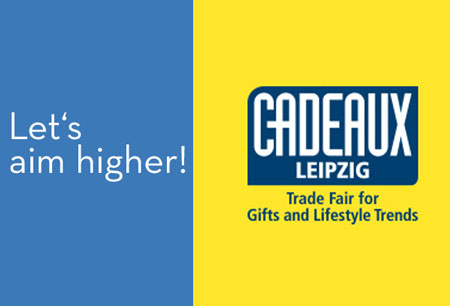 CADEAUX Leipzig
( 2 September 2023 - 4 September 2023 )
Location:
Germany , Leipzig
Organizer:
Leipziger Messe
About the
event
Update
CADEAUX Leipzig 2023 will take place in Messe Leipzig between the 2nd and 4th of September 2023. The format of the event will be face-to-face. Currently, the country does not have domestic restrictions pertaining to Covid-19. Due to the removal of such policies, attendees will not be required to adhere to safety protocols, such as the 3G entry policy. Travellers from China should note that due to the instated travel limitations, they will have to present upon arrival negative test results no older than 48 hours.
Introduction
Set a new lifestyle trend in your market niche, whether you're in the gifts industry or make crafts and games. CADEAUX Leipzig is the place where lifestyle and domestic product brands come to drum up excitement and generate sales leads. The international trade fair is a staple event and organizers place attendance in the high thousands, featuring members of the general public, buyers, distributors and importers. Do you have your accommodation figured out? Travel 2 Fairs ltd sends you exceptional deals on hotels for CADEAUX Leipzig ahead of everyone else!
Business travel has a new face – Travel 2 Fairs ltd, and we're here to keep your travel expenses as low as possible through a bespoke online hotel reservation for trade fairs. Discuss with us prices, preferences and choice in location. We scout through all the hotels in Leipzig to secure deals that are light on your budget and turn the commute to the exhibition venue into a breezy trip. That's a strategic edge at CADEAUX Leipzig, which is a competitive marketplace. Product categories include bathroom, wellness, beauty, floristry, gifts, souvenirs, trophies, cooking utensils, gourmet, tableware, crafts, baby products and accessories.
Past Editions
CADEAUX Leipzig 2021
CADEAUX was one of the first face-to-face fairs to take place in Leipzig in 2021. The event took place between September 4th and September 6th, 2021, as an in-person exhibition. The edition received a total of 450 exhibitors and approximately 8,100 trade visitors. All attendants stated that partaking in face-to-face exchanges was among their primary causes for travelling to the fair, despite the pandemic. The event had strict COVID-19 prevention measures in place, created via the 'Safe Expo' hygiene concept.
CADEAUX Leipzig 2022
CADEAUX 2022 Winter took place as a live event with strict Covid-19 safety measures in place. The event was held between 05.03.2022 and 07.03.2022 with the measures including social distancing and mandatory face masks. The winter edition featured 162 exhibitors from 12 countries. CADEAUX Summer took place without Covid-19 safety measures due to the improved pandemic situation. The event received 177 exhibitors.
Our visitors
for the event
Our
Clients