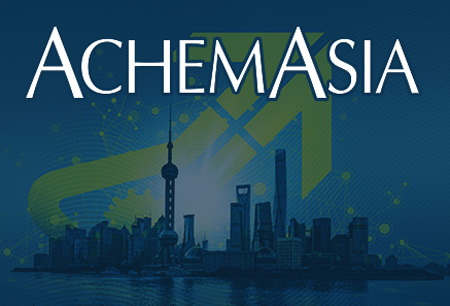 About the
event
COVID Update
Professionals in biotechnology and chemical engineering can start planning their trip to Shanghai, China, because AchemAsia 2022 is coming back. This edition will be the first one to take place in a mid-pandemic world and organisers are keeping it as a live event. The best way to push science and innovation is through live contact and interaction. Programming spans the period April 4th – April 8th, 2022. China has learned a lot about how to live with COVID-19 and will be bringing in first-rate COVID-19 protective measures. The National Exhibition & Convention Center will be in full compliance with the government regulations and extend every possible health protocol available.
Calling Card
AchemAsia is the go-to exhibition for chemical engineering and biotechnology. It's always been a trend setter and the biggest platform for cross-border procurement. The event takes place in Shanghai, China and editions are spaced out every three years, typically organized at the start of April. The National Exhibition & Convention Center is the official venue for AchemAsia and is home to the complete value chain. Buyers are invested in AchemAsia, because it's a one-stop shop for everything they might need. What truly makes AchemAsia unique in China is that it's the first major event of its kind in the country and has been instrumental in forming close connections with buyers across seas. The government is also heavily investing in the success of the exhibition!
Business Potential
A major reason why AchemAsia sits at the top is the broadness of products and technology on the show floors. No matter what you are seeking to research, there's a company with a booth there to show and explain. The product portfolio extends to analysis technology, packaging, storage, plants and machinery for the chemical industry, process conducting systems, plants and machinery for the petrochemical engineering, food engineering. If not to outright buy, visitors use AchemAsia as a reference point for new technologies. Overall, the audience is made up from buyers and higher-ups in industry and trade looking to research the market and place orders. China is quite interested in buying from outside, so it's the perfect opportunity to expand your client list and launch products to great success.
Did You Know?
AchemAsia has been traditionally held in Beijing, but switched locations in 2019 in order to meet new interest and attract more visitors. It was a massive hit and boosted attendance numbers, which proves just how important this exhibition is. AchemAsia is also one of the key instruments for the Chinese government to reach its current five-year plan for expansion and development. Currently, sustainability is one of the biggest priorities for the Chinese government in minimizing the effect of chemical manufacturing on the environment. Some of the main topics at the exhibition have to do with industrial water management from efficient treatment of complex wastewaters to energy efficiency in water management. The congress is truly one of the most important parts of the event as it hosts incredible names in biotechnology.
Your Hotel Room in Shanghai
Shanghai, China is one of the largest cities in the world and it's not easy to find the right hotel for your needs. Travel 2 Fair ltd knows exactly where to find the most affordable hotel prices near the National Exhibition & Convention Center. You get the benefit of a strategic location and make top savings at the same time. Whether you walk or catch the metro, you'll be there in minutes. Your hotel accommodation for AchemAsia 2022 is always at the right price. We work with every budget and have experience with larger groups as well. Do you need additional services? Travel 2 Fairs ltd is a rent-a-car vendor with a range of vehicle options. Then again we can always arrange for an airport transfer to your hotel.
10,000+
international visitors
Our visitors
for the event
Our
Clients