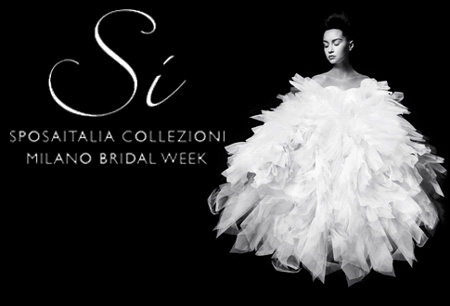 SI SPOSAITALIA COLLEZIONI 2024
( 5 April 2024 - 8 April 2024 )
Organizer:
Fiera Milano S.p.A.
About the
event
Update
SI SPOSAITALIA COLLEZIONI 2024 will take place between 05-08.04.2024. The event will take place as a live trade fair at the Fiera Milano. The venue will include safety measures such as social distancing to prevent Covid-19 infections. This will include attendees needing to maintain a social distance of 1 metre at all times and to wear PPE in the form of face masks in indoor areas. Because of the travel restrictions, attendees will have to show upon arrival in the country documents such as proof of recovery.
Introduction
Refinement and high taste fill the halls at the SI SPOSAITALIA COLLEZIONI, which is a trendsetting international trade show covering the whole spectrum of wedding wear, evening wear and accessories. Fashion is at its finest and the specialist event is visited by more than 7700 trade visitors with real buying power. Expertly narrow down your choices of hotels with the services of Travel 2 Fairs ltd. We're here to make your bookings for international trade shows no matter where you're heading.
Business travel can now be planned in a single day when you work with Travel 2 Fairs ltd. You've a dedicated team that goes through all available deals that are close to the exhibition area and fit your budget. No more stress. No more overspending. Now you're ready to debut your latest collection at SI SPOSAITALIA COLLEZIONI. The goal might simple – inspire buyers to bet on your designs, but the show is dynamic. There are eight fashion shows covering wedding dresses' formal dress for men' women' children and accessories.
Past Iterations
SI SPOSAITALIA COLLEZIONI 2022
SI SPOSAITALIA COLLEZIONI 2022 occurred between the dates 01-04.04.2022 at Fiera Milano. The event was held as a live trade fair and featured 170 exhibitors, with 20% of them representing foreign countries.
SI SPOSAITALIA COLLEZIONI 2023
The 2023 iteration of the event occurred between 14-17.04.2023 at the Allianz MiCo. The event was attended by 200 exhibiting brands.
Our visitors
for the event
Our
Clients