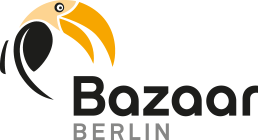 Bazaar BERLIN
( 8 November 2023 - 12 November 2023 )
Location:
Germany , Berlin
About the
event
Update
Bazaar Berlin 2023 will be held as a physical edition between 08.11.2023 and 12.11.2023. The Expo Center City in Berlin, Germany, will not feature health and safety guidelines related to Covid-19. This is due to the removal of the pandemic-related restrictions.
Calling Card
Do you want to see the full spectrum of new designs, sustainable products and creative products in domestic goods, handicrafts and consumer goods? In Germany, the best place to do so is at Bazaar Berlin, which has been running for 60 years and continues to enjoy attention and respect. Before the pandemic, the trade fair enjoyed consistent growth thanks to the popularity of topics such as sustainability, fair trade and diversity. Bazaar Berlin takes place every winter in November at the Expo Center City in Berlin, Germany. For exhibitors, attendance is a good way to end the fiscal year in direct sales and pursue new contracts for the year ahead. The doors are open for both end consumers and trade buyers.
Business Potential
Crines Design, Mantas y trenzas, MAJOBA, izMI fashion, Ebarrito, Savon de Mardini Bucher Al-Mardini, Chapati Design GmbH, Gentle Gin and NineLives make up a small fraction of the brands with significant presence at Bazaar Berlin. The trade fair has one of the best representations of world taste with exhibitors from Italy, France, Germany, Lithuania, Ghana, Tunisia, Colombia, Mexico, Peru, India, China and Cambodia. The product assortment also ranks as one of the best in the whole of Germany, which makes the trade fair the go-to place to look for new trends. There is everything you need – handicraft, jewellery, accessories, clothing, design products, home textiles, organic and ecological products, natural cosmetics, wellness products, season's products, decoration items and gifts, leather goods, hand bags, shoes, small furniture, rugs, porcelain, and toys.
Did You Know?
Having access to the general public means an easy way to learn about customer preferences, get new products recognized early and receive honest feedback. Everything at Bazaar Berlin is put away in one of the five thematic areas - World Market, Natural Living, Fair & Social, Art & Style, and Winter at Home. For exhibitors this means regular foot traffic and qualified sales leads, who are specifically looking for what you're selling. We also can't forget to mention the new addition to the programming, which is the Fair Fashion Show. The fashion show aims to cast the spotlight on international designers with a unique point of view.
Your Hotel Room in Berlin
Travel 2 Fairs ltd is a veteran in the business travel industry. No matter where your business trip takes you, we have the perfect deal waiting for you. We know Berlin like the back of our hand and show you the most affordable hotel rates for Bazaar Berlin. Clients want comfort, savings and a great location. That's what we deliver. Stay in great hotels near the Expo Center City. You'll get to the exhibition grounds in minutes whether by foot or public transport. No groups are too large for us and we work at every price point. Travel 2 Fairs ltd also rents out cars, if you prefer to drive, and organisers transfers from the airport to your hotel upon arrival. The service is available upon departure as well.
220
international exhibitors
Our visitors
for the event
Our
Clients