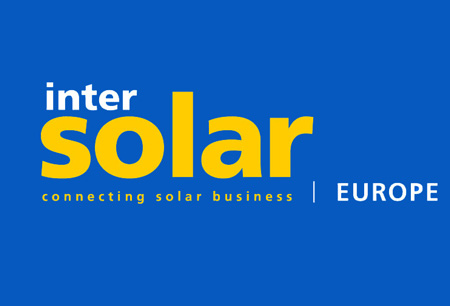 Intersolar Europe 2024
(19 June 2024 - 21 June 2024 )
Organizer:
Solar Promotion GmbH
About the
event
Update
Intersolar Europe 2024 will occur between the 19th and 21st of June 2024 in Messe Munich as a live trade exhibition. Germany does not have pandemic restrictions in place, due to their removal in 2022.
Preface
Intersolar Europe is among the pre-eminent fairs for the international solar energy industry. Founded in 1991, it focuses on renewable energy integration solutions, photovoltaics, solar plants, and grid infrastructure. It is the most pivotal industry platform for suppliers. This is because the fair showcases the most up-to-minute market developments. Intersolar Europe occurs in Messe Munich.

The Intersolar Europe in München (Munich) is an international fair with a diverse audience. It attracts manufacturing businesses, providers, service suppliers and PV solution distributors. So do system integrators and PV or ST system suppliers. As a result, Intersolar Europe tends to attract over 55 000 attendants. For example, one edition received 1 172 exhibiting firms and over 55 000 visitants. Many countries send trade delegates to the fair due to its importance. Such include Austria, China, Colombia, India, the USA, and the UK.
About Intersolar Europe in München (Munich)
Intersolar Europe is an international fair that can help in achieving several goals. Among them is learning about new trends and innovations. The trade show can also help start-ups in gaining recognition. Intersolar Europe has an extensive programme that aids in completing such business goals. One of the main events is the Smarter E Forum. It takes place on all days of the fair. It showcases aspects related to digitalisation, decentralisation, and sustainable energy. The Forum features an internal program consisting of presentations and discussions.

Intersolar's programme also includes diverse awards. Among them is the Smarter E Award. It acknowledges the achievements of innovators in the sector. The Smarter E Award has two categories – Outstanding Projects and Smart Renewable Energy. Similar in intent is the Intersolar Award. The prize rewards the innovative efforts of solar energy companies in the PV sector. The EES Award acknowledges energy storage sector innovations. The trade show also includes the awarding of the Energy Transition Award. It rewards seven energy suppliers in Germany, Austria, and Switzerland. In particular, ones that have done the most successful energy transition technology integrations. The Award has five categories – Heat, Energy Efficiency, Electricity, Energy Transition and Mobility. Each division can have one or two winners.

The basis of Intersolar Europe's event program is the extensive exhibition. It has four showcase segments. These are Solar thermal technologies, Photovoltaics, Solar plants, and Others. Participants can examine wares such as photovoltaics, solar cells, BIPV, et cetera.

Intersolar Europe also features a conference in its program. The conference focuses on photovoltaics, intelligent energy technologies and storage systems. It furthermore emphasises best practices, markets, and financing. Some sessions additionally display new technologies. The event also includes sessions focused on PV power plants. Start-ups can look forward to several events in Intersolar's program. Such include the Award Ceremonies and the Start-ups @ The Smarter E Europe.

The fair attracts participants such as:
AIT;
Alibaba;
Bayern Innovativ;
Cargill;
CIEC Haihua;
Clenenergy;
Elum Energy;
Hikvision;
Nippon;
Panasonic;
Siemens;
Thyssenkrupp;
TUV.
Attendants at the fair represent various sectors and industries. Among them are the energy and solar technology sectors. They also include trade media and media ones. Many attendees also come from the financial industry. Visitants will often feature members of the education and government services sectors.
Intersolar Europe in München (Munich) Accommodation
Procure suitable accommodation for Intersolar Europe with Travel 2 Fairs Ltd. All that is necessary is to inform us about the rooms you need, how much you wish to spend, and your desired location. Travel 2 Fairs Ltd manages the rest. Reserve lodgings adjacent to Messe Munich and gain valuable access to public transport. We can advise you on the best routes to take to the venue. Aside from affordable hotel accommodation for exhibitions, we also provide transport services. One way to travel to your hotel is to have a rent-a-car wait for you at the airport. Another is to schedule an airport transfer in both directions.
Event information might be outdated because of the coronavirus pandemic. More information is available from the organiser.
Past Iterations
Intersolar Europe 2021
Intersolar Europe 2021 was one of four trade exhibitions comprising the Smarter E Europe Restart. All four trade expositions occurred as face-to-face compact exhibitions. The 2021 rendition of the fairs marked a successful restart for the industry. Intersolar Europe 2021 received over 450 exhibitors and approximately 26 000 visitants. 93 countries were present at the edition. Participants gave a positive review.
Intersolar Europe 2022
The 2022 edition of Smarter E Europe occurred between the 11th and 13th of May 2022. It was held at Messe Munich as a face-to-face event without coronavirus safeguards because of their removal in 2022. The edition featured a 33% participant attendance rate increase. The event received 1 356 exhibiting firms from 46 countries on 132,000 m2. Over 65 000 visitants from 149 nations examined their solutions.
Intersolar Europe 2023
The 2023 iteration of Smarter E Europe (incorporating Intersolar Europe and electrical energy storage Europe) occurred between the 14th and 16th of June 2023. The live trade exposition reached a new participation record. This was due to the presence of more than 106 000 visitants from 166 nations, over 2 400 exhibiting firms from 57 countries, and more than 2 000 conference attendants on 180 000 m2.
701
international exhibitors
86,000
sq m of exhibition area
24,000+
international visitors
Our visitors
for the event
Our
Clients