Top Tier Tourism Trade Fairs to Attend in 2023
7 Oct 2022
Top Tier Travel & Tourism Trade Fairs
Attending travel and tourism events can be beneficial for the travelling industry. It can aid them in learning about the latest trends that affect travel decisions. Such include popular destinations, means of transport, travel packages and others. It also enables them to network with other members. This can aid them in being prepared for 2023 and the upcoming 2024, especially in a post-Covid world. Yet, creating an event itinerary that allows you to be prepared can be challenging. There are means to reduce the task's complexity. Among them is being informed about the top-tier travel and tourism trade fairs that will be held in 2023.
Destinations Manchester receives over 170 exhibitors and more than 25,000 visitors. This includes tourist organisations, tour operators, and travel companies. Among the notable companies to attend are Viking Cruises and Great Road Journeys. During the event, attendants can learn about new destinations and holiday types. Travel experts, photographers, celebrities, and exploration trailblazers present these. These are presented through various sub-events, such as the Meet the Experts Stage.
The Fahrrad & Erlebnisreisen mit Wandern is part of the CMT series. It attracts travellers seeking to experience nature via bike, walking, or para-gliding. This includes learning about new destinations, trip packages, routes, holiday offers, and equipment. Attendants can also learn about current and upcoming trends as well as challenges. These are presented via various events, such as the Hiking Pavilion. The event receives around 40,000 visitors and 360 exhibitors from over ten countries. The attendants include companies such as Hillwalk Tours, Bosch, and Coboc.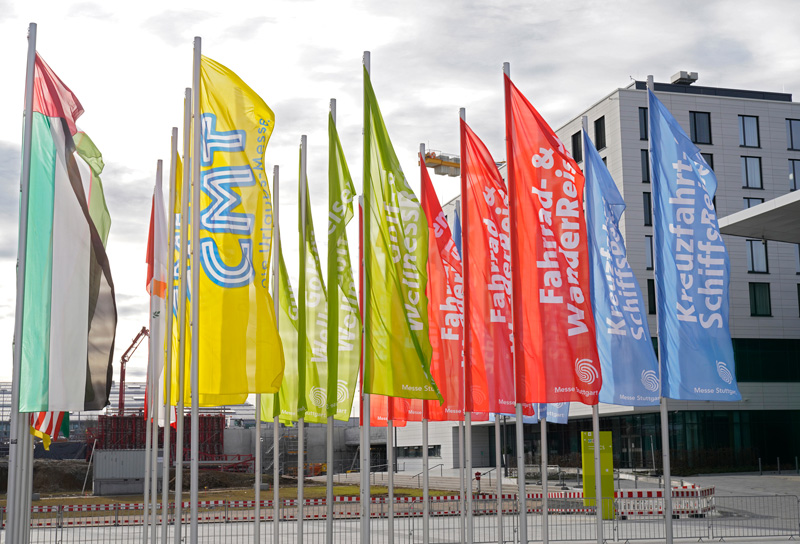 Picture: LANDESMESSE STUTTGART GMBH THOMAS BENDER ZUCKERFABRIK FOTODESIGN
CMT is the primary event of the CMT series of trade fairs and is held in Messe Stuttgart. It receives over 2,100 exhibitors and approximately 300,000 visitors. Additionally, the event is attended by more than 1,500 journalists. It presents the latest wares of organisations such as Namibia Tourist Board, Experience Greece, and Explorer Reisen. CMT features a comprehensive event programme of over 600 sub-events. Among them are holiday cinematic projections, folklore shows and others.
Matka is one of the premier events for the global travelling industry. It presents the latest services and travel destinations related to the region. Among them are new exploration locations, accommodation options, cruise offers and transportation models. It features professional trade visitors and exhibitors, like the Baltic Travel Group and Qatar Airways. The event receives around 70,000 visitors and over 1,000 exhibitors from more than 80 countries.
Fitur is one of the pivotal meeting platforms for travel industry members. It is an international trade fair that occurs once per year in Madrid. The event presents the latest mass tourism and niche market trends and challenges. This results in an ever-changing event schedule that reflects the industry's developments. Examples include editions featuring new sub-events that focus on cruise, film, and incentives. The areas additionally include locations where attendees can learn about the latest technologies. The editions receive over 200,000 visitors, over 5,000 exhibitors and more than 1,170 journalists from over 30 countries. Trade associations, transport companies, and tourist organisations are in the participant group. Tourism Ministries, tour operators, travel agencies, hotels, and service companies also attend. Attending companies include Tenerife, Hilton, Qatar Airways, and Mauritius Tourism Promotion Agency.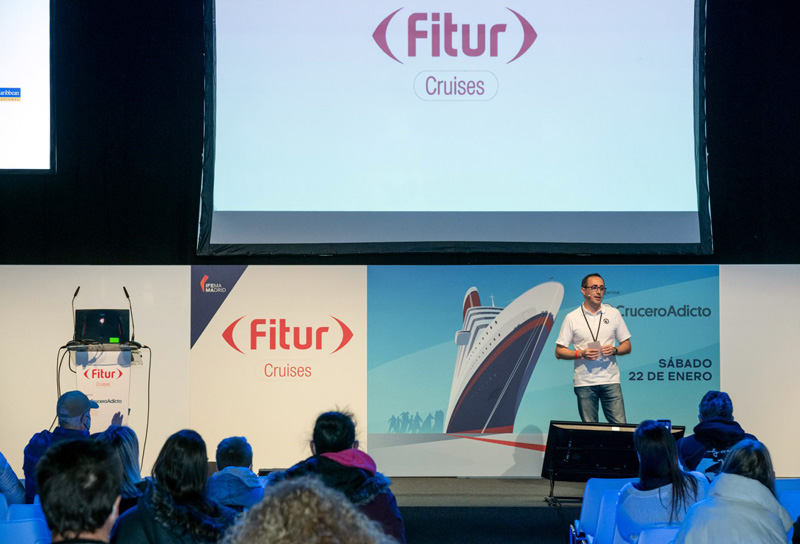 Picture: Fitur
CMT Kreuzfahrt- & Schiffsreisen is one of the trade fairs featured in the CMT trade show series. Like the remaining events in the series, the Kreuzfahrt takes part in Messe Stuttgart. The event discusses the latest developments in the cruise and ship travel sector. This includes popular water holiday destinations, yacht charters, and holiday cruises. Among the discussed subjects are upcoming popular destinations and best practices. This results in around 30,000 visitors attending the annual event. This includes companies such as Sailing Classics GmbH and SE-Tours GmbH.
Golf- & WellnessReisen (Golf & Wellness Travel) is one of the events featured in the CMT series. It is a golf and wellness travel exhibition that details the latest popular destinations, clubs, wellness centres, equipment, and fashion. This results in over 30,000 participants attending the fair. Among them are travel agents, tourist offices, golf professionals, and wellness resorts. These represent companies such as Bella Vista Golfpark.
The Dublin Holiday World Show is one of three Holiday World Show formats. It is held at the RDS Simmonscourt. It presents 1,000 destinations as well as the latest insights on holiday organisation. Additionally, attendants can learn about the means to purchase a property abroad. The trade fair receives over 550 exhibitors, including American Holidays, Celebrity Cruises and Ideal Homes Rentals. Around 40,000 attendees attend the event. They represent tourist associations, travel agencies, resorts, campsites, holiday properties, and airlines. They also present tour operators and cruise lines. Embassies and holiday booking specialists likewise attend.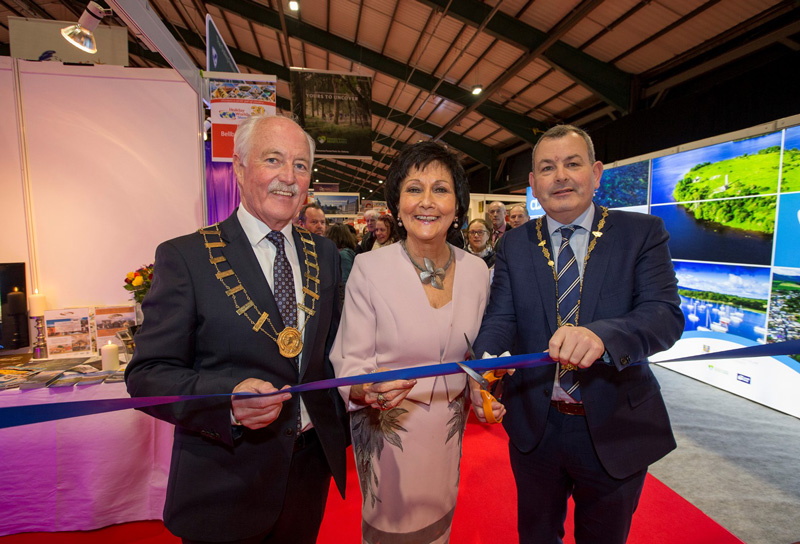 Picture: Arthur Carron Phtographay
Abf is among Germany's leading travel, sports, and camping-focused trade fairs. It is attended by more than 92,000 visitors and 550 exhibitors, including campsite managers, manufacturers, and service providers. Among them are companies such as Concorde, Hymer, Mercedes, Turkish Airlines, and KNAUS.
FESPO Zurich is Switzerland's largest tourism trade fair and platform. It receives around 62,000 attendees. They network, exchange ideas, present wares and conduct business on 25,000 m2 of event space. The participant group includes Norwegian Cruise Lines, Croatia Airlines, and Car Rouge. They display wares such as coach tours, caravanning, culinary travels, language trips, and diving offers.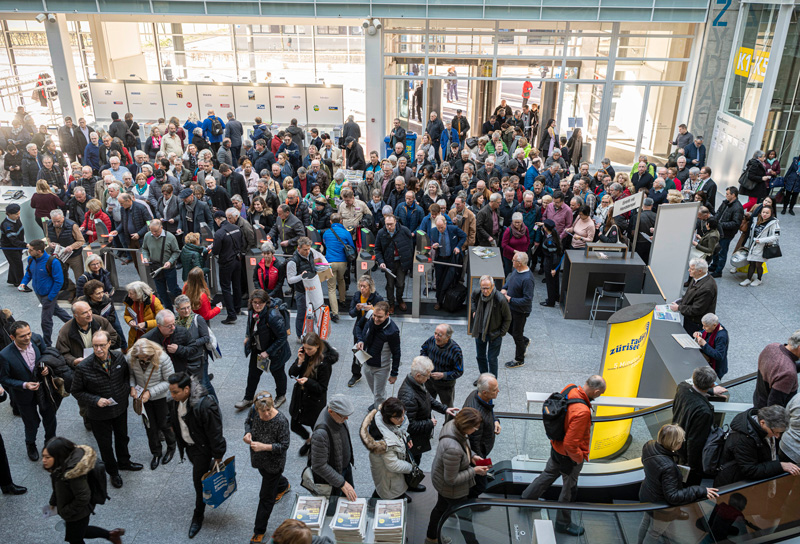 Picture: TOBIAS STAHEL
Reisen Hamburg receives around 70,000 visitors and approximately 1,000 exhibitors. Many of them are senior industry representatives with high purchasing authority, such as travel agents and cycling retailers. They seek new destinations, tourism equipment, holiday offers, or hotel partnerships. Additionally, participants can learn about airline travel options.
BIT – International Tourism Exchange is a primary tourism trade fair for Italy. It attracts over 2,100 exhibitors, over 53,600 visitors, and around 2,000 journalists, including tourism associations, DMCS, and cruise companies. They discuss the latest trends related to tourist and traveller behaviour. Additionally, it receives promotion companies, universities, event locations, travel agencies, and service providers. Accommodation facilities, tour/MICE operators, transport companies, and professional congress coordinators also attend. Among them are companies such as Costa Crociere, Futura Vacante, and Guinness Travel.
F.re.e is a biannual trade fair that focuses on various industries, including tourism and travel. It is an event that attracts over 130,000 visitors, around 1,300 exhibitors, and more than 900 journalists. They represent travel, caravanning, camping, cycling, sports, outdoor activities, and fitness sectors. They gather to network, discuss ideas, examine wares and earn recognition on 87,000 m2 of event space. Tour operators, travel agencies, transportation providers, and recreational facilities attend. So do cruise operators. The fair also features tourist associations and water tourism charters. Companies such as Volkswagen Nutzfahrzeuge München MAHAG represent them.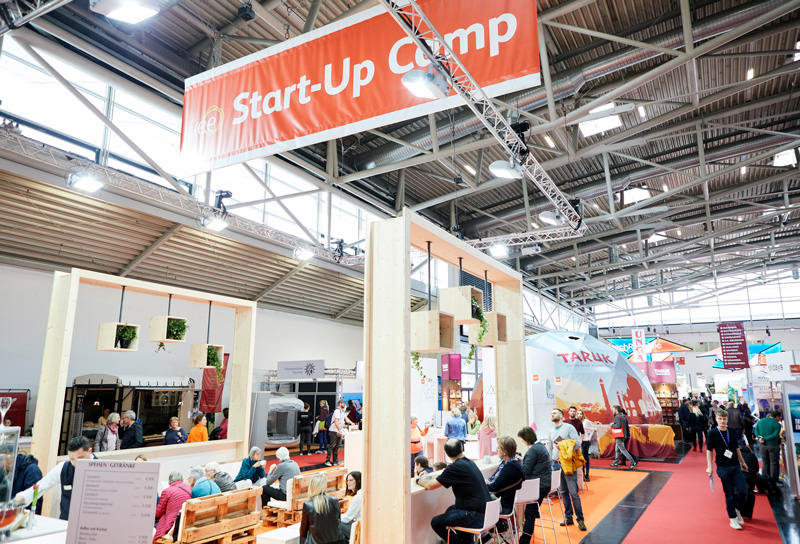 Picture: Messe München GmbH
Reise + Camping is North Rhine-Westphalia's largest tourism and travel trade fair. It is a trade show that receives 60,000 visitors and around 1,00 exhibiting companies. They gather to study the latest trends ranging from camping to cycling. This includes vehicles and mobile travel accessories. Additionally, attendees can learn about new travel destinations, such as campsites. The fair attracts participants ranging from international tourist organisations to rental object providers. Companies such as Alois Kober GmbH and CHAUSSON - Trigano VDL represent them.
ITB Berlin is Europe's leading travel and tourism event. Based in Berlin, it operates from the Berlin ExpoCenter City. Editions usually take place at the start of March. The exhibition grounds are the presentation stage for various types of tourism. These range from cruises and cultural heritage to youth, business, and adventure travel. The audience spans 100,000 visitors and over 1,000 exhibitors. Participants include tour operators, hotel enterprises, tourist organisations, and advertising agencies. They attend to gain market insights, present wares and receive recognition. The event attracts many notable companies from various sectors. Among them are Saxony Tourism, 1001 Nights Tours, and Airbnb. They also feature Air China, Concord Travel LLC, Cvent, and Deutsche Bahn AG.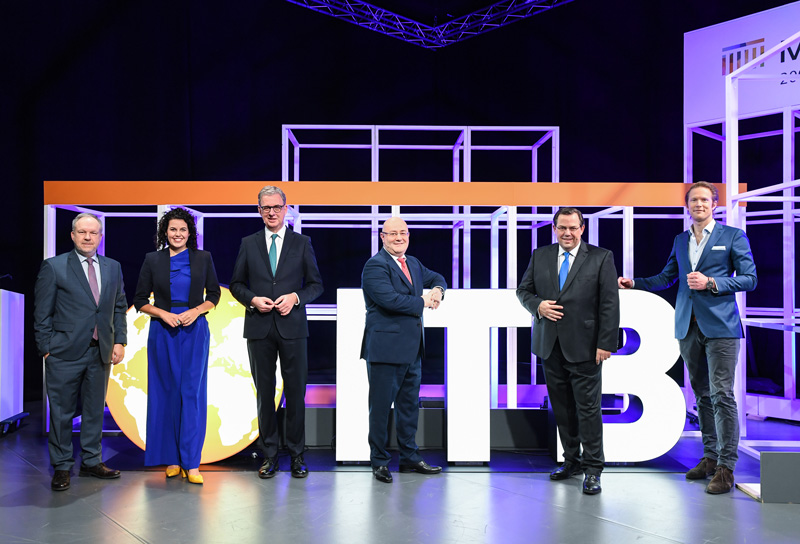 Picture: Messe Berlin GmbH
RDA-Workshop presents the latest innovative coach and group tourism practices. The event attracts over 230 exhibitors and 1,000 trade visitors. They gather to showcase the latest wares and learn market insights and cross-sell. The product portfolio ranges from travel destinations to ancillary services. These are presented by travel agencies, hotels, shipping companies, airlines, railways, and museums. The event additionally features software providers. They represent nations such as Germany, Uzbekistan, Nepal, and Australia. Such participants are presented by enterprises such as Atout France, Costa, and Transglobe.
Arabian Travel Market is a leading platform for the tourism and travel industries. It takes place every year in May at the Dubai World Trade Centre. Among the industry professionals that attend are travel technology providers and conference organisers. The participant group also features city convention bureaus, coach companies, and heritage sites. They additionally represent private gaming reserves. Providers of reservation systems, spa managers, and theme park owners also attend. Companies like Aegean Airlines and India Tourism represent such participants. The event receives over 40,000 visitors from 150 countries and over 1,000 exhibitors.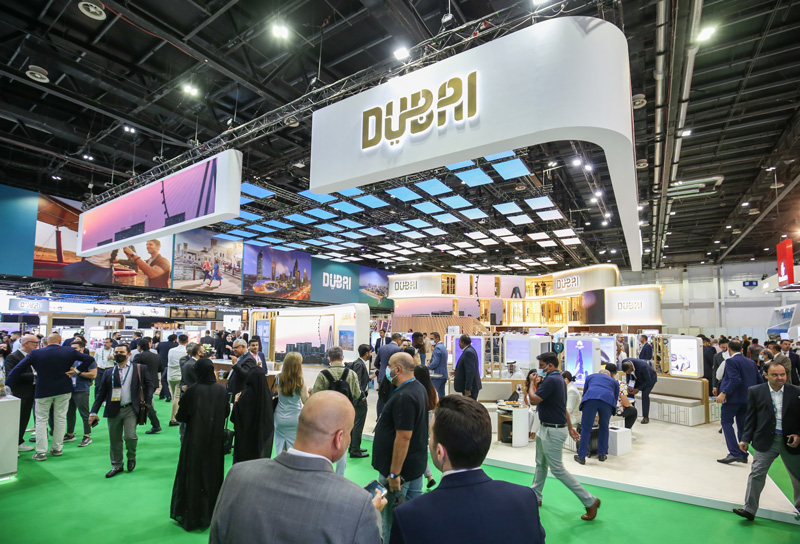 Picture: THE-COOL-BOX Studio
IMEX is the convergence location for professionals from over 160 countries. Over 8,800 participants, including more than 5,100 decision-makers like C-Suite executives, attend the event. The trade show is a valuable hub for gaining trend insights and takes place in Messe Frankfurt. It attracts event agencies, convention centres, tourist offices, conference planning experts, and technology providers. Notable companies include World Express, Brisbane Economic Development Agency and World PCO Alliance.
TourNatur and Caravan Salon Dusseldorf focus on hiking and mobile tourism, respectively. They occur in Messe Dusseldorf and attract caravanning enthusiasts and industry professionals. Campers, navigation, and power supply are some wares presented at the fairs. The events feature over 1,800 vehicles, around 2,000 exhibitors, and over 160,000 visitors on 250,000 m2. It features various real-time testing locations. They feature the wares of companies like Mercedes-Benz AG and Volkswagen AG Nutzfahrzeuge.
Touristik & Caravaning (22.10.2023 – 26.10.2023)
Touristik & Caravaning focuses on tourism, caravanning, camping, biking, and culinary arts. The event receives over 67,500 participants. This includes more than 67,000 visitors. It also incorporates around 500 exhibitors. These comprise leading companies such as Camp Nation, TS Buscamp, and Concorde Reisemobile.
The GLT Show is an annual trade fair of pivotal importance to the group trips and holiday sector. It features participants like tour companies, hoteliers, and cruise lines. Group travel organisers likewise attend. They attend to present their latest package deals and destinations. They can additionally conduct business, examine markets, and study leading topics. Furthermore, they can raise brand awareness and network with leading companies. Among them are Airedale Tours, Ambassador Cruise Line and Amberley Museum & Heritage Centre.
TTG Incontri features a diverse participant group, such as tour operators and MICE professionals. It also includes destination promotion bureaus. This results in over 50,000 visitors and over 1,000 exhibitors attending the fair. More than 130 destinations are presented during the editions. Among them are Japan, Australia, South Africa and Germany. The event features a diverse support programme. It features macro-areas that present industry sectors, such as outdoor holidays. This includes showcasing the products of enterprises like Czech Railways and Expedia Inc.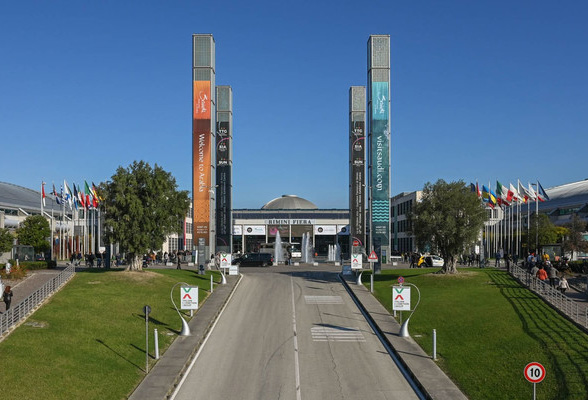 Picture: TTG Incontri
REISELUST
REISELUST presents the latest holiday offers, travel trends and insider advice. This includes various holiday/travel destinations, such as beach locations. REISELUST is a trade fair that places a prime focus on end consumers and takes place in Bremen. The event receives over 29,000 visitors. This includes companies such as Contratravel, Finnlines, and Amrum Touristik.
WTM London
World Travel Market London is the industry's pivotal inbound and outbound tourism event. It is an annual B2B trade fair which presents the latest offers from various global brands. It additionally enables participants to learn the latest travel information. This includes novel technologies, sustainable solutions, types of travel, and destinations. Attendees can network with investment companies, aviation enterprises, and marketing firms. They can also meet with media representatives, research specialists, and travel tech providers. Exhibitors include enterprises like Promperu, Air India, and Amadeus River Cruises. This results in a participation rate of 50,000 visitors and over 2,000 exhibitors.