Introduction to MEDICA and COMPAMED 2022
27 Oct 2022
Introduction to MEDICA and COMPAMED
Remaining competitive within the medical sectors can be challenging. Examples include staying up-to-date on the newest legislation and medical advancements. Such goals can be arduous because of the difficulties of remaining informed about the latest news. Yet, there are means of reducing the challenges of completing such objectives. One is partaking in the annual trade shows known as MEDICA and COMPAMED 2022. Why should you consider participating in these events?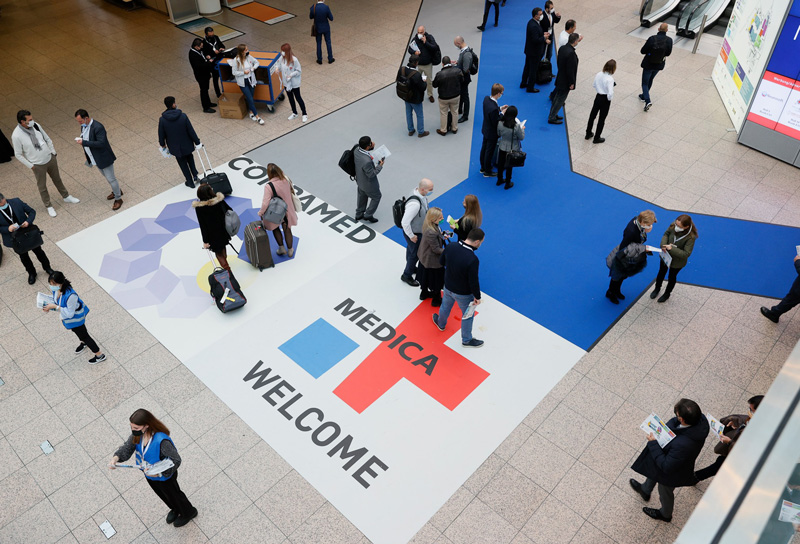 The dual events in brief
MEDICA is a leading trade fair that overviews the latest medical advancements. It is held alongside COMPAMED, the trade fair for medical product novelties, thus allowing participants to complete diverse business goals. These range from learning about the latest trends to networking with potential partners and overviewing the sectors.
MEDICA and COMPAMED complete such objectives by providing diverse parallel event schedules. At least two trends or focus topics influence each of the micro-events. They reflect the current trends within the medical-related sectors. For instance, the trend topics for MEDICA 2022 are:
Sports medicine & physiotherapy
mHealth & telemedicine
Laboratory technology and diagnostics
Imaging
M2M & Big Data
Interventional imaging & surgery
Start-ups
Health politics
Many of the trend topics overlap with the focus topics or segments. For example, imaging and diagnostics are the focal subjects of halls 9, 10,11 and 14. This is due to the areas presenting medical technologies, such as surgical equipment. Similarly, laboratory technology and diagnostics are part of the focus topic of halls 1 and 3, which showcase clinical analysis technologies. Similar is the focal subject of halls 4 and 5. They emphasise physiotherapy via diversified physical therapeutic products, applications, and equipment. Hall 12 also features a focal topic that overlaps with a trend one. The location presents the latest eHealth, mHealth, and pHealth systems that overlap with telemedicine. Halls 15, 16 and 17 also blend a focus topic and a trending subject. They present the approximately 150 joint stands of various innovative companies, including start-ups. It should be noted that not all halls feature focus topics that overlap with a trending subject. Halls 5, 7A, 6 and 7,0 emphasise disposables and consumables such as hygiene products.
Many of the halls are also the location for the diverse knowledge-providing sub-events. For instance, the Connected Healthcare Forum is in hall 12. It showcases the latest technologies and innovations related to digital health. Innovators, tech entrepreneurs, industry experts and investors showcase these, thus resulting in over 120 speakers attending the Forum. The discussions take place via keynotes, pitch sessions and tech talks. The sub-event's editions feature diverse central topics. For instance, the 2022 rendition features the pivotal subjects:
Future hospitals and care centres
Health monitoring and diagnostics
AI & Big Data, Robotics
Health metaverse
Connected medical things
Digital therapeutics
Mobile health
Mental health
These are discussed during the sessions by speakers such as Alexis Bobenrieth. Each central topic features at least two sub-subjects, discussed in separate seminars. For instance, "Connected medical things" features four focus topics:
Intelligent connected medical wares: from wearables through medtech devices to implants
The importance of Interoperability with the IoMT infrastructure
IoMT connectivity alternatives: from 5G to low power connectivity and beyond
Data privacy and cybersecurity
The Forum features around 100 MEDICA DISRUPT sessions. These showcase start-ups whose wares represent the latest trends within the industry. They also allow such companies to compete in the MEDICA Start-up Competition and Healthcare Innovation World Cup.
The Start-up Competition showcases the most outstanding digital health innovations. It provides innovators with networking and recognition-granting opportunities. Such novel technologies span from health apps to new healthcare data collection tools. They also incorporate novel advanced robotics and new diagnostic approaches. The sub-event features various start-up firms competing until the finale. Twelve selected finalists compete for one of three awards during the denouement. The final and award ceremony of the Start-up Competition occurs on the first day of MEDICA. An expert jury selects the victorious enterprises. It comprises renowned experts, investors, and leading companies. Each victor is chosen based on criteria such as:
Innovation level
Marketing/go-to-market approach
Potential marketing time
Commercial potential
Sustainability
Technological feasibility
Similar to the Start-up Competition is the Healthcare Innovation World Cup. It showcases the newest HealthTech or MedTech novelties. Among them are intelligent health devices, digital biomarker collectors, electroceuticals, and intelligent patches. Like the Competition, the World Cup's finale and award ceremony occur on the first day of the trade fair. The sub-event lauds start-ups, scale-ups, and SMEs.
The Connected Healthcare Forum is one of many knowledge-providing sub-events within MEDICA. Another similar micro-event is the MEDICA Health IT Forum. Like the previous sub-event, the IT Forum takes place in hall 12. It comprises sessions that focus on hybrid healthcare and data-driven medicine exhibitions. The sessions feature renowned experts as speakers, such as Cornelia Baltes. Various leading universities and research institutions present the expositions. For instance, the 2022 programme will include exhibits by RWTH Aachen. The sessions comprise keynotes, presentations, panel discussions, and Q&As. They additionally incorporate deep dives. These consist of scientific lectures and exemplary presentations of diverse companies with demonstrations. The sessions furthermore feature tech talks. These are a series of lectures followed by discussions or Q&As on the discussed topics. MEDICA Health IT Forum features a variety of central themes. For instance, the 2022 rendition features four pivotal subjects:
Hybrid & Virtual care
Healthcare AI
Sustainability & Green Health
Innovation Fields
Each central topic includes at least three focus subjects. For instance, each of the before mentioned themes features the following topics:
Virtual & hybrid care (14.10.2022)


Digital patient journey
The blended healthcare
Connecting the connected healthcare
Hybridised care models
Blending digital health and biomedicine
The revolution of medical delivery

Healthcare AI (15.10.2022)


Intelligent rehabilitation assistance
Predictive medicine
AI in pharmacy
Smart glasses 2.0
Digitalised health analytics
AI-based therapy planner apps and tools

Sustainability & Green Health (16.10.2022)


Eco-friendly hospitals
Healthcare circularity
How digitalisation can aid healthcare sustainability
Digitalisation & the climate change-indicated health issues
Conducting health-environmental research within Europe
Technology & nutrition

Innovation Fields (17.10.2022)


Healthcare and the future of photonics
Occupational health & the new work environment
Gender-specific medicine
Another knowledge-providing sub-event is the MEDICA ECON Forum. It is also held in hall 12. It comprises health policy, economic challenges, medicinal solutions, science, and business sessions. Such include new trends and current developments. It features topics such as:
Health care policy (14.10.2022)


Ongoing health policies and issues
The EU's usage of health data

Digitalisation and hospitals (15.10.2022)


Playful rehabilitation via the Cynteract
What will the appearance of eco-friendly hospitals in the future be?
Are hybrid DRGS the Outpatientisation solutions?
The possibilities, opportunities, and limitations of medicine AI and robotics
Digitalisation and the coronavirus
Digital Health Systems or DiHeSys
Are E-prescriptions available?
Is healthcare prepared for future pandemics?

Financing and healthcare analogue/digital (17.10.2022)


Providing long-term Covid-19 treatment via the Fimo-Health-App
How can digitalisation aid in providing gender-equitable healthcare?
The MEDICA Tech Forum is also among the sub-events that provide knowledge on various topics. It attracts healthcare market experts who discuss medical technology topics. Such include financial, technological, scientific and political ones. In particular, it focuses on the German and international market environments. The Forum also emphasises the implementation of modern clinical practice procedures and methods. The sessions are held in German or English and include example topics such as:
Patient transportation to rooms via flexible transport robots
The practical use cases of interdisciplinary data protection and information security linking
Implementing light and distributed AI in intelligent skin cancer diagnostics
The available and up-to-date digital IFU
A threat or an opportunity – the UK CA Mark?
The latest regulatory changes in China
Digital medical device conformity assessments

Innovation management AI
The efficient milling of difficult-to-machine materials and medical plastics
Protecting medical innovation patents within the field of AI
What can digitalisation and data structuring achieve about technical documentation reviews?
The impact of digital patients on the market
The future of technical documentation within the industry
The prospect of medical device AI
Participants should not overlook attending the MEDICA LABMED Forum hosted in hall 1. It is the international meeting location for laboratory medicine experts. Such include doctors, policy-makers, and healthcare providers. Examples include Dr Astrid Petersmann and Dr Peter Quick. It features at least four central themes and various focus ones. Brief presentations and intense panel discussions present these:
Quality and regulations (14.10.2022)


Quality assurance and the patient-centred laboratory medicine
IVDR - the issues and challenges encouraged by manufacturers and laboratories

Trends in laboratory medicine (15.10.2022)


The newest insights in nucleic acid diagnostics circulation
The remaining challenge of Covid-19

Emerging biomarkers in laboratory medicine (16.10.2022)


What is current within the industry's trends and technologies?
What is incoming as a means of reaching standard care?

Life sciences' innovative developments (17.10.2022)


Medicine and the RNA technologies
Gene diagnostics and therapy
Participants should also consider the knowledge-providing sub-events of the coinciding COMPAMED. These include the High-Tech Forum and the Suppliers Forum.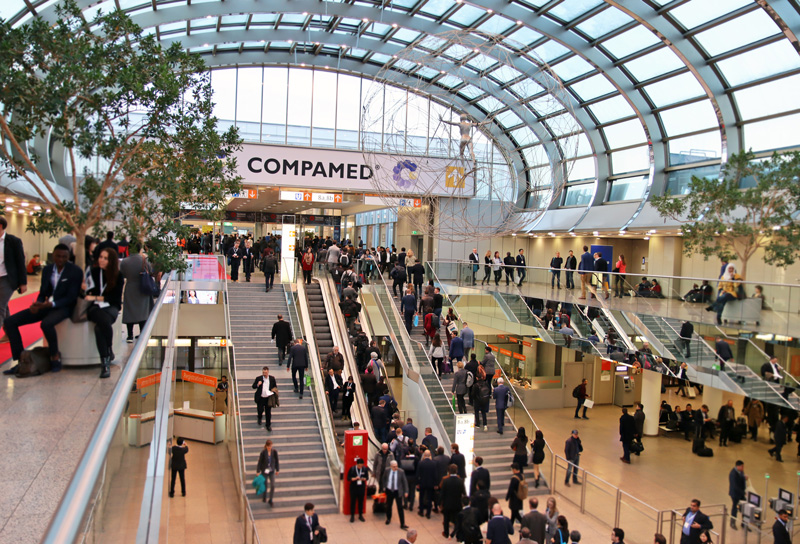 Image: ivam
The High-Tech Forum showcases the latest photonics, advanced material, micro- and nanotechnologies. It also presents the newest technology trends and foreign markets. It also features sessions that discuss relevant topics, such as printed electronics, intelligent sensors, and microfluidics.
The Suppliers Forum in hall 8b is a must-attend for suppliers and developers. It presents practical information about the latest process chain developments. Examples include the newest electronic components, designs, usability features, and QA processes. It discusses additive manufacturing, electronics, regulatory affairs, cybersecurity, and innovative markets. The Forum features two event days. Each day has a focal topic that comprises several questions:
14.10.2022 – The recent situation in medical technology


"Smart" consumables, processes and new business models in medical technology
The automotive thinking of medical technology suppliers
Evaluating projects as soon as possible with 360° PIC-UP
Creating sustainable medical devices via advanced bio-circular polymers

15.10.2022 – Cybersecurity


Reprocessing the reusable medical devices
Medical ultrasound technologies
Achieving better intelligent medical device adherence via a holistic approach
Leading experts such as Frank Linti discuss the topics.
MEDICA and COMPAMED additionally feature various conferences. Among them is the German Hospital Conference. It focuses on topics related to hospital policies, such as:
Digitalisation
Financing
Personnel
Organisations
Management
Top decision-makers such as Professor Doctor Karl Lauterbach discuss these. The Conference features trendsetting lectures, discussion rounds and networking sessions.
Another conference sub-event which is a must-attend is the Medicine+Sports Conference. It is a valuable knowledge hub for sports physicians, sports scientists, athletes, physiotherapists, sports technology providers, and visionaries. The sub-event details the latest prevention and rehabilitation approaches. Examples include performance medicine, evidence-based diagnostics, and digital innovations. These are distributed in several sessions, each featuring at least two sub-topics:
Session 1 – Exercise and sports during pandemic times


Returning to competitions and sports after the coronavirus pandemic
The post-pandemic population health agenda

Session 2 – Health sports


The ecosystem for active health
Corporate wellness
The Hospital in operation

Session 3 – Guided innovation tour
Session 4 – Wearable technologies and evidence-based diagnostics


The Outlook of sensing
Wearable technologies
Artificial Intelligence

Session 5 – Digital innovation
Session 6 – Individualisation within exercise programmes and professional sports


Personalisation
Gender
Regeneration
Specialists such as Dr Anne Latz discuss such topics.
The International Conference on Disaster and Military Medicine, or DiMiMED, is also a must-attend. It focuses on various emergency, military, and disaster medicine topics. E-health, AI, traumatology, CIMIC, CBRN, infectious diseases, and mental health are among them. It can be beneficial for various experts. These include disaster/defence legislators, medical planners, researchers, and organisation representatives. Such participants can expand their knowledge, exchange experience and network. The before mentioned topics are discussed by leading military and civilian experts as speakers:
CBRN with speaker Lt. Col. Tommy Rezentes
Mental health with speaker Col. Prof. Dr Eric Vermetten
Infectious diseases with speaker Dr Benjamin Queyriaux
Disaster medicine and the humanitarian perspective with speaker Dr John Quinn
MEDICA Dusseldorf also features a diverse range of special shows. Among them is the Start-Up Park. It is a sub-event that serves as the meeting location for digital health sector pioneers. It allows them to network with top decision-makers, including investors. Among the start-ups to attend the Start-up Park are:
Aison Technologies AG (Switzerland)
Analytix SA (Brazil)
Busto automatika, UAB (Lithuania)
Another specialised show worth attending is the Sports Hub in Hall 4. It allows participants to train and network with leading Olympic and world champions. This occurs via an Active programme. It includes keynotes, panel discussions, and lectures on diverse topics. Among them are mental strength, exercise, core strength, mobility, occupational health and workouts. Heike Henkel and Lars Peter Riedel are examples of athletes and experts to attend as speakers.
MEDICA also features the WT or Wearable Technologies Show. It is located in hall 12 within a specialised pavilion and features around 40 exhibitors. They present the latest wearable technologies within the healthcare sector. Among them are ones that focus on mobile monitoring and rehabilitation. Among the exhibitors to display their wares at the location are:
Cosinuss GmbH
CSEM SA
Datwyler NV
Dätwyler Schweiz AG
DuPont
Elitac Wearables BV
Evolution Medtec Sr
Event schedules
MEDICA and COMPAMED occur each year in Messe Dusseldorf. The COMPAMED 2022 and MEDICA 2022 dates are between 14.10.2022 and 17.10.2022.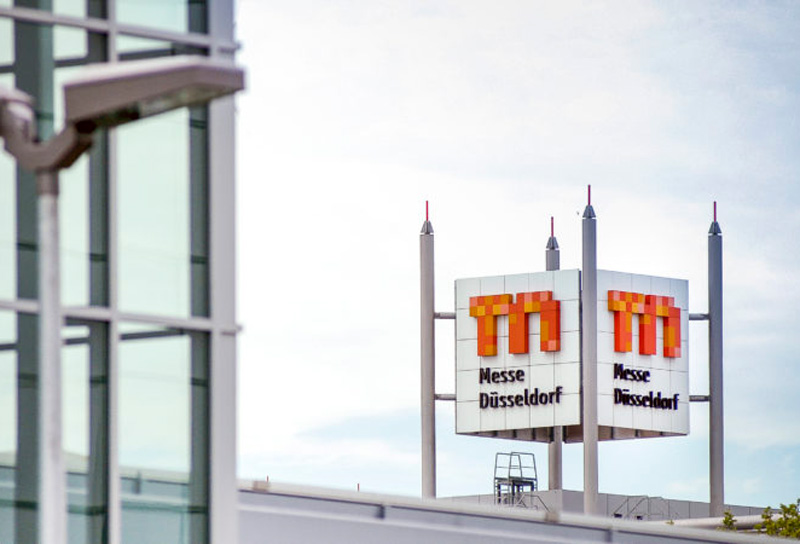 Image: Messe Duesseldorf
Many of the sub-events hosted within the trade fairs occur on all event days. Examples include:
Connected Healthcare Forum
Health IT Forum
LABMED Forum
ECON Forum
Tech Forum
High-Tech Forum
COMPAMED Suppliers Forum
Start-Up Park
Sports Hub
Wearable Technologies Show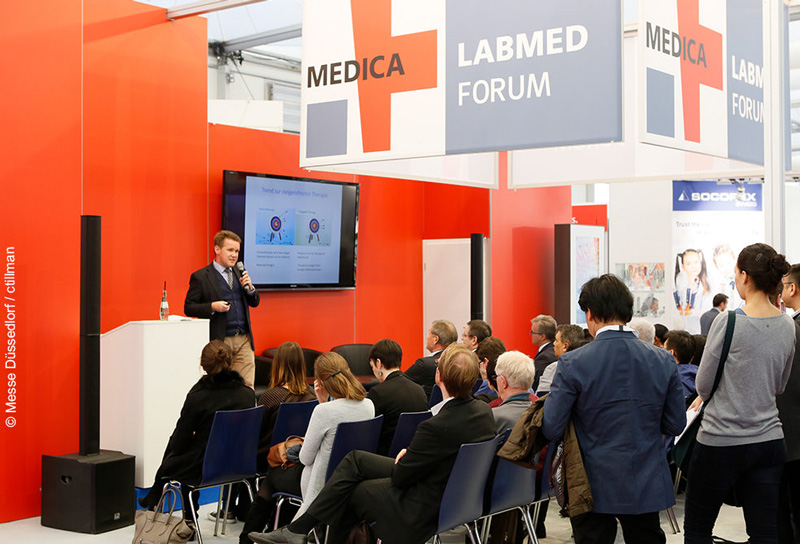 Yet, some sub-events occur on specific days. Examples include the Medicine + Sports Conference held on the third and fourth days. They also feature DiMiMED, hosted on the first and second days.
Statistical details about the events
MEDICA and COMPAMED attract participants from sectors such as:
General and dental medicine
Medicine technology
Ophthalmic optics
Health
Pharmacy
Fitness
Military

Hospital
Education
IT
Safety
Security
Manufacturing
Plastics
Participants like the ones mentioned below represent the industries:
CEO/ managing directors/board member/public authority head
Division head/plant head/branch head
Head of nursing
Other employees/officer
Legislators
Lecturer/teacher
Medical, orthopaedic, and laboratory technology manufacturers
Practising physician/surgeon
Hospital managers
Student/trainee/pupil

Production managers
R&D and production engineers and technicians
Technical procurement managers
Medical technology specialists
Packaging specialists
Process and design engineers
Physiotherapists
Qualification and validation specialists
R&D specialists
R&D development department heads
The event receives over 3,000 exhibitors and more than 45,000 visitors. The 2019 rendition, for example, featured over 6,000 exhibitors and over 111,000 visitors.
Leading enterprises that attend the events
The trade fairs feature many leading companies as exhibitors. For instance, the COMPAMED and MEDICA 2022 exhibitor list feature:
Ackermann Instrumente GmbH
ACME Commercial Ways Ltd
Acme Monaco Corporation
ACME Portable Machines
Bayern Innovativ GmbH
Bayern International GmbH
Bosch Friedrich GmbH
Bosch Healthcare Solutions GmbH

Continental Medical BV
DuPont
Evonik Industries AG
FUJIFILM Europe GmbH
FUJIFILM Wako Chemicals Europe GmbH
Henkel AG
Hewlett Packard Inc
Honeywell International Inc

Huawei Technologies Deutschland GmbH
Kobe University
Mercator Medical (Thailand) Ltd
Mitsubishi Chemical Europe GmbH
Saint-Gobain Medical
Saint-Gobain MS Techniques & Transluminal SAS
Sony Network Communications Nordics BV
Other details to note
Attending MEDICA and COMPAMED can assist you in preparing for significant industry developments. Yet, understanding what to prepare for is the first step towards successful attendance. Finding adequate hotel rooms is another critical planning element, as proper rest is recommendable. Furthermore, a convenient lodging option can decrease commuting time. There are several alternatives for finding and reserving suitable hotels for MEDICA 2022.
Are there other similar events worth attending?
MEDICA is among the leading trade fairs that are beneficial for medicine-related industries. Another must-attend trade show to consider is CPhI Worldwide.
Previous renditions of the events
2021 Edition
The 2021 editions of COMPAMED and MEDICA were hosted as hybrid events between 158.10.2021 and 18.10.2021. They comprised live editions held in Messe Dusseldorf and special-purpose digital platforms. The live aspects featured strict Covid-19 safety measures, which were mandatory for more than 46,000 visitors from 150 nations. Over 3,500 exhibitors from 70 countries likewise attended them. Six hundred and ten speakers and 77,300 unique users visited the digital platforms.