What pre-eminent events will take place until the end of 2023?
3 Nov 2023
November and December are among the essential months for diverse industries. They are a pivotal period since they represent the last segment of the year. This includes the concluding opportunities for finalising business and completing various objectives. Such include networking, presenting the latest wares, studying trends, and raising awareness. Such occur during diverse trade expositions. Many of them are pivotal for various industries. Which are the pre-eminent events will take place until the end of 2023? Here are some of the central events industries should consider:
CIIE
Diverse industries should consider attending the Chinese International Import Exhibition (CIIE). It is one of the leading trade exhibitions hosted in November and December. This is because the event is one of the central ones for more than 20 sectors. These include agriculture, packaging, automotive, consumer goods and electronics. The apparel, lifestyle, sporting goods and jewellery sectors also attend the event. The same applies to the healthcare, medical devices, and pharmaceutical industries. It also applies to the rehabilitation, cosmetology, and retail sectors. Also, the IT, financial, and logistics segments take part. The tourism, education, and entertainment sectors likewise attend the event. More than 352 800 participants represent these segments. Among them are over 280 Fortune 500 enterprises from six continents. These include representatives of leading enterprises, such as:
ExxonMobil;
Microsoft;
Ford Motor Company;
General Motors;
Dell Inc;
Pfizer;
Johnson & Johnson;
Tesla;
Intel Corporation;
Caterpillar Inc;
NIKE;

Mondelez;
Honeywell International;
Baker Hughes;
Marriott International;
Estee Lauder International;
DECATHLON;
LEGO A/S;
SWAROVSKI;
LUKOIL;
Ericsson AB;
NOKIA.

Image: sccc
EICMA Moto
EICMA, or EICMA Moto, is also among the must-attend pre-eminent trade expositions. It usually occurs once per year in November and December. It is a high-profile motorcycle exhibition that displays the newest sector wares. This attracts more than 473 000 attendants. Such participants include more than 1 300 exhibitants, including pre-eminent brands and enterprises. Among them are Suzuki, Yamaha, Ducati, Honda, Kappa, Continental, Hitachi, Kawasaki and Bardahl. It additionally features over 38 000 trade visitants. Such attendees represent the automotive and transport industries. Such participants attend the iterations hosted in Fiera Milano.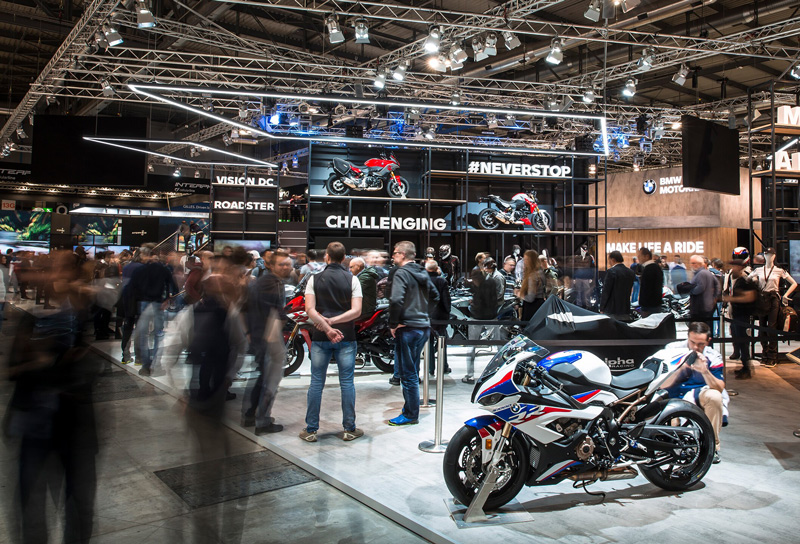 Image: bmw-motorrad
COMPAMED and MEDICA
COMPAMED and MEDICA are likewise leading trade expositions that are must-attends. This particularly applies to healthcare-related sectors. Among them are segments such as medical equipment, medical technology, and pharmacy. They also include pharmaceuticals, dental medicine, and health. This is due to the annual trade expositions presenting the latest healthcare wares. COMPAMED, for instance, displays medical technologies. MEDICA shows the latest pharmaceutical wares. More than 5 000 exhibitants showcase these solutions. Among them are leading enterprises, such as:
ACME;

Bosch;

Evonik Industries;

Henkel;

Saint-Gobain;

DuPont;

FUJIFILM;

Hewlett Packard;

Honeywell.
These include heads of R&D departments and technical procurement managers. They also consist of laboratory managers and heads of medical institutes. Such specialists are also represented among the more than 81 000 visitors. A high international presence also characterises the event. This is because 75% of visitors are travelling from abroad.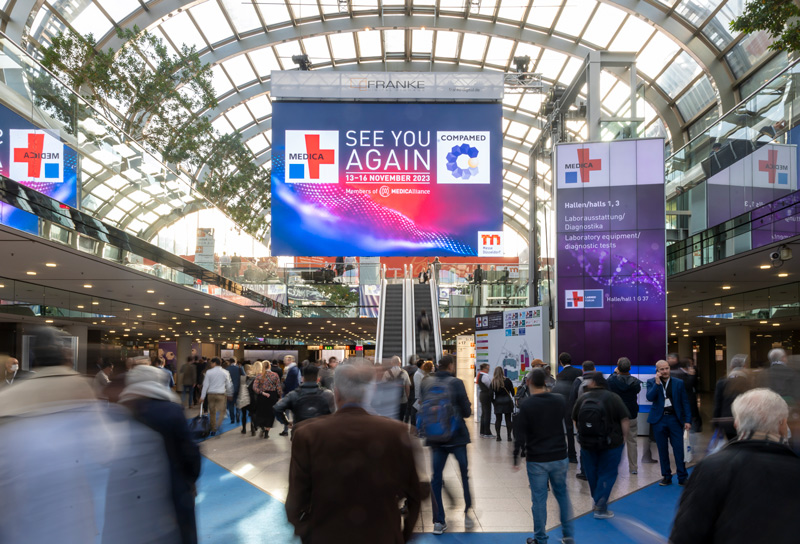 Image: messe-duesseldorf
SPS (Smart Production Solutions)
SPS, or Smart Production Solutions, is among the leading automation industry trade expositions. This is because it presents the latest automation wares. These showcases range from intelligent and digital solutions to simplified sensors. Such wares attract more than 45 000 participants from various nations. The participants represent a wide range of industries, from technology to management. These include the automotive industry, power generation, utilities, construction, and electronics. Many influential decision-makers represent these segments. This includes members of leading companies, such as:
Amazon Web Services;

Beckhoff Automation;

Dassault Systèmes;

Microsoft;

Bosch;

Emerson;

Panasonic;

Rockwell Automation;

Schneider Electric;

Siemens;

Yamaichi Electronics;

Hitachi;

PwC.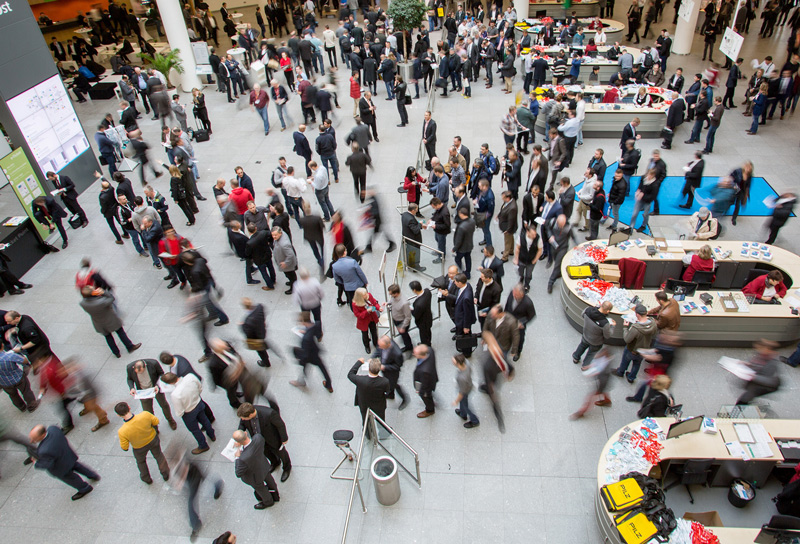 Image: mesago
ISPO Munich
ISPO Munich is among the pivotal trade expositions occurring in November and December. It is a leading sporting goods trade exhibition. This is because it displays the newest trends and innovations within the industry. Various manufacturers, designers, retailers, suppliers, studios, and fitness professionals present such wares. Diverse health, wellness, fitness, and marketing experts overview their products. As a result, the trade exposition often attracts more than 41 700 attendants. This includes representatives of leading enterprises, such as:
Alibaba;

ASF Group;

Continental Chemical Industries;

Decathlon;

Ducati International;

eBay;

Everlast Europe;

Intersport Deutschland;

Kaufland e-commer GmbH;

Toyota Tsusho Group.
They represent more than 100 nations. Among them are the United States of America and the People's Republic of China.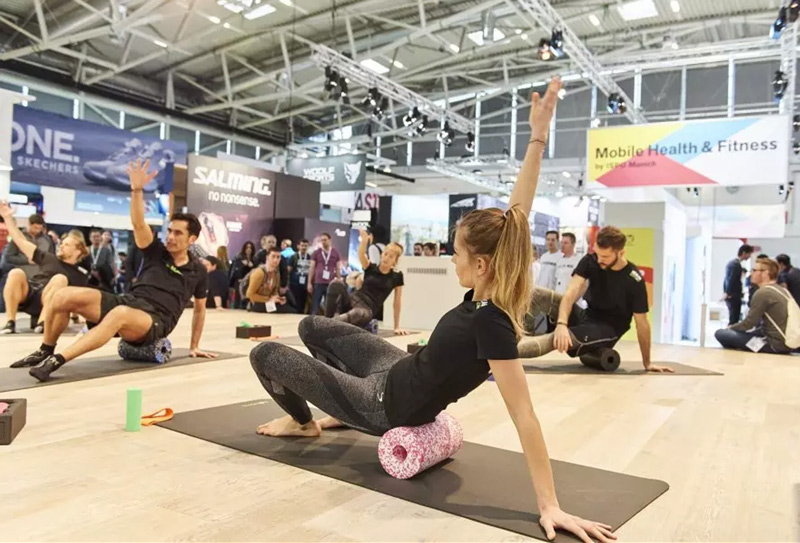 Image: knittingindustry