Introduction to SIAL Paris 2022
13 Oct 2022
Introduction to the leading fair SIAL Paris
Being informed about the latest trends when operating in the F&B industry is essential. It aids in ensuring that your enterprise will remain competitive within the ever-changing sector. This applies notably during periods such as post-pandemic years. Yet, it can be an issue to stay current with the latest information. However, there are means to reduce the difficulty while achieving other goals. Among them are attending leading trade fairs such as SIAL Paris. Why should you consider attending the event?
What precisely is SIAL Paris?
SIAL Paris 2022 is the central event of the SIAL series. It has served as a primary stage for presenting innovations since 1964. It displays new technological developments, products, and market changes. Furthermore, it is one of the major networking events for the global industry and its related sectors.
SIAL Paris achieves essential goals via its comprehensive programme. This includes a variety of sub-events and a central theme that reflects the current megatrends influencing the industry. For instance, the 2022 edition of the event features the central maxim of "Own the Change." This references the ongoing challenges the sector is encountering during a reinventing world. This includes the means to overcome such challenges.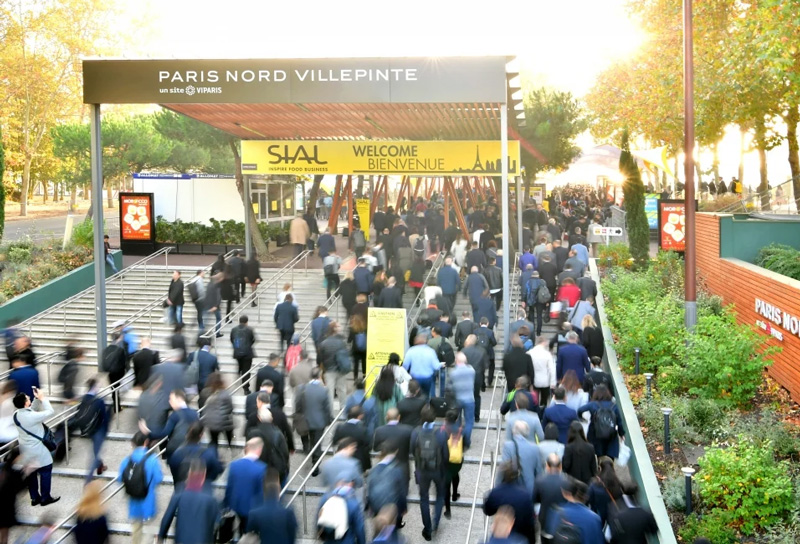 The theme influences the sub-events through various means. This includes affecting the trends represented by the innovative products at the SIAL exhibition 2022. For instance, the edition showcases products focusing on health, ethics, consumer satisfaction, and digitalisation. The categories include equipment, technologies, services, media, organisations, and food groups. Examples include beverages, confectionery, dairy, frozen products, grocery products, horticulture, and pet food.
The latest trends and potential prospects are the central topics of the SIAL Future Lab. It is a sub-event that presents forecasts about the industry's possibilities until 2030. This includes emerging subjects with high potential, such as VR and food practice AI. The Future Lab is held in Hall 6. It encourages the visitors of SIAL Paris 2022 to immerse in the current and upcoming trends. Examples include Agriculture 2030, Retail 2030, and Dining 2030.
SIAL Innovation is also a sub-event affected by the central theme. It presents innovations and market developments that further the industry's transformation. This allows participants to increase brand visibility and network. SIAL Innovation has been held as a pivotal sub-event since 1996. It often features over 2,300 products competing for recognition. This includes over 170 food service wares. The sub-event comprises a competition and an award ceremony. During the award rite, the winners can earn admission in one of the over ten categories. These include:
Meat & Fish Products Award
Meat & Fish Alternative Products Award
Alcoholic Beverages Award
Non-Alcoholic Beverages Award
Grocery Savoury Products Award

Cooking Aids & Condiments Award
Grocery Sweet Products Award
Fruits & Vegetables Award
Dairy Products & Ice Cream Award
Dairy Alternative Products Award

Frozen Products Award
Catering And Food Services Award
Equipment And Technologies Award
Packaging Award
Start-Up Award
The 2022 edition of SIAL also debuts the novel category known as the Public Choice Award. It grants recognition to products considered by the visitors to be of pivotal importance. This differs from the previous award categories, where an independent jury selects the victorious. This includes leading industry specialists such as Nicolas Trentesaux and Audrey Ashworth.
SIAL Talks is also one of the pivotal sub-events of SIAL Paris. It is a conference micro-event that discusses the latest industry developments. Such include new retail formats, innovative food processing solutions, and sustainability challenges. Like other sub-events, the central subject influences the topics and themes of the SIAL Talks. For instance, the main themes of the SIAL Conference 2022 are:
Technological changes
Food transition
Sustainability
Supply challenges
Nutrition challenges
These are examined within example topics, such as:
Food traceability
New food consumer behaviours
Blockchains and brand building
Leading experts such as Emmanuel Fournet and Julien Ranchoux discuss these.
The SIAL Start-up sub-event located in Hall 6 is of pivotal importance. It presents the wares of various start-ups. These include new products, food delivery solutions, and distribution innovations.
SIAL Paris often features diverse culinary demonstrations, gastronomic meals, animations, and presentations. The 2022 edition, for instance, features the five-day Special Show "What we will eat in the future". It is a micro-event that discusses future food processing and food products. This is achieved by presenting products that will be essential for consumers by 2050. These can be blind-tasted by visitors. Exhibitors such as YUMGO, AGROTEC and Greendoz present them.
Similar in format and intent is the La Cuisine Special Show. It consists of culinary demonstrations that showcase the industry's food transition. This is achieved by presenting menus organised and prepared by renowned chefs. Examples include Mauro Colagreco, Irwin Durand and Rebecca Lockwood. The Special Show additionally incorporates the Le restaurant. This is a 150-seat location with a menu created by a Michelin-starred chef. It also features young culinary artists who compete or network with renowned chefs. This is achieved via the La Cuisine Cooking area. It is where such artists can attend demonstrations held by lead chefs, such as Antoine Lelli.
SIAL Invest is also a sub-event that is of pivotal importance. This is a start-up presentation and pitch micro-event. It enables start-ups to network with investors by pitching themselves. This includes providing answers to questions prepared by potential investing representatives.
When and where will SIAL 2022 take place?
Comexposium hosts SIAL Paris once every two years. It is held at the Parc des Expositions de Paris-Nord Villepinte. The SIAL 2022 dates are set between 15.10.2022 and 19.10.2022.
Who patronises the event?
SIAL Paris receives a variety of participants. This includes members of the food and beverage, food processing, and packaging machinery sectors. Members of the distribution, HoReCa, sport, health, and import/export industries also attend. So do the retail, agriculture, R&D, media and lifestyle sectors.
Various professionals represent these industries:
R&D experts
Retailers
Distributors
Chefs
Importers
Exporters

Manufacturers
Wholesalers
Buyers
Tastemakers
Journalists
Commercial caters
The event receives various leading companies as exhibitors. For instance, the SIAL 2022 exhibitor list features Nestle Italiana Spa, Mondial Foods BV, and Jana Food Industries. Such enterprises form a pivotal group within the over 307,000 participants that attend. In particular, they are among the over 7,000 exhibitors in attendance. Over 300,000 visitors examine their wares. Such participants represent nations such as Australia, Argentina, the USA, China, Romania, and South Africa.
How often do the various sub-events occur?
The event takes place for five days. Many of its sub-events occur on all five days. Examples include the pivotal SIAL Innovation, Future Lab, SIAL Start-up, La Cuisine, and "What we will eat in the future." There are also sub-events which occur on specific days. Such include SIAL Invest, which takes place on the third day.
Hotels for SIAL
Attending SIAL Paris can be beneficial in preparing for perspective changes in the industry. Yet, having information about what to expect is one step toward successful attendance. Securing suitable accommodation is another crucial action to take when preparing for participation. This is due to the importance of proper rest and preparation. Additionally, a convenient accommodation option can aid in reducing the amount of time needed to commute to the venue. There are several means of securing suitable lodging, including for SIAL accommodation.
Events taking place within the same month
SIAL 2022 is one of the various must-attend events held during October 2022. Examples include K Messe and Bauma.