Introducing the leading trade fair: CPhI Worldwide 2023
8 Nov 2022
Introducing the leading trade fair: CPhI Worldwide 2023
It can be challenging to remain competitive in medical-related industries. Often this is due to the challenge of staying up to date on the latest medical advancements. Yet, there are ways to make completing such goals less difficult. One is attending the CPhI Worldwide 2023 annual trade show. Why should medical professionals consider attending the event?
A brief overview of CPhI Worldwide
CPhI Worldwide is the flagship event of the CPhI event series. It is an annual event that presents the latest pharmaceutical developments. The event coincides with five related events:
P-MEC
BioProduction
iCSE
FDF
InnoPack
It results in a synergy which enables the overviewing of related sectors. Such include packaging, biopharma wares, contract services, machinery, and finished dosages.

CPhI Worldwide enables the completion of business goals via its comprehensive event schedule. The completable objectives include networking, earning recognition, expanding professional knowledge and conducting business. The objectives are attainable via sub-events such as:
Pharma Awards
Product Innovation & Sustainability Theatre
Conference Theatre
Networking Sessions
BioProduction
Each micro-event focuses on at least two business objectives. For instance, the CPhI Awards emphasises granting recognition and presenting the latest innovations. It achieves it by lauding the novel wares that will promote the most development. It also bestows acclaim on industry members with the most contributions. The sub-event accomplishes the goal by awarding entries in the categories:
Supply Chain, Logistics, and Distribution
Finished Formulation
API Development
Digital Innovation
Sustainability
Regulatory Procedures and Compliance
CEO of the Year
Innovation in Response to COVID-19
Packaging & Drug Delivery
Manufacturing Technology and Equipment
An independent Judging Panel examines the over 180 entries. It features senior industry experts such as Duncan Emerton and Fiona Barry. The examiners determine the victorious based on criteria such as:
innovation level
potential outcomes
implemented features
level of problem-solving skill
competitive advantage rate
level of attained purpose
Among the companies and industry members to have received the CPhI Awards are:
Novavax
BASF
Lynne Ann du Toit
Novartis Pharma Schweiz
Cambrex
Merck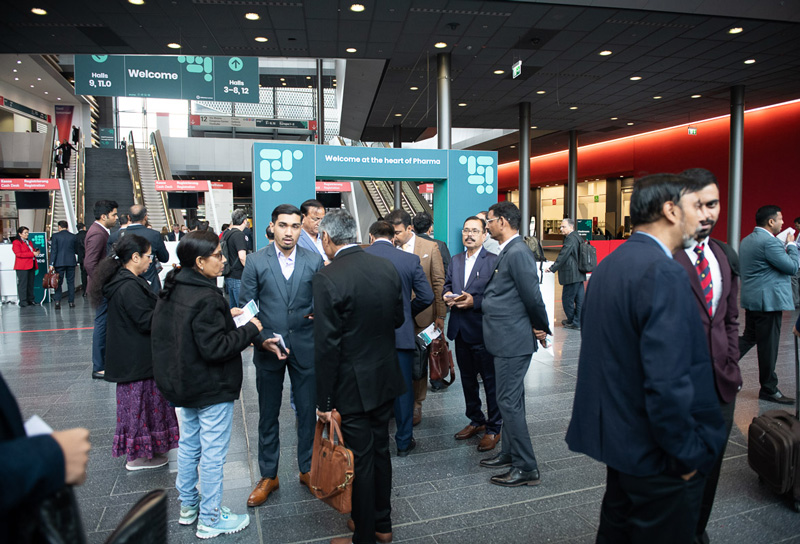 The Product Innovation and Sustainability Theatre is one sub-event that provides knowledge. It achieves this by presenting the latest research results via lectures. They feature leading speakers such as Yasuaki Yoshimura and Kayla Kaspar. The sessions are distributed over three days. One day focuses on Product Innovations, and the other two – on Sustainability. The topics discussed during the Theatre include:
Day 1: Product Innovations


Vital considerations for selecting suitable CDMO Partners
The potentials of new generation LBES
Deterministic methods of container closure integrity testing
Designing new elastomer lyophilisation application formulations
Choosing primary container closure systems for -80 degrees Celsius cold storage

Day 2: Sustainability


Transitioning CDMO companies to long-term eco-friendly strategies
The importance of addressing the industry's carbon footprint
The sustainable production of complex APIs
Sustainable plans for LMIC pharmaceutical manufacturing

Day 3: Sustainability


Cresting responsible pharmaceutical supply chains via the implementation of ESG
The risks of ESG implementation in pharmaceuticals and biotechnologies
The Conference Theatre is similar in intent and format to the Sustainability Theatre. It consists of panel discussions, introductory lectures, keynotes, and other related sessions. These discuss various topics, ranging from new therapies to the latest trends. Psychiatry, genetics, microbiology, bio-pharmacy, and clinical trials receive prime focus. These are discussed via Five Tracks:
TRACK I – Formulations & Ingredients


The current status and future perspectives of psychedelic therapies
Developing and optimising innovative LNP formulations via genomic medicine toolkits
The latest developments and applications of EXCiPACT GMPs within pharmaceutical auxiliary materials

TRACK II – Future Therapies


A patient-centric approach to cell and gene therapies
The current state of advanced genetic therapies
The regulatory pathways to mRNA-based therapies
The potential for new therapies via microbiome therapeutics

TRACK III – Digital


The shift towards decentralised trials
What steps are necessary to enable health data collaboration between organisations and industries?

TRACK IV – Manufacturing Excellence


Hastening the innovations and developments of bio-manufacturing processes in the future
Handling the difficulties of the adoption of continuous manufacturing

TRACK V – Patient Centricity


The latest consumer health trends
Addressing patient compliance and enhancing the consumer experience through innovations
Enabling medicine supply chain resilience and patient-ready medicine delivery via on-demand manufacturing
CPhI Worldwide features many sub-events that focus on networking and studying new developments. Apart from the Theatres, these include Networking Sessions. These are sub-events that comprise meetings with representatives of various leading companies. They include Samsung Biologics, Bachem and Clarivate. During the meetings, participants will be able to learn about diverse topics. They feature genetics and the challenges encountered at present by the supply chain. Leading speakers such as Manuela Schneider and Thomas Halliday discuss them.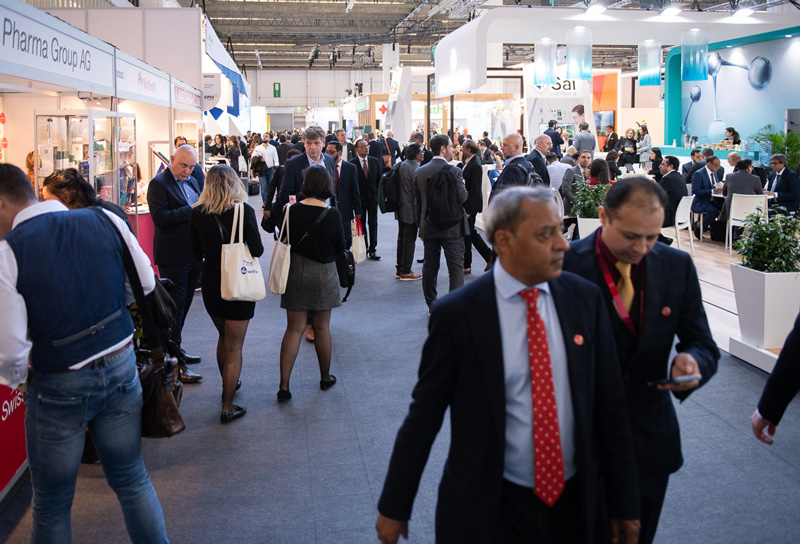 BioProduction is one event that coincides with CPhI Worldwide. It presents information related to biomanufacturing. Such data is presented within at least three tracks. At least one session occurs on each of the event days:
Day 1


Track: Supply Chains, Manufacturing, and Business Strategies


Gaining better data for the digitalisation of biomanufacturing
Leveraging wireless 3D sensor technologies to hasten scale-up
Bioprocessing developments via robotic facilities
Strategies for generating, adapting and deploying hybrid digital twins

Track: Upstream


Defining cell culture media from chemical to functional
The pivotal role of bioreactor characterisation within process-based upscaling
Digital twins for perfusion processes and integrated mAb production
Case studies of hybrid modelling upstream processing to hasten development and manufacturing
NIBRT cell line development

Track: Downstream & Novel Modalities


The use of semi-automation during ruby bi-specific antibody cell line development
Ensuring robust and high-yielding processes via bioreactor automation and intelligent control
The challenges of polishing chromatography

Day 2


Track: Manufacturing Strategy


Accelerating process development via machine learning-supported knowledge transfer
Scaling-up using direct comparison of small- and large-scale reactors
Cell therapy technologies expansion and automation trends

Day 3


Track: Downstream & Novel Modalities


Novel platform approaches for process understanding across biopharmaceuticals
Details to note about the schedule
CPhI Worldwide is an annual trade fair held at a different venue during its renditions. The CPhI Worldwide 2023 dates are fixed between 24.10.2023 and 26.10.2023. The hosting location for the latest edition is Fira de Barcelona Gran Via. Many of the sub-events featured within the support schedule occur on all three event days. Examples include the Conference Theatre and the Product Innovation & Sustainability Theatre. They also incorporate coinciding events such as BioProduction. Yet, there are micro-events which occur on specific days. One example is the CPhI Pharma Awards. It is hosted on the first day of the trade fair.
Statistics worth considering
CPhI Worldwide is a trade fair that attracts medical-related sectors. They include medicine, dental medicine, medical technology, ophthalmic optics, health, and pharmacy. The pharmaceutical industry comprises the largest group of participants. The event also receives veterinary medicine, wholesale, retail, packaging, media and IT specialists. It generally features more than 2,500 exhibitors and around 45,000 visitors from 170 nations. The event receives attendants such as:
R&D institutes
engineering companies
universities
government representatives
biopharmaceutical enterprises
OTC producers
custom synthesis producers
suppliers
manufacturers
licensors

CMOs
CDMOs
CROs
contract service providers
consultants
distributors
importers
exporters
IT service experts

Are there leading companies that attend the event?
CPhI Worldwide features many leading companies as exhibitors or visitors:
Pfizer CentreOne
Thermo Fisher Scientific
Sandoz
Mitsubishi Gas Chemical Company
Kewpie Corporation
Samsung Biologics
Daikin Chemical Europe Gmbh
ExxonMobil Petroleum & Chemical
Honeywell International

BASF SE
Evonik
Acme Generics LLP
Rubicon Research
Samsung Medical Rubber
Fischer Chemicals AG
Henkel AG
Saint-Gobain
Merck
Further steps to consider
Attending CPhI Worldwide can help you prepare for significant industry advancements. Yet, knowing what to expect is only the beginning of successful attendance. Finding appropriate hotel rooms is another vital preparation step. This is due to suitable accommodation reducing commuting time. There are various options for locating and booking appropriate CPhI Worldwide 2023 accommodations.
Are there other trade fairs worth attending?
CPhI Worldwide is one of the must-attend trade shows for medical-related industries. MEDICA, COMPAMED, and IDS are three more must-attend trade shows to consider.
Information about the previous editions
2021
The CPhI Worldwide event in 2021 was a hybrid trade show. It featured two sections of varying lengths – a live exposition and a digital platform. The face-to-face expo incorporated strict Covid-19 prevention measures. Among them was a 3G admission rule. The event featured 173 exhibitors and 3,934 attendees.
Pictures: CPHI