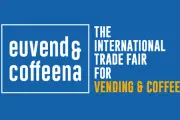 Location:
Messeplatz 1, 50679 Cologne
Vending and coffee go hand in hand and the coffee sector for vending machines and technology is still rich in opportunity. Eu'Vend & Coffeena reflects the current state of the market and presents the next generation of practices and technology. Cologne, Germany is where the trade fair takes place and editions roll out every single year. The product categories run the entire value chain and feature instant coffee, coffee, coffee grinders, coffee machines, non-food vending machines, disposable tableware, snack vending machines, access vending machines and more. What more is there to expect?
The audience is compact – 5000 trade visitors – but encompass major decision makers in the global industry;
Forums, seminars and presentations are bread and butter of the Eu'Vend & Coffeena support program;
Eu'Vend & Coffeena Night is also a popular feature, which allows you to network, but also make a strong impression by competing for the Vending Stars awards.
Add another level to your business travel experience and hire Travel 2 Fairs ltd to book your stay. You want an easy, swift commute for Eu'Vend & Coffeena and that's why you need to look into hotels close to Kölnmesse. Travel 2 Fairs is the one stop for your online hotel reservation for trade fairs around the world and we'll land you the deals you deserve. We work with a network of properties in Cologne at a variety of price points and there's a great deal in a great location for all. In our years, we have accommodated large groups so we are flexible in every possible way. You are given tips on the best way to reach Kölnmesse using public transport. Other services you can take advantage of include rent-a-cars and airport transfers. Transport can be arranged upon arrival and for your departure, and you can choose between shared and private.
Hotel Offers For
Eu'Vend & Coffeena 2020
Hotel An der Philharmonie
4 * * * *
Cologne , Germany
26 Oct 2020 - 31 Oct 2020
Jugendherberge Koln-Deutz
2 * *
Cologne , Germany
26 Oct 2020 - 31 Oct 2020
Jugendherberge City-Hostel Koln-Riehl
2 * *
Cologne , Germany
26 Oct 2020 - 31 Oct 2020
Astor und Aparthotel - Superior
4 * * * *
Cologne , Germany
26 Oct 2020 - 31 Oct 2020
Holiday Inn Express - Cologne - City Centre
3 * * *
Cologne , Germany
26 Oct 2020 - 31 Oct 2020
Pullman Cologne
4 * * * *
Cologne , Germany
26 Oct 2020 - 31 Oct 2020